Analisis Yuridis Putusan Nomor: 225/Pdt.G/2017/PN.Mks tentang Gugatan Illusoir pada Perkara Jual Beli Hak Milik atas Tanah di Bawah Tangan
MAULIDIAH MUVIDHASARI

TAMSIL
Abstract
Abstrak
Permasalahan pada skripsi ini adalah mengenai adanya putusan nomor 225/Pdt.G/2017/PN.Mks yang memenangkan penggugat sebagai pemilik yang sah atas tanah objek sengketa, namun gugatan tersebut menjadi sia-sia karena tidak mewakili kepentingan penggugat untuk mendapatkan akta jual beli dan melakukan balik nama. Tujuan dari penelitian ini adalah untuk menganalisis pertimbangan hakim tentang hukumnya pada putusan nomor 225/Pdt.G/2017/PN.Mks dan akibat hukum dari adanya gugatan yang sia-sia (illusoir) pada perkara ini. Kemudian, metode penelitian yang digunakan dalam penelitian ini adalah metode yuridis normatif dengan menggunakan pendekatan undang-undang dan pendekatan konseptual. Penelitian dilakukan dengan menggunakan sumber bahan penelitian hukum yang digunakan yaitu sumber bahan hukum primer yang terdiri dari peraturan perundang-undangan dan putusan hakim, serta sumber bahan hukum sekunder yang terdiri dari buku, jurnal hukum dan lain-lain. Sumber bahan penelitian hukum tersebut dikumpulkan dengan mencari bahan-bahan hukum yang terkait dengan perkara ini, kemudian di analisis dengan menggunakan bahan hukum yang ada untuk ditarik kesimpulan guna menjawab permasalahan yang diteliti.
Kata Kunci: Putusan, Gugatan yang Sia-Sia (Illusoir), Jual Beli Hak Milik Atas Tanah, Perbuatan Melawan Hukum.
Abstract
The problem in this thesis is about the existence of decision number 225 / Pdt.G / 2017 / PN.Mks which won the plaintiff as the rightful owner of the object land of the dispute, but the claim was in vain because it did not represent the plaintiffs interest in obtaining a sale and purchase deed do behind the name. The purpose of this study is to analyze the judges consideration of the law in the decision number 225 / Pdt.G / 2017 / PN.Mks and the legal consequences of the existence of a vain claim (illusoir) in this case. Then, the research method used in this study is a normative juridical method using a legal approach and a conceptual approach. The research was carried out by using the sources of legal research materials used, namely primary sources of legal material consisting of laws and judgments and judgments, as well as sources of secondary legal material consisting of books, legal journals and others. The source of the legal research material was collected by searching for legal materials related to this case, then analyzed using existing legal materials to draw conclusions to answer the problems studied.
Key Words: Decision, Vain Claims (Illusoir), Sale and Purchase of Land Rights, Illegal Acts.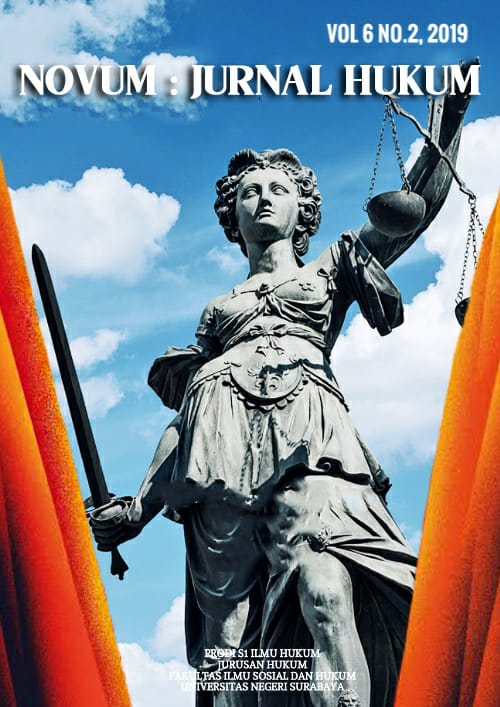 Abstract View: 36

PDF Download: 68
Authors who publish this journal agree to the following terms:
Authors retain copyright and grant the journal right of first publication with the work simultaneously licensed under a Creative Commons Attribution License that allows others to share the work with an acknowledgment of the work's authorship and initial publication in this journal.
Authors can separately make additional contractual arrangements for non-exclusive distribution published by the journal (e.g., publish it in a book), with an acknowledgment of its initial publication in this journal.
Authors are allowed and encouraged to send their work via online (e.g., in the institutional repositories or their website) after published by the journal.