Pengaruh Endorsement Selebgram Terhadap Perilaku Konsumsi Produk Makanan Oleh Mahasiswa Jurusan Ilmu EKonomi Universitas Negeri Surabaya
Tasya Putri Zavida

Universitas Negeri Surabaya

Lucky Rachmawati

Universitas Negeri Surabaya
Keywords:
Consumption Behavior, Digital Technology, Selebgram Endorsement, Social Media
Abstract
Consumption is an activity to buy and use goods and services to meet the needs of an individual. The consumption of each individual varies greatly. This is what is called consumption behavior. The diversity of consumption behavior causes more and more business actors to fulfill their needs, causing business competition. This makes business people have to rack their brains so that they are not less competitive with other business people. Marketing by utilizing digital technology and social media is one way. Through Instagram social media, marketing is carried out by users themselves who have a large number of followers (celebgrams). Marketing carried out by this program is in the form of endorsements. This research will discuss the effect of celebram endorsement on the consumption behavior of students majoring in economics, State University of Surabaya. The result of this research is that the endorsement by celebrams has a significant effect on the food product consumption behavior of students majoring in economics at the State University of Surabaya by 28.3%.
References
Adam, Muhammad Amir. Hussain, Nazish. 2017. Impact Of Celebrity Endorsement On Consumeres Buying Behavior. British Journal of Marketing Studies. 5(3): 79-121.
Ahmed, Ali dkk. 2012. Effect Of Celebrity Endorsement On Customers Buying Behavior; A Perspective From Pakistan. Institute of Interdisciplinary Business Research. 4(5): 584-590
Asosiasi Penyelenggara Jasa Internet Indonesia. 2018. Laporan Survei Penertasi dan Profil Perilaku Pengguna Internet Indonesia.
Awalia, Diah Lailatul. 2018. Pengaruh Testimoni Dan Selebgram Endorsement Terhadap Minat Pembelian Pada Online Shop Melalui Media Sosial Instagram Mahasiswa Fakultas Syariah IAIN PONOROGO. Skripsi. Fakultas Syariah. Jurusan Hukum Ekonomi Syariah. IAIN Ponorogo. Ponorogo.
Badan Penelitian dan Pengembangan SDM. STUDY EKONOMI DIGITAL DI INDONESIA Sebagai Pendorong Utama Pembentukan Industri Digital Masa Depan. 2019. Kementrian Komunikasi dan Informatika.
Cao, Fu-Guo dkk. 2017. Demonstration Effect Theory: A Theoretical Framework of Regulating PPP Reform. Economics 2017. 6(2): 24-29
Dwiastuti, Rini dkk. 2012. Ilmu Perilaku Konsumen. Malang: Elektronik Pertama dan Terbesar di Indonesia.
Gojek Indonesia. 2020. Tumbuh 20%, Berikut Tren Bisnis Kuliner di Surabaya. https://gobiz.co.id/pusat-pengetahuan/bisnis-kuliner-surabaya/#:~:text=Tidak%20kalah%20dari%20Jakarta%2C%20bisnis,Kota%20Pahlawan%20ini%20begitu%20beragam. Diakses pada tanggal 25 November 2020.
Hadi, Mohammad Sofyan. Maghfiroh, Sarah Nuraini 2019. TOC – Benarkah Timbulnya Perilaku Konsumtif Dipengaruhi Oleh Celebrity Endorsement. https://feb.unair.ac.id/index.php/news-feb-unair/news-mahasiswa/hima-ep/956-toc-benarkah-timbulnya-perilaku-konsumtif-dipengaruhi-oleh-celebrity-endorsement.html. Diakses pada tanggal 25 November 2020.
Monterrubio, J. Carlos. Mendoza-Ontiveros, M. Marivel. 2014. Tourism and the demonstration effect: Empirical Evidence. Tourism & Management Studies. 10(1): 97-103.
Nurhablisyah. 2017. Perilaku Konsumen di Era Digital Tinjauan Terhadap Pembaca HAI Online. Jurnal Magenta STMK Trisakti. 1(2): 177-178
Rahmat, Dita Olivia Nurhayati dkk. 2016. Pengaruh Celebrity Endorser di Media Sosial Instagram dalam Promosi Produk Hijab terhadap Minat Beli Konsumen (Studi Kasus pada Akun Instagram @zahratuljannah dan @joyagh). e-Proceeding of Management. 3(3): 2858-2865.
Sukirno, Sadono. 2002. Pengantar Teori Mikroekonomi. PT Raja Grafindo Persada. Jakarta.
Sertoglu, Aysegul Ermec dkk. 2014. Examining the Effect of Endorser Credibility on the Consumers' Buying Intentions: An Empirical Study in Turkey. International Review of Management and Marketing. 4(1): 66-75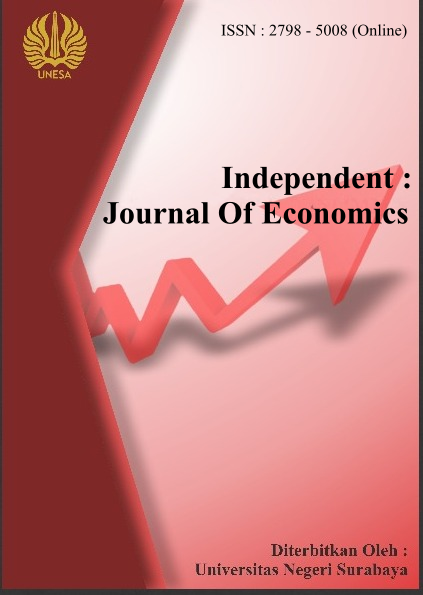 How to Cite
Zavida, T., & Rachmawati, L. (2021). Pengaruh Endorsement Selebgram Terhadap Perilaku Konsumsi Produk Makanan Oleh Mahasiswa Jurusan Ilmu EKonomi Universitas Negeri Surabaya. Independent: Journal of Economics, 1(1), 30-38. https://doi.org/10.26740/independent.v1n1.p30-38
Copyright (c) 2021 INDEPENDENT : JOURNAL OF ECONOMICS
This work is licensed under a Creative Commons Attribution 4.0 International License.

Abstract Views: 478


PDF Downloads: 416