PROBLEMATIKA PELAKSANAAN PERATURAN MENTERI PERHUBUNGAN NOMOR 108 TAHUN 2017 TENTANG PENYELENGGARAAN ANGKUTAN ORANG DENGAN KENDARAAN BERMOTOR UMUM TIDAK DALAM TRAYEK DI SURABAYA
DWIKY PURWANU DHARMACARAKA

INDRI FOGAR SUSILOWATI
Abstract
Abstrak Angkutan merupakan sebuah kebutuhan bagi masyarakat untuk melakukan perpindahan tempat dari satu tempat ke tempat lain. Seiring dengan berkembangnya teknologi, jenis angkutan semakin banyak. Inovasi yang dilakukan untuk memudahkan masyarakat dalam menggunakan angkutan yaitu dengan adanya taksi online. Di Indonesia, taksi online telah menjadi angkutan yang menjawab keluhan dari masyarakat yang tidak nyaman dengan angkutan umum. Kendaraan yang digunakan sebagai taksi online harus mematuhi persyaratan perizinan yang telah diatur dalam Peraturan Menteri Perhubungan Nomor 108 Tahun 2017 Tentang Penyelenggaraan Angkutan Orang dengan Kendaraan Bermotor Umum Tidak dalam Trayek (selanjutnya disebut Permenhub No. 108 Tahun 2017). Di Surabaya, masih kendaraan yang digunakan sebagai taksi online yang belum mematuhi persyaratan perizinan yang telah diatur. Penelitian ini bertujuan untuk menganalisis problematika pelaksanaan Permenhub No. 108 Tahun 2017 di Surabaya dan untuk menganalisis upaya Dinas Perhubungan Kota Surabaya dalam memfasilitasi para pengemudi taksi online dan angkutan umum tidak dalam trayek. Penelitian ini dilakukan secara yuridis empiris, yaitu dengan mengkaji ketentuan hukum yang berlaku serta apa yang terjadi dalam kenyataannya di masyarakat. Penelitian ini dilakukan dengan menggunakan data primer dan sekunder. Penelitian dilakukan dengan cara wawancara, observasi, dan dokumentasi, lalu hasil dari penelitian ini dianalisis secara deskriptif. Hasil penelitian menunjukkan bahwa Permenhub No. 108 Tahun 2017 belum dilaksanakan secara sepenuhnya. Adapun yang dilaksanakanya itu pengawasan persyaratan perizinan yang dilakukan oleh Dinas Perhubungan, sedangkan KIR, STNK yang harus diatasnamakan badan hukum, dan SIM A Umum masih belum dilakukan secara sepenuhnya. Upaya yang telah dilakukan oleh Dinas Perhubungan dan perusahaan penyedia aplikasi yaitu dengan memberikan pengawasan, teguran, dan sosialisasi kepada para mitra yang masih belum memenuhi persyaratan perizinan. Rekomendasi atas problematik tersebu adalah dengan memeriksa para mitra sesuai dengan data yang pasti dari perusahaan penyedia aplikasi agar pemeriksaan bisa dilakukan bukan karena hanya mengira-ngira. Selain itu, Pasal 27, 39, dan 41 Permenhub No. 108 Tahun 2017 yang dianggap memberatkan para mitra sebaiknya diubah agar taksi online dan angkutan konvensional bisa diuntungkan sehingga persaingan dapat terjadi secara sehat. Kata kunci: Problematika, Permenhub, Angkutan.
Abstract Transport is a need for people to move from one place to another. Along with the development of technology, there's more types of transportation. Innovation is done to make people easier to use transportation with having an online taxi. In Indonesia, online taxis have become a vehicle that answers complaints from people who are not comfortable with public transportation. Vehicles used as online taxis must obey the stipulated licensing requirements in the Minister of Transportation Regulation Number 108 of 2017 concerning the Implementation of Public Transport of People with Motor Vehicles Not in Route (hereinafter referred to as Minister of Transportation No. 108 of 2017). In Surabaya, there are still vehicles that are used as online taxis that have not obey the stipulated licensing requirements.This research aims to analyze the problematic implementation of Regulation of Ministry of Transportation Number 108 Year 2017 in Surabaya and to analyze the Departement of Transportation efforts in facilitating online taxi drivers and non-route public transports. This research are being done with empirical-yuridical, which is doneby reviewing valid legal provisions and also what really happenedin society. This research are done using primary and secondary data. This research aredone by interview, observation, and documentation, then the data of this research were analyzed descriptively.The results of this research shows that the Regulation of Ministry of Transportation Number 108 Year 2017 has not fully implemented. As for which is implemented are thesupervision of licensing requirements which carried out by Department of Transportation, while KIR, VRC (Vehicle Registration Certificate) that has to be in the name of corporation, and General VRC A (SIM A) has not yet fully implemented. The effort that has been done by Departement of Transportation and Application Provider Companies are by giving supervision, admonishment, and socialization to the partners that has not fulfill licensing requirements. Recommendation for this problem is to examine the partners in accordance with the certain data from the Application Provider Company so the examination can be done not just by estimating. Moreover, Articles 27, 39 and 41 of Regulation of Ministry of Transportation No. 108 Year 2017 which considered incriminating the partners ought to be changed so online taxi and conventional transportation can be benefited so the competitions can be done fairly. Keywords: Problematic, Regulation of Ministry of Transportation, Transport.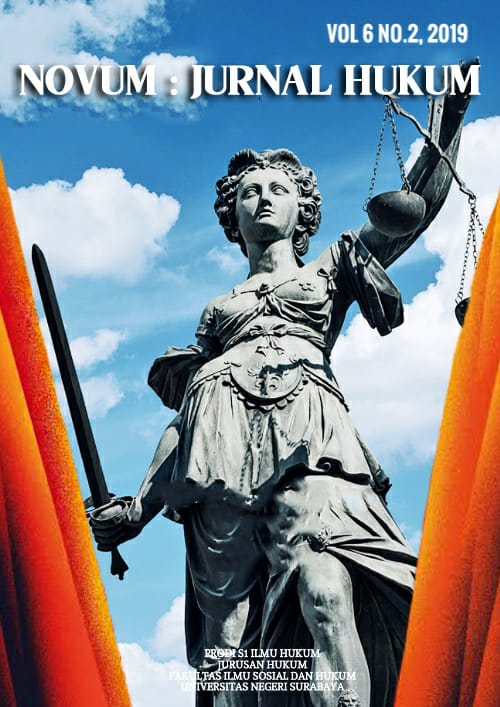 Abstract View: 62

PDF Download: 57
Authors who publish this journal agree to the following terms:
Authors retain copyright and grant the journal right of first publication with the work simultaneously licensed under a Creative Commons Attribution License that allows others to share the work with an acknowledgment of the work's authorship and initial publication in this journal.
Authors can separately make additional contractual arrangements for non-exclusive distribution published by the journal (e.g., publish it in a book), with an acknowledgment of its initial publication in this journal.
Authors are allowed and encouraged to send their work via online (e.g., in the institutional repositories or their website) after published by the journal.