KETAATAN PERATURAN MENTERI KOMUNIKASI DAN INFORMATIKA NOMOR 11 TAHUN 2016 TENTANG KLASIFIKASI PERMAINAN INTERAKTIF ELEKTRONIK DI WILAYAH KETINTANG KOTA SURABAYA (STUDI KASUS PERMAINAN INTERAKTIF ELEKTRONIK PUBG)
DENY FEBRI SUHARTATA

ENY SULISTYOWATI
Abstract
Abstrak
Pada era global hari ini banyak hal yang memiliki pembaharuan di bidang teknologi, bisa dilihat dari semua segmen kehidupan hampir tidak bisa terlepas dari sentuhan internet dan teknologi. Dari semua keuntungan perkembangan teknologi hari ini ada juga beberapa hal yang bisa digolongkan sebagai bentuk ancaman digital yang akan berimplikasi dalam jangka panjang. Atas dasar penjelasan diatas fakta dilapangan masih banyak anak dibawah kelompok klasifikasi usia yang memainkan game PUBG bahkan sudah menjadi kebiasaan di waktu senggang anak-anak untuk mengisi kegiatan. Dalam kasus ini peneliti bermaksud melakukan tinjauan yuridis terhadap Peraturan Menteri Komunikasi dan Informatika Republik Indonesia Nomor 11 Tahun 2016 tentang Klasifikasi Permainan Interaktif Elektronik, dalam peraturan ini pemerintah mencoba membatasi pengguna permainan interaktif elektronik melalui penggolongan kelompok usia dan batasan-batasan permainan yang boleh diakses sesuai usia pengguna permainan interaktif elektronik. Berdasarkan latar belakang diatas, bagaimana ketaatan Peraturan Menteri Komunikasi dan Informatika Nomor 11 Tahun 2016 tentang Klasifikasi Permainan Interaktif Elektronik di Wilayah Ketintang Kota Surabaya. Penelitian ini merupakan penelitian hukum empiris, penelitian hukum yang menjelaskan mengenai pemberlakuan dan implementasi ketentuan hukum normatif secara in action pada setiap peristiwa hukum tertentu yang berada didalam kehidupan masyarakat.Penelitian ini bertujuan untuk menguji secara empiris ketaatan peraturan menteri komunikasi dan informatika nomor 11 tahun 2016 tentang permainan interaktif elektronik, dengan studi kasus permainan interaktif elektronik yang masih banyak dimainkan oleh anak dibawah umur serta masih mengandung unsur kekerasan yaitu PUBG mobile, wilayah penelitian ini berada di kota Surabaya.Informan penelitian ini adalah saudara Fransiscus Fabian Teguh 12 tahun dan Habel Fender 13 tahun keduanya adalah warga asli kota Surabaya yang aktif memainkan permainan interaktif elektronik jenis PUBG dengan usia yang masing-masing masih dibawah umur. Pengumpulan data dilakukan dengan metode wawancara secara langsung kepada kedua informan, jawaban dari informan kemudian dirangkum dalam bentuk data yang seperti peneliti tuliskan di pembahasan penelitian ini.Hasil penelitian ini menunjukan bahwa peraturan menteri komunikasi dan informatika tentang permainan interaktif elektronik yang didalamnya mengatur tentang klasifikasi konten permainan dan klasifikasi usia pengguna masih tidak menunjukkan ketaatan, dibuktikan melaluli dua informan dalam penelitian ini yang masih dibawah umur dan aktif memainkan permainan interaktif elektronik jenis PUBG dimana didalam permainan ini jelas masih mengandung unsur kekerasan dan bahkan pembunuhan. Selain itu juga kemudahan akses untuk mendapatkan permainan PUBG sangat mendukung anak untuk memainkan permainan ini, hal terakhir adalah soal pengawasan lingkungan anak seperti otang tua yang kurang memperhatikan jenis konten permainan yang dimainkan oleh anak.Kata kunci : Permainan interaktif elektronik, anak dibawah umur, unsur kekerasan, ketaatan.
AbstractIn todays global era many things that have renewal in the field of technology, can be seen from all segments of life that can hardly be separated from the touch of the internet and technology. Of all the benefits of todays technological developments there are also a number of things that can be classified as forms of digital threats that will have long-term implications, even triggering a potential generation retreat. Therefore parents, the environment, the government must really play an active role in early prevention efforts over the types of online games played by children. On the basis of the above explanation of the facts in the field there are still many children under the age classification group who play the PUBG game and have even become a habit in their free time to fill activities. In this case the researcher intends to carry out a juridical review of the Regulation of the Minister of Communication and Information of the Republic of Indonesia Number 11 Year 2016 concerning Classification of Electronic Interactive Games, in this regulation the government tries to limit electronic interactive game users through the classification of age groups and restrictions on games that may be accessed according to age electronic interactive game users. Based on the background above, how obedience to the Regulation of the Minister of Communication and Information No. 11 of 2016 concerning Classification of Electronic Interactive Games in the Ketintang Region of Surabaya. This research is an empirical legal research, legal research that explains the enforcement and implementation of normative legal provisions in action on any particular legal event that is in the life of the community.This study aims to empirically test the obediences of the minister of communication and information technology number 11 of 2016 concerning electronic interactive games, with case studies of electronic interactive games that are still widely played by underage children and still contain elements of violence, namely PUBG mobile, this research area is in the city of Surabaya.The informants of this study were Fransiscus Fabian Teguh 12 years and Abel Fender 13 years both of them are native citizens of the city of Surabaya who actively play electronic interactive games of PUBG types with ages that are still underage. Data collection is done by interview method directly to the two informants, answers from informants are then summarized in the form of data that researchers like to write in the discussion of this study.The results of this study indicate that the regulation of the minister of communication and informatics about electronic interactive games which regulates the classification of game content and the age classification of users is still ineffective, proven through two informants in this study who are still underage and actively playing electronic interactive games of the type of PUBG wherein the game clearly still contains elements of violence and even murder. Easy access to get PUBG games is very supportive for children to play this game, things the last is the matter of supervising the environment of children such as the elderly people who pay less attention to the type of content of the games played by children.Keyword : Electronic interactive game, underage children, contains elements of violence, obedien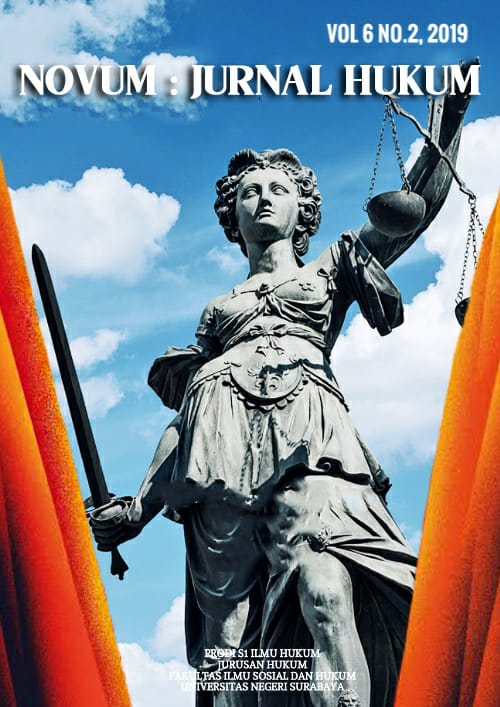 Abstract View: 45

PDF Download: 62
Authors who publish this journal agree to the following terms:
Authors retain copyright and grant the journal right of first publication with the work simultaneously licensed under a Creative Commons Attribution License that allows others to share the work with an acknowledgment of the work's authorship and initial publication in this journal.
Authors can separately make additional contractual arrangements for non-exclusive distribution published by the journal (e.g., publish it in a book), with an acknowledgment of its initial publication in this journal.
Authors are allowed and encouraged to send their work via online (e.g., in the institutional repositories or their website) after published by the journal.