RANCANG BANGUN AUTOMATIC LOAD SHEDDING AKIBAT ADANYA BEBAN LEBIH BERBASIS BLUETOOTH
ACHMAD FAJAR MUZAQQI

SUBUH ISNUR HARYUDO
Abstract
Abstrak
Load shedding adalah sebuah tindakan melepaskan beban lain dengan tujuan mengamankan kesinambungan sumber listrik. Tujuan penelitian ini adalah untuk mengahasilkan sistem pelepasan beban akibat adanya beban lebih berbasis bluetooth. Pelepasan beban ini berfungsi untuk mengamankan kesinambungan sumber listrik agar tidak terjadi trip pada MCB yang di karenakan kelebihan arus. Aplikasi smartphone android yang terhubung melalui bluetooth sebagai kontrol batas arus dan monitoring arus yang mengalir. Dari data yang di peroleh dari hasil percobaan prototype yang di buat menghasilkan tingkat keakurasian yang cukup baik. Di mana dari hasil pengujian akurasi sensor arus YHDC SCT 013-000 di bandingkan dengan amperemeter menghasilkan error rata-rata sebesar 4,952 %, sedangkan hasil dari perbandingan dengan perhitungan rumus menghasilkan error rata-rata seebesar 22,11 %. Setelah di lakukan beberapa kali pengujian sistem pelepasan beban dengan batas arus 1,2 A dapat di simpulkan sistem telah bekerja dengan baik. Di mana pada saat beban 1, 2, 3 dan 4 ON arus yang terukur adalah sebesar 2,09 A. Dalam kondisi ini arus telah melewati batas arus yang telah diatur pada aplikasi smartphone android yaitu 1,2 A sehingga dalam waktu 1 detik beban 4 diputus selanjutnya dalam waktu 1,4 detik beban 3 diputus dan dalam waktu 3,5 detik beban 2 diputus.
Kata Kunci : Load shedding, Bluetooth, Smartphone Android, Arduino, Sensor arus YHDC SCT 013-000
Abstract
Load shedding is an act of releasing another load in order to secure the continuity of a power source. The purpose of this study is to produce a load release system due to the presence of more bluetooth-based loads. This load release serves to secure the continuity of the power source so that there is no trip on the MCB due to excess current. Android smartphone application that is connected via bluetooth as a control of the current limit and monitoring current flowing. From the data obtained from the results of the prototype experiments that are made produce a fairly good level of accuracy. Where from the results of testing the accuracy of the YHDC SCT 013-000 current sensor compared to the amperemeter it produces an average error of 4.952%, while the results of the comparison with the calculation of the formula produce an average error of 22.11%. After several tests of load release systems with a current limit of 1.2 A can be concluded the system has worked properly. Where when the load 1, 2, 3 and 4 ON the measured current is 2.09 A. In this condition the current has exceeded the current limit set in the android smartphone application which is 1.2 A so that within 1 second load 4 subsequently disconnected in 1.4 seconds load 3 was disconnected and within 3.5 seconds load 2 was disconnected.
Keywords: Load shedding, Bluetooth, Android Smartphone, Arduino, YHDC SCT 013-000 current sensor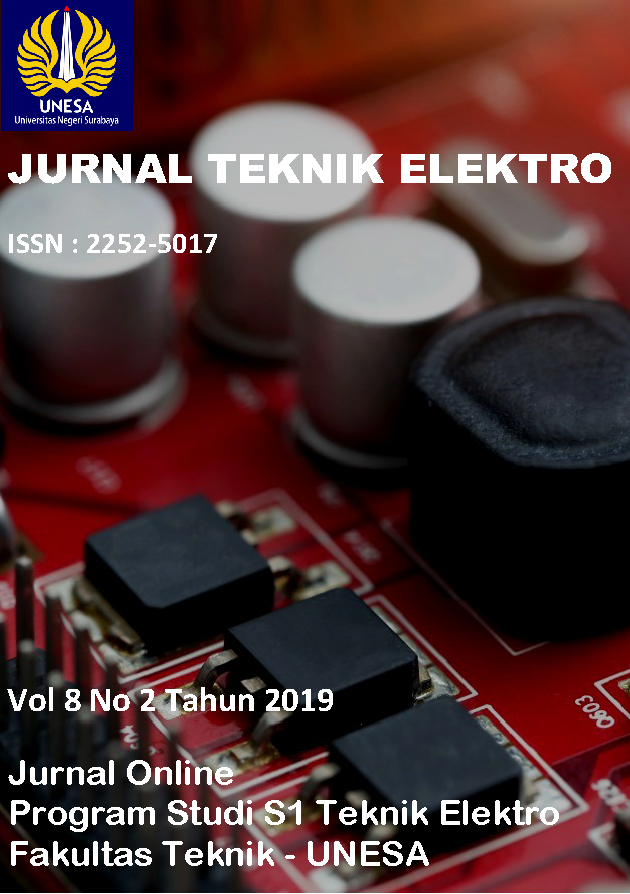 How to Cite
FAJAR MUZAQQI, A., & ISNUR HARYUDO, S. (2019). RANCANG BANGUN AUTOMATIC LOAD SHEDDING AKIBAT ADANYA BEBAN LEBIH BERBASIS BLUETOOTH. JURNAL TEKNIK ELEKTRO, 8(2). https://doi.org/10.26740/jte.v8n2.p%p

Abstract Views: 92


PDF Downloads: 134