ANALISIS FAKTOR–FAKTOR PEMICU TURUNNYA KEAKTIFAN SISWA DALAM PROSES PEMBELAJARAN MATA PELAJARAN IPA DI MASA PANDEMI
Firda Nurul Izzah

Program Studi Pendidikan IPA, Fakultas Tarbiyah dan Keguruan, UIN Sunan Ampel

Yeni Arifah Khofshoh

Program Studi Pendidikan IPA, Fakultas Tarbiyah dan Keguruan, UIN Sunan Ampel

Zumrotus Sholihah

SMP Negeri 1 Gresik

Yayuk Nurningtias

SMP Negeri 1 Babat

Nur Wakhidah

Program Studi Pendidikan IPA, Fakultas Tarbiyah dan Keguruan, UIN Sunan Ampel
Keywords:
student activity, pandemic
Abstract
Currently in various parts of the world are being hit by the Covid-19 pandemic which has caused several sectors to experience a significant impact, one of which is in the world of education. Due to the pandemic, the learning process must be carried out from home. During the learning from home, several problems appeared, one pf which was the decrease in student activity in the learning process, especially in science subjects. The purpose of this was determine the factors that triggered the decline in student inactivity in the learning process of science subjects during the pandemic at SMP Negeri 10 Gresik and SMP Negeri 1 Babat in 2020/2021 academic year. The research approach used descriptive qualitative, and the research subjects were students of class VII, VIII, and IX of SMP Negeri 10 Gresik and SMP Negeri 1 Babat totalling 82 students. A questionnaire was used to collect data. The result showed that the factors that triggered the decline in student activity in the learning process during the pandemic included student conditions during learning, student anxiety during the learning process, student learning motivation, and student environment.
References
Arlianti, A., Pangestika, R. R., & Ngazizah, N. (2021). Analisis respon dan keaktifan peserta didik terhadap pembelajaran daring menggunakan zoom. Jurnal Dharma PGSD, 1(2), 94–103.
Halik, A., & Aini, Z. (2020). Analisis keaktifan siswa dalam proses pembelajaran daring di masa pandemi covid-19. ENLIGHTEN: Jurnal Bimbingan Konseling Islam, 3(2), 131–141.
Hayati, Y. (2021). Pembelajaran Daring Bervariasi Di Masa Covid-19 Untuk Meningkatkan Keaktifan Peserta Didik Smpn 4 Mataram. TEACHING: Jurnal Inovasi Keguruan Dan Ilmu Pendidikan, 1(1), 36–42.
Kanza, N. R. F., Lesmono, A. D., & Widodo, H. M. (2020). Analisis Keaktifan Belajar Siswa Menggunakan Model Project Based Learning Dengan Pendekatan STEM Pada Pembelajaran Fisika Materi Elastisitas di Kelas XI MIPA 5 SMA Negeri 2 Jember. Jurnal Pembelajaran Fisika, 9(2), 71–77.
Nur, A. S. (2020). Pemanfaatan schoology sebagai sarana pembelajaran daring pada pembelajaran matematika. Prosiding Seminar Nasional Pascasarjana, 1(01), 100–107.
Purwanto, A., Pramono, R., Asbari, M., Santoso, P. B., Wijayanti, L. M., Choi, C. H., & Putri, R. S. (2020). Studi Eksploratif Dampak Pandemi COVID-19 Terhadap Proses Pembelajaran Online di Sekolah Dasar. EduPsyCouns: Journal of Education, Psychology and Counseling.
Sugiyono, P. (2007). Metode Penelitian Kuantitatif Kualitatif dan R&D. CV. Pustaka Setia. Bandung.
Wakhidah, N. (2016). Analisis Kesulitan Mengajar Guru Kelas Pada Mata Pelajaran IPA Di MI Islamiyah Sidoarjo Dr. Journal of Islamic Elementary School (JIES) UIN Surabaya, 1(2), 15–23.
Wakhidah, N., Erman, E., Widyaningrum, A., & Aini, V. N. (2021). Reflection Online Learning During Pandemic and New Normal: Barriers, Readiness, Solutions, and Teacher Innovation. JPI (Jurnal Pendidikan Indonesia), 10(3), 464. https://doi.org/10.23887/jpi-undiksha.v10i3.31093
Yunitasari, I., & Hardini, A. T. A. (2021). Penerapan Model PBL untuk Meningkatkan Keaktifan Peserta Didik dalam Pembelajaran Daring di Sekolah Dasar. Jurnal Basicedu, 5(4), 1700–1708.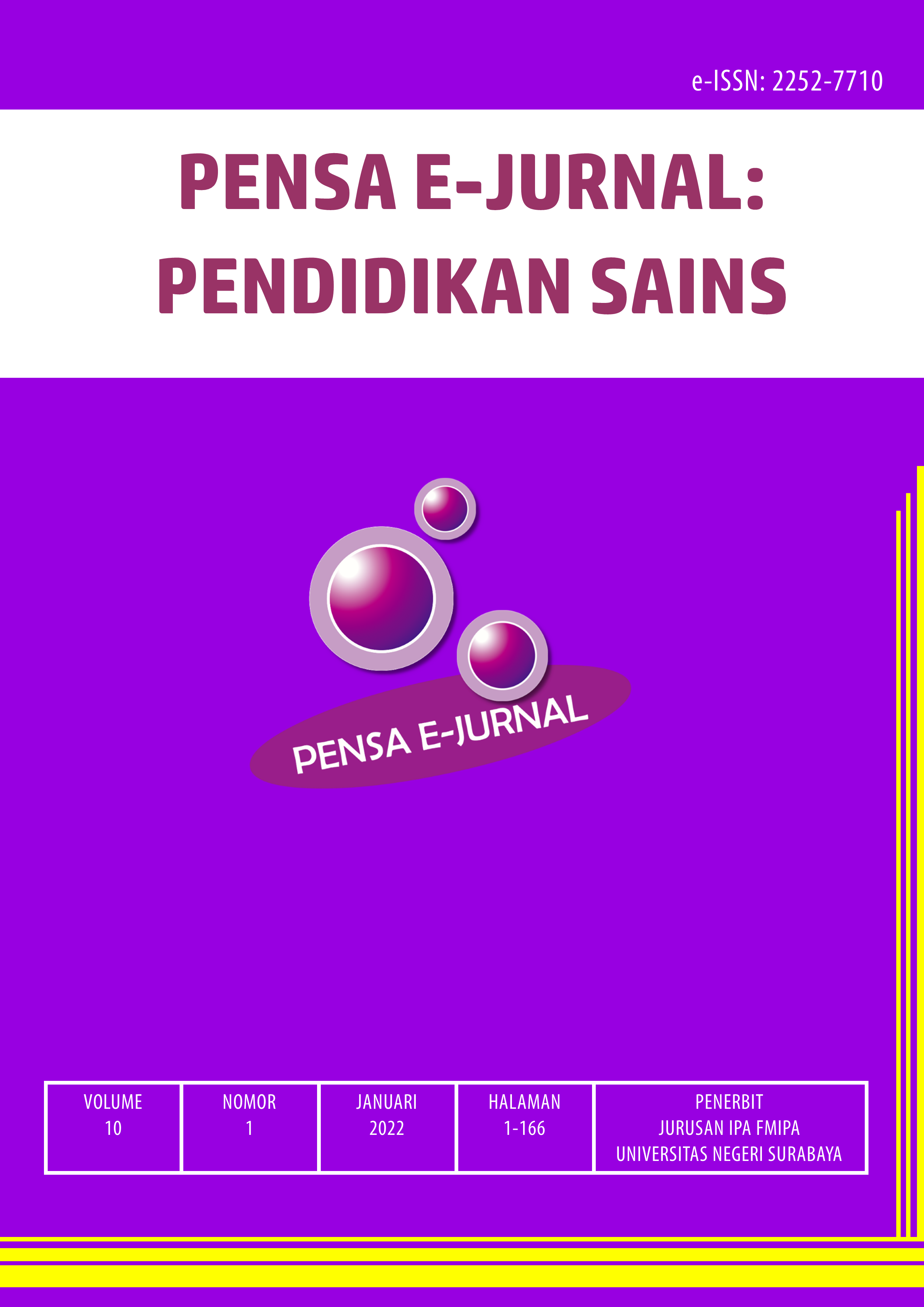 How to Cite
Izzah, F., Khofshoh, Y., Sholihah, Z., Nurningtias, Y., & Wakhidah, N. (2022). ANALISIS FAKTOR–FAKTOR PEMICU TURUNNYA KEAKTIFAN SISWA DALAM PROSES PEMBELAJARAN MATA PELAJARAN IPA DI MASA PANDEMI. PENSA: E-JURNAL PENDIDIKAN SAINS, 10(1), 150-154. Retrieved from https://ejournal.unesa.ac.id/index.php/pensa/article/view/43965

Abstract View: 155

PDF Download: 151
Copyright (c) 2022 PENSA: E-JURNAL PENDIDIKAN SAINS
This work is licensed under a Creative Commons Attribution 4.0 International License.