ANASLISIS YURIDIS TERHADAP PUTUSAN PERKARA NO. 26/Pdt.G/2015/PN.Wsb TENTANG BATAS PENGATURAN TANGGUNGJAWAB PIDANA DAN TANGGUNGJAWAB PERDATA TERHADAP TANGGUNGJAWAB BANK MANDIRI DALAM PENYALAHGUNAAN DATA NASABAH BANK
LAYNARDHO ABULKHAIR ALIY

INDRI FOGAR SUSILOWATI
Abstract
Abstrak
Rahasia bank dituangkan dalam peraturan selain menjelaskan sifat hubungan antara nasabah dan bank, juga merupakan bentuk perlindungan hak dari nasabah dengan bank yang dijamin oleh Undang-Undang No. 10 Tahun 1998 perubahan atas Undang-Undang No. 7 Tahun 1992 Tentang Perbankan. Selain itu hak nasabah juga dijamin oleh Peraturan Bank Indonesia No. 16/1/PBI/2014 Tentang Perlindungan Jasa Sistem Pembayaran dan peraturan-peraturan lain yang menyangkut dengan kegiatan perbankan. Permasalahan ini diambil dari putusan perkara No. 26/Pdt.G/2015/PN.Wsb. Skripsi ini menggunakan jenis penelitian yuridis normatif, teknik yang digunakan dalam penelitian ini adalah metode statute approach dan metode case approach yaitu melalui pendekatan perundang-undangan yang sesuai dengan masalah dan pendekatan kasus yakni kepada putusan perkara no.26/Pdt.G/PN.Wsb. Hasil dari pendekatan tersebut penulis menganalisis dengan menggunakan metode preskriptif. Tujuan penulisan hukum ini adalah (1) Dasar pertimbangan hukum dalam memutuskan menolak gugatan penggugat seluruhnya dengan dasar bahwa gugatan yang diajukan dalam pengadilan dengan perkara pidana dahulu yang berkekuatan hukum tetap. Kemudian penggugat bisa menuntut untuk perkara ganti rugi. (2) Batas pengaturan pertanggungjawaban telah diatur dalam UU perbankan pada Pasal 47 ayat (1) dan peraturan-peraturan lain yang menyangkut dalam kegiatan perbankan dengan sanksi pidana dan denda. Sedangkan batas pengaturan perkara perdata dengan dasar hukum pasal 1320 dan pasal 1365 KUHPerdata yang menyatakan tiap orang yang melakukan perbuatan melawan hukum, dengan merugikan orang lain wajib mengganti kerugian tersebut. Seseorang berhak untuk mengajukan gugatan untuk mempertahankan hak-haknya, akan tetapi dalam perkara aquo gugatan ganti rugi terhadap perbuatan melawan hukum sebagaimana telah diatur dalam pasal 1365 KUHPerdata haruslah melalui perkara pidana dahulu yang memiliki hukum tetap.
Kata Kunci : Batas Pengaturan Tanggungjawab, Penyalahgunaan, Data Nasabah, Rahasia Bank
Abstract
Bank secrets that set forth in regulations besides explaining the nature of the relationship between customers and banks, it is also a form of protection of the rights of customers with bank guaranteed by Law No. 10 of 1998 changes to Law No. 7 of 1992 concerning Banking. In addition, customer rights are also guaranteed by Bank Indonesia Regulation No. 16/1 / PBI / 2014 concerning Protection of Payment System Services and other regulations relating to banking activities. This problem is taken from the case number No. 26 / Pdt.G / 2015 / PN.Wsb. This research method is normative law research, the research with the techniques of method statute approach and method case approach namely through a legal approach in accordance with the problem and approach to the case for case decisions no.26 / Pdt.G / PN.Wsb. The results of this approach the authors analyzed using prescriptive methods.
The purpose of writing this law is (1) The basis of law considerations in deciding to reject the plaintiffs claim entirely on the grounds that the claim filed in the court with a criminal case has permanent law force. Then the plaintiff can sue for compensation. (2) The limits of accountability arrangements have been stipulated in the banking law in Article 47 paragraph (1) and other regulations relating to banking activities with criminal sanctions and fines. While the boundary of the civil case arrangement with the law basis of article 1320 and article 1365 of the Civil Code states that every person who commits an offense, at the expense of another person is obliged to compensate for the loss. Someone has the right to file a lawsuit to defend his rights.
Keywords: Responsibility Setting Limits, Abuse, Customer Data, Bank Secrets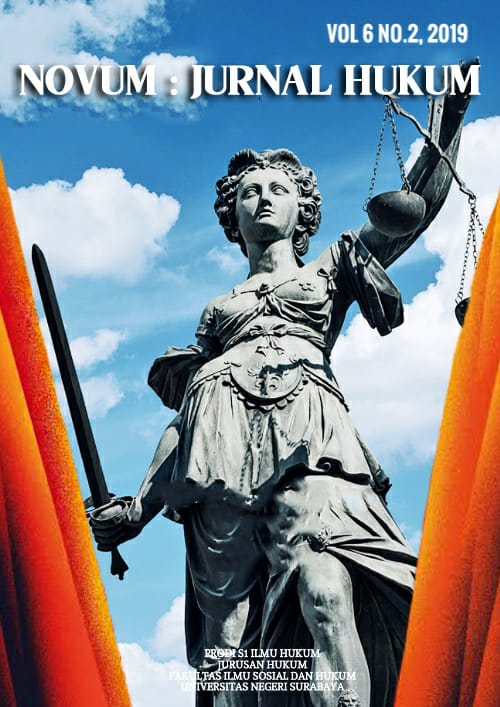 Abstract View: 53

PDF Download: 77
Authors who publish this journal agree to the following terms:
Authors retain copyright and grant the journal right of first publication with the work simultaneously licensed under a Creative Commons Attribution License that allows others to share the work with an acknowledgment of the work's authorship and initial publication in this journal.
Authors can separately make additional contractual arrangements for non-exclusive distribution published by the journal (e.g., publish it in a book), with an acknowledgment of its initial publication in this journal.
Authors are allowed and encouraged to send their work via online (e.g., in the institutional repositories or their website) after published by the journal.