PENEGAKAN HUKUM TERHADAP PELANGGARAN IZIN PENYELENGGARAAN REKLAME DI KABUPATEN SAMPANG
DAHLIYANTO

HANANTO WIDODO
Abstract
Abstrak
Iklan menjadi kebutuhan utama dalam dunia bisnis. Reklame merupakan salah satu media periklanan yang diminati karena dapat menjangkau banyak calon konsumen. Ukuran reklame yang beragam dapat mengganggu estetika tata kota jika tidak diatur. Reklame di Kabupaten Sampang setiap tahunnya semakin meningkat seiring perkembangan wilayahnya. Kabupaten Sampang adalah salah yang memiliki permasalahan mengenai reklame. Pemerintah Daerah Kabupaten Sampang telah mengatur penyelenggaraan reklame melalui Peraturan Bupati Nomor 61 Tahun 2015 Tentang Tata Cara Penyelenggaraan Reklame yang kemudian diubah dengan Peraturan Bupati Nomor 47 Tahun 2017 Tentang Perubahan Atas Peraturan Bupati Nomor 61 Tahun 2015 Tentang Tata Cara Izin Penyelenggaraan Reklame. Penegakan hukum yang masih kurang menjadi salah satu penyebab banyaknya pelanggaran izin penyelenggaraan reklame yang terjadi di Kabupaten Sampang. Tujuan penelitian ini adalah untuk mengetahui proses pengekan hukum terhadap pelanggaran izin penyelenggaraan reklame di Kabupaten Sampang dan untuk mengetahui kendala apa saja yang dihadapi dalam proses penegakan hukum terhadap izin penyelenggaraan reklame di Kabupaten Sampang. Jenis penelitian yang akan digunakan dalam penyusunan penulisan skripsi ini adalah penelitian hukum empiris dengan model penelitian yuridis sosiologis yaitu penelitian yang berbasis pada peraturan perundang-undangan dan mengamati reaksi serta interaksi masyarakat terhadap peraturan perundang-undangan terkait. Hasil dan pembahasan dalam penelitian ini penegakan hukum terhadap izin penyelenggaraan reklame di Kabupaten Sampang masih kurang sesuai dengan masih banyaknya pelanggaran yang masih terjadi. Hal ini dipengaruhi oleh 3 (tiga) unsur, yaitu unsur pembuatan undang-undang, unsur penegakan hukum dan unsur lingkungan. Beberapa hambatan dalam penegakan hukum terhadap pelanggran izin penyelenggraan reklame adalah kurangnya koordinasi instansi terkait, terbatasnya sarana penegakan hukum, dan rendahnya pengetahuan dan kesadaran masyarakat akan peraturan yang ada.
Kata Kunci : Penegakan hukum, Perizinan, Reklame
Abstract
Billboards is a major needs in the business world. Billboard is one of the advertising media that been favored because because it can reach many prospective customers. The various size of billboards can disturb the city planner aestethics if it aren't arranged. Billboards in Sampang districts increases every year as the regon develops. Sampang district is one of the districts that has problems regarding billboards. The regional government of Sampang District has regulated about management of billboards through Regent Regulation Number 61 Year 2015 Concern Management Procedures of Billboards that has changed into Regent Regulation Number 47 Year 2017 About Amandement on Regent Regulation Number 61 Year 2015 About Management Procedures of Billboards. The lacks of legal enforcement are one of the causes of the many billboards management violations in Sampang District. The purpose of this research is to find out the legal enforcement process on violations on billboards management permission in Sampang District and to find out the obstacles faced in the process of legal enforcement towards billboards management permissions in Sampang District. The type of the research that is used in this essay is empirical legal research with sociological yurical research, which are research that based on regulation and observing the reactions and interactions of the society towards the relevant laws and regulations. The results and discussion in this research are the legal enforcement towards billboards management permissions in Sampang District is still not suitable by many violations that still occur. This are affected by three factors, which are law making factors, legal enforcement factors, and environmental factors. Some of the obstacles in the legal enforcements towards violations of billboards management permissions are the lack of coordination from the related institution, the limited tools on legal enforcement, and the lack of knowledge and awareness of society related to the existing regulations.
Keywords: Legal Enforcement, Permission, Billboards.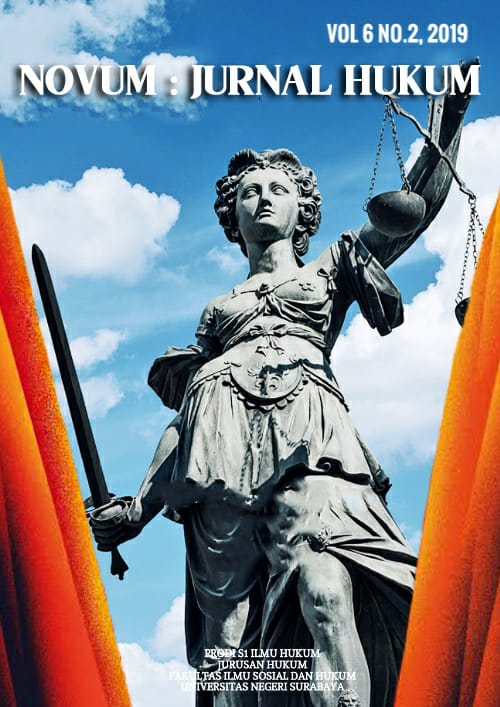 Abstract View: 117

PDF Download: 102
Authors who publish this journal agree to the following terms:
Authors retain copyright and grant the journal right of first publication with the work simultaneously licensed under a Creative Commons Attribution License that allows others to share the work with an acknowledgment of the work's authorship and initial publication in this journal.
Authors can separately make additional contractual arrangements for non-exclusive distribution published by the journal (e.g., publish it in a book), with an acknowledgment of its initial publication in this journal.
Authors are allowed and encouraged to send their work via online (e.g., in the institutional repositories or their website) after published by the journal.