PERKEMBANGAN PENDIDIKAN SAINS SETELAH DUA TAHUN PANDEMI COVID-19
Muhamad Arif Mahdiannur

Universitas Negeri Surabaya
Keywords:
science education and learning, pandemic, learning loss
Abstract
Pandemi masih menjadi salah satu isu utama dalam bidang pendidikan sejak kemunculannya di penghujung tahun 2019. Pensa E-Jurnal: Pendidikan Sains pada edisi kali ini juga masih fokus pada isu proses belajar-mengajar selama pandemi. Volume 10 Nomor 1 Januari 2022 ini terdiri atas 25 artikel. Berbagai upaya untuk mengoptimalkan proses pembelajaran dibahas secara lengkap dalam 25 artikel tersebut. Berbagai isu utama dalam pengembangan kompetensi siswa seperti keterampilan berpikir kritis, argumentasi, keterampilan berpikir kreatif, peta pikiran, keterampilan proses sains, dan keterampilan berpikir tingkat tinggi dalam proses pembelajaran daring dan hibrid menjadi kajian utama dalam terbitan kali ini.
References
Azhari, B., & Fajri, I. (2021). Distance learning during the COVID-19 pandemic: School closure in Indonesia. International Journal of Mathematical Education in Science and Technology, 1–21. https://doi.org/10.1080/0020739X.2021.1875072
Bryson, J. R., & Andres, L. (2020). Covid-19 and rapid adoption and improvisation of online teaching: curating resources for extensive versus intensive online learning experiences. Journal of Geography in Higher Education, 44(4), 608–623. https://doi.org/10.1080/03098265.2020.1807478
DeMatthews, D., Knight, D., Reyes, P., Benedict, A., & Callahan, R. (2020). From the field: Education Research during a pandemic. Educational Researcher, 49(6), 398–402. https://doi.org/10.3102/0013189X20938761
Salta, K., Paschalidou, K., Tsetseri, M., & Koulougliotis, D. (2021). Shift from a traditional to a distance learning environment during the COVID-19 pandemic. Science & Education. https://doi.org/10.1007/s11191-021-00234-x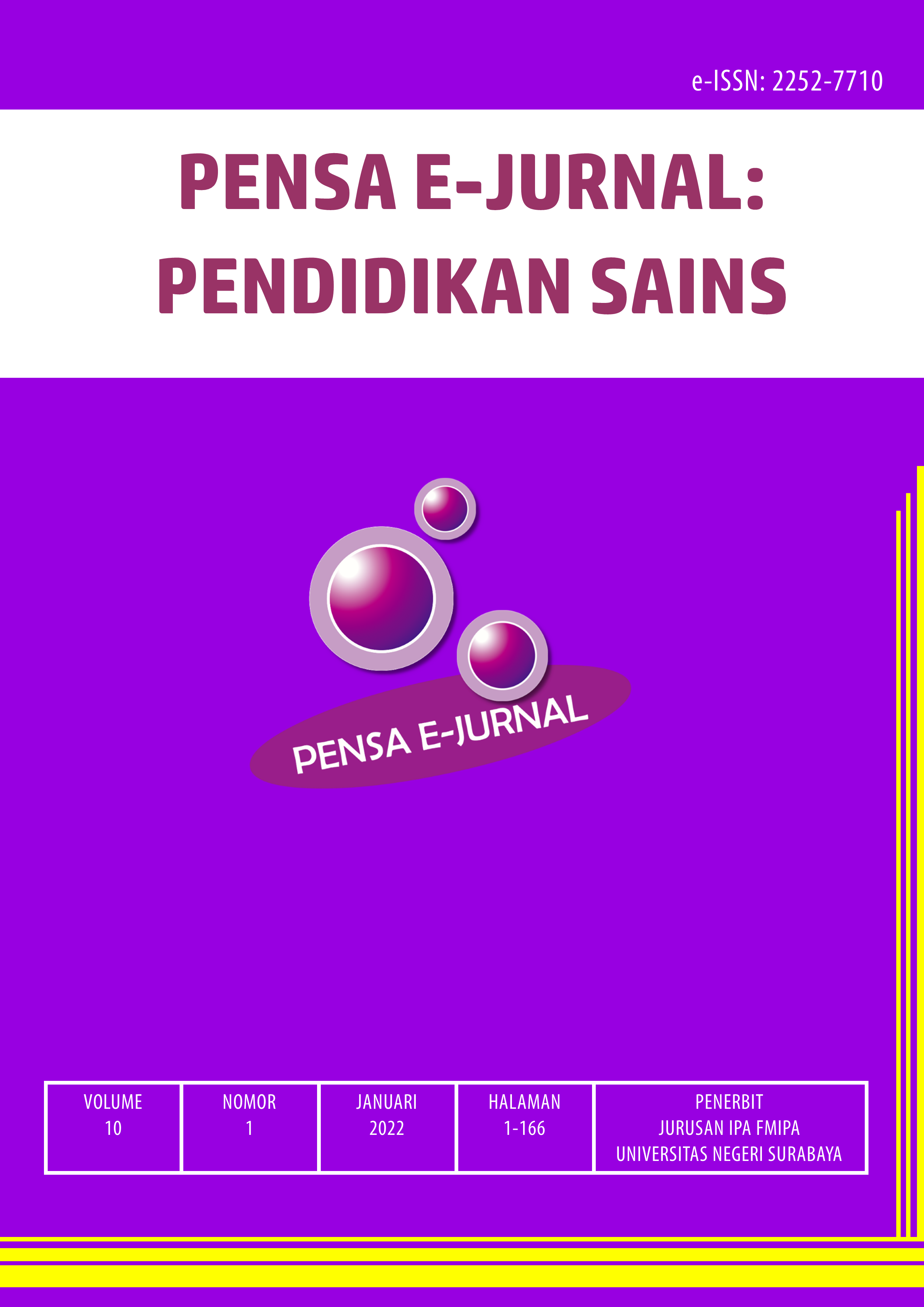 How to Cite
Mahdiannur, M. (2022). PERKEMBANGAN PENDIDIKAN SAINS SETELAH DUA TAHUN PANDEMI COVID-19. PENSA: E-JURNAL PENDIDIKAN SAINS, 10(1), ii-iii. Retrieved from https://ejournal.unesa.ac.id/index.php/pensa/article/view/44472

Abstract View: 253

PDF Download: 250
Copyright (c) 2022 PENSA: E-JURNAL PENDIDIKAN SAINS
This work is licensed under a Creative Commons Attribution 4.0 International License.