AKTIVITAS ANTIBAKTERI EKSTRAK METANOL KULIT BATANG TUMBUHAN JAMBU BOL (Syzygium malaccense) TERHADAP BAKTERI Escherichia coli
DWITA OKTAVIA PUTRI

TUKIRAN
Abstract
Abstrak. Tujuan penelitian ini adalah untuk mengetahui daya hambat ekstrak metanol kulit batang jambu bol (Syzygium malaccense) terhadap bakteri Eschercia coli. Penelitian ini menggunakan metode uji antibakteri difusi cakram dengan 4 perlakuan dan 3 kali pengulangan. Pada pengujian awal yaitu uji fitokimia ekstrak positif terdapat senyawa tanin, steroid, fenolik dan flavonoid. Konsentrasi ekstrak yang diujikan antibakteri yaitu 40%, 60%, 80% dan 100%. Ekstrak kulit batang Syzygium malaccense dengan konsentrasi 40% termasuk dalam antibakteri lemah terhadap karena menghasilkandiameter zona hambatan <5mm yaitu 1,83 mm. Ekstrak dengan konsentrasi 60% menghasilkan 7 mm sehingga termasuk dalam antibakteri sedang karena termasuk dalam range diameter zona hambat 6-10 mm. sedangkan ekstrak 80% dan 100% termasuk kuat karena menghasilkan 11,8 mm dan 13,33 mm. Hasil penelitian menunjukkan bahwa konsentrasi ekstrak meningkat bersamaan dengan diameter zona hambat yang terbentuk.
Kata Kunci : Aktivitas antibakteri , Syzygium malaccense, Difusi cakram
Abstract..The purpose of this study was to determine the inhibitory power of methanol extract of guava stem bark (Syzygium malaccense) against Eschercia coli bacteria.This study used an antibacterial disc diffusion test method with 4 treatments and 3 repetitions. In the initial test, the phytochemical test, positive extracts contain positively tannins, steroids, phenolics and flavonoids. The concentration of antibacterial extracts were 40%, 60%, 80% and 100. Syzygium mallacense stem bark extract with a concentration of 40% had potential antibacterial with weak because it produced a diameter zone of <5 mm which was 1.83 mm. The extract with a concentration of 60% produces 7 mm with medium antibacterial because of showing the range diameter of the inhibition zone of 6-10 mm. while extracts are 80% and 100% revealing strong because they produce 11.8 mm and 13.33 mm.The results showed that the concentration of extract was increased coincide with the diameter of the inhibitory zone formed.
Keywords : Antibacterial activity, Syzygium mallacense, Disc diffusion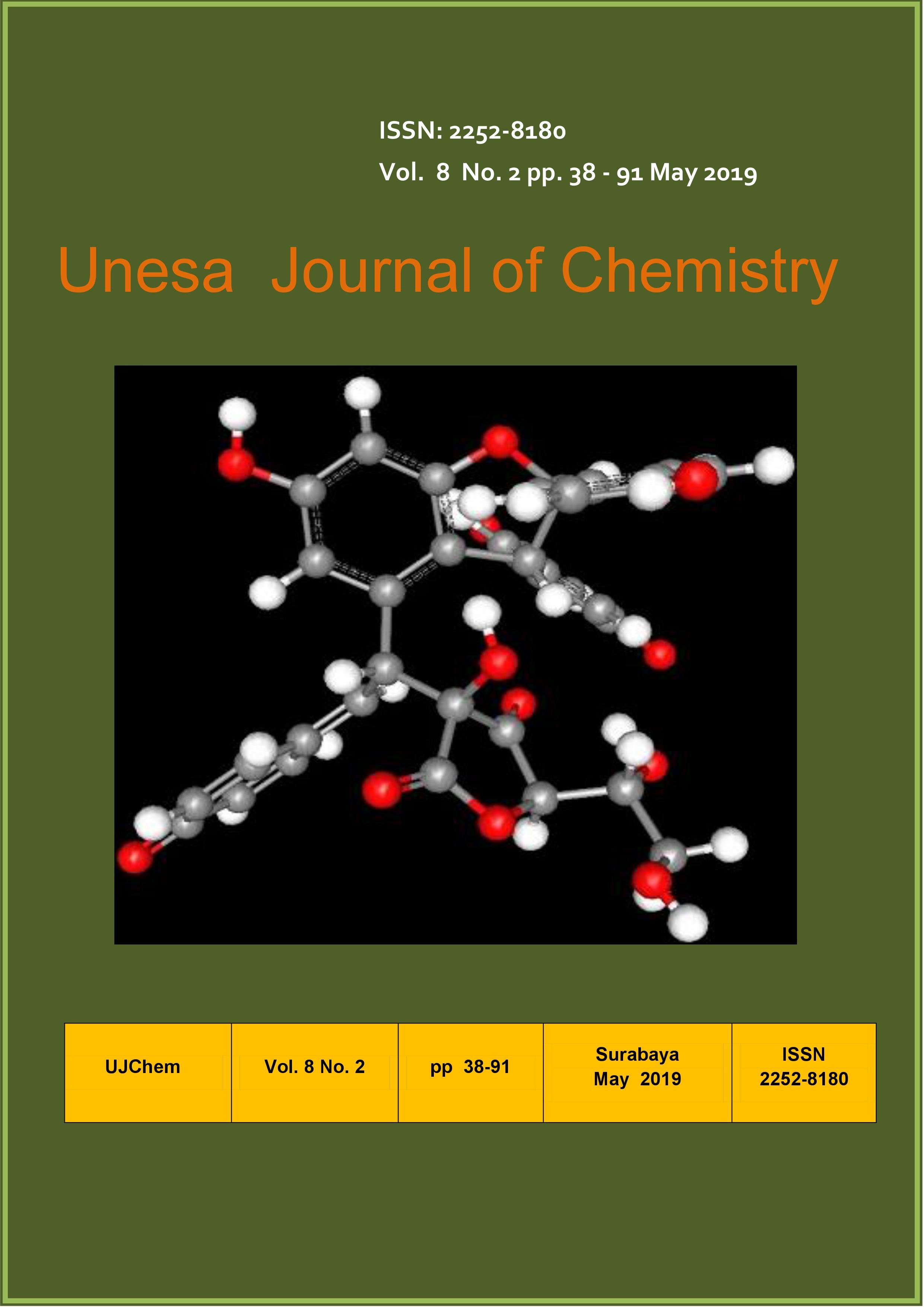 Abstract View: 15

PDF Download: 97