MODIFIKASI SILIKA GEL SEKAM PADI DENGAN 8-HIDROKSIQUINOLIN SEBAGAI ADSORBEN Ni(II) DALAM MEDIUM AIR(MODIFICATION of RICE HUSK SILICA GEL WITH 8-HYDROXYQUINOLINE as AN ADSORBENT Ni(II) in AQUEOUS MEDIUM)
RAHMAD DJATMIKO

Jurusan Kimia, FMIPA-Universitas Negeri Surabaya
Abstract
Abstrak. Penelitian adsorpsi terhadap Ni(II) oleh hibrida silika gel sekam padi hidroksiquinolin (SGSPHQ) telah dilakukan. Tujuan penelitian ini untuk mengetahui gugus fungsional adsorben SGSPHQ, pH optimum adsorpsi, dan kapasitas adsorpsi SGSPHQ. Penelitian ini mengikuti rancangan eksperimental. Parameter-parameter yang diteliti adalah 1)identifikasi gugus fungsional SGSPHQ; 2)penentuan pH optimum adsorpsi; dan 3)penentuan kapasitas adsorpsi. Identifikasi gugus fungsional adsorben SGSPHQ dilakukan secara spektroskopi inframerah (IR). Konsentrasi Ni(II) di dalam larutan diukur menggunakan Spektrofotometer Serapan Atom (SSA). Kapasitas adsorpsi (b) dianalisis dengan model isotherm adsorpsi Langmuir dan Freundlich.
Hasil-hasil penelitian yang diperoleh adalah: 1) identifikasi spektroskopi inframerah SGSPHQ menunjukkan bahwa terdapat beberapa daerah serapan karakteristik dari silika gel, aminopropiltrietoksisilan dan formil-8-hidroksiquinolin. Bilangan gelombang  1095,7 cm-1; 3389,3 cm-1; 1614,9-1470 cm-1; dan 1150 cm-1 masing-masing menunjukkan  gugus fungsional Si-O-Si, –OH fenolik, N-heterosiklik aromatik, dan Si-O-C2H5; 2) adsorpsi Ni(II) oleh SGSPHQ terjadi secara maksimum pada pH 7 sebesar 3,6352 mg/g, sedangkan oleh SGSP terjadi adsorpsi maksimum pada pH 5 sebesar 0,6591 mg/g, 3) Kapasitas adsorpsi (b) SGSPHQ dan SGSP terhadap Ni(II) masing-masing sebesar 1,3440x10-4mol/g dan  1,2545x10-4mol/g, mengikuti isoterm adsorpsi Langmuir.
Kata Kunci: Adsorpsi, silika gel sekam padi, 8-hidroksiquinolin, Ni(II)
Abstract. The study of adsorption of Ni(II) by silica gel rice husk hidroksiquinolin hybrid (SGSPHQ) has been performed. The purpose of this study  to determine the functional groups, pH optimum adsorption, and adsorption capacity of adsorbent SGSPHQ. This study followed the experimental design. The  parameters studied were 1) the identification of functional groups SGSPHQ, 2) determination of optimum pH of adsorption, and 3) the determination of adsorption capacity. Identification of functional groups of the adsorbent SGSPHQ carried by infrared spectroscopy. Concentration of Ni(II) in solution was measured using Atomic Absorption Spectrophotometer (AAS). Adsorption capacity (b) were analyzed by the adsorption isotherm models of Langmuir and Freundlich.
The results were observed that: 1) Infrared spectra of SGSPHQ show that many specific wave number of  silica gel, aminopropyltriethoksisilane and formil-8-hydroxyquinoline. Wave number for each functional groups were 1095,7 cm-1; 3389,3 cm-1; 1614,9-1470 cm-1; dan 1150 cm-1 for Si-O-Si, –OH phenolic, N-aromatic heterocyclic, and  Si-O-C2H5 respectively. ; 2) maximum adsorption Ni(II) was occurred at pH 7 by SGSPHQ, equal to 3,6352 mg/g, while by SGSP was accured at pH 5, equal to 0,6591 mg/g, 3) The value of adsorption capacity (b) on SGSPHQ was 1,3440x10-4mol/g, while those on SGSP was 1,2545x10-4mol/g respectively, .following Langmuir adsorption isotherm.
Keywords: adsorption, rice husk silica gel,8-hydroxyquinoline, Ni(II)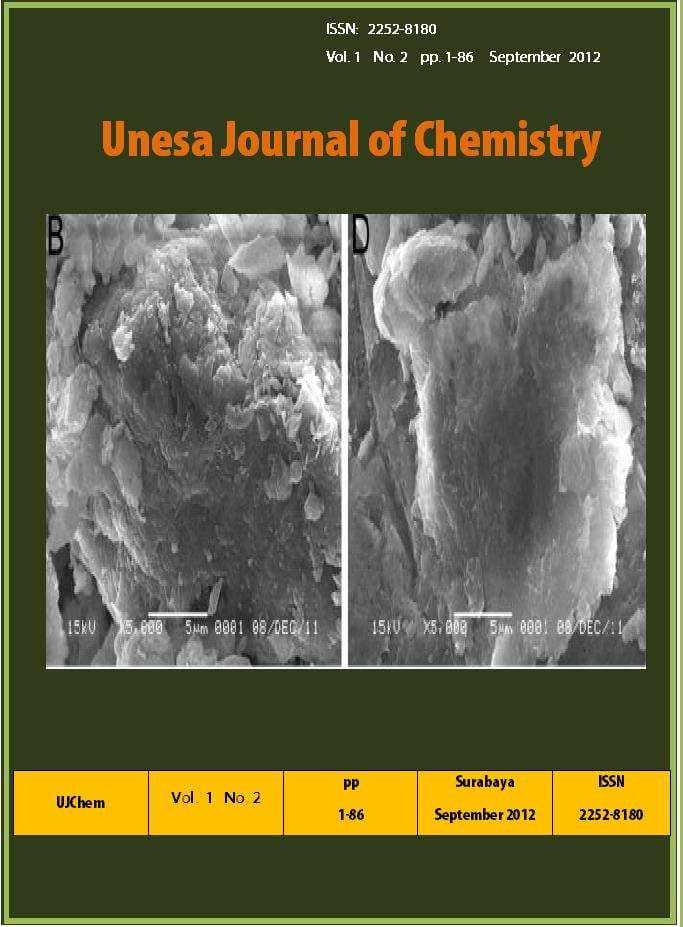 Abstract View: 2

PDF Hal 58-65 Download: 35