PEMANFAATAN KULIT BUAH SIWALAN (Borassus flabellifer L.) SEBAGAI BAHAN DASAR PEMBUATAN FURFURAL(UTILIZATION RIND OF SIWALAN FRUIT (BORASSUS FLABELLIFER L.) AS BASIC MATERIAL FOR MAKING FURFURAL)
RENA ARDIANA

Jurusan Kimia FMIPA-Universitas Negeri Surabaya
Abstract
Abstrak. Penelitian ini bertujuan untuk mencari rendemen furfural tertinggi dari kulit buah siwalan. Prosedur penelitian menggunakan refluk pada variasi konsentrasi asam sulfat 0,75M; 1,125M; 1,5M; dan 1,875M dengan lama pemanasan 5 Jam. Proses pembuatan furfural melalui beberapa tahap yaitu hidrolisis pentosan oleh katalis asam sulfat, dehidrasi, dan siklodehidrasi membentuk furfural. Analisis data dilakukan secara kualitatif dan kuantitatif. Analisis kualitatif meliputi uji warna menggunakan anilin-asetat, penentuan ideks bias, spektrofotometer UV-Vis, dan Spektrofotometer FT-IR. Hasil analisis menunjukan bahwa kulit buah siwalan dapat digunakan sebagai bahan dasar pembuatan furfural dengan rendemen furfural tertinggi adalah 4,743% untuk konsentrasi asam sulfat 1,5M.
Kata kunci: Kulit buah Siwalan, Konsentrasi asam sulfat, Rendemen Furfural
Abstract. The aim of this research is determine the maximum furfural rendement of rind  of siwalan. The procedure  used reflux condenser with heating time of 5 hours and sulfuric acid concentration 0,75; 1,125; 1,5 M; and 1,875 M. Furfural production used some steps including hydrolysis of pentosan by sulfuric acid catalyst, dehydration, and siklodehidration form furfural. The date analyze has been taken as a qualitative and quantitative. The qualitative analysis using color test with aniline-acetic, determination of the refractive Index, UV-Vis spectrophotometer, and FT-IR spectrophotometer. The Result of analysis show that rind of furfural can be used as a raw material of furfural and the maximum furfural rendement was 4,793% for sulfuric acid concentration 1,5M.
Keyword: Rind of Siwalan fruit, Sulfuric acid, and furfural rendement.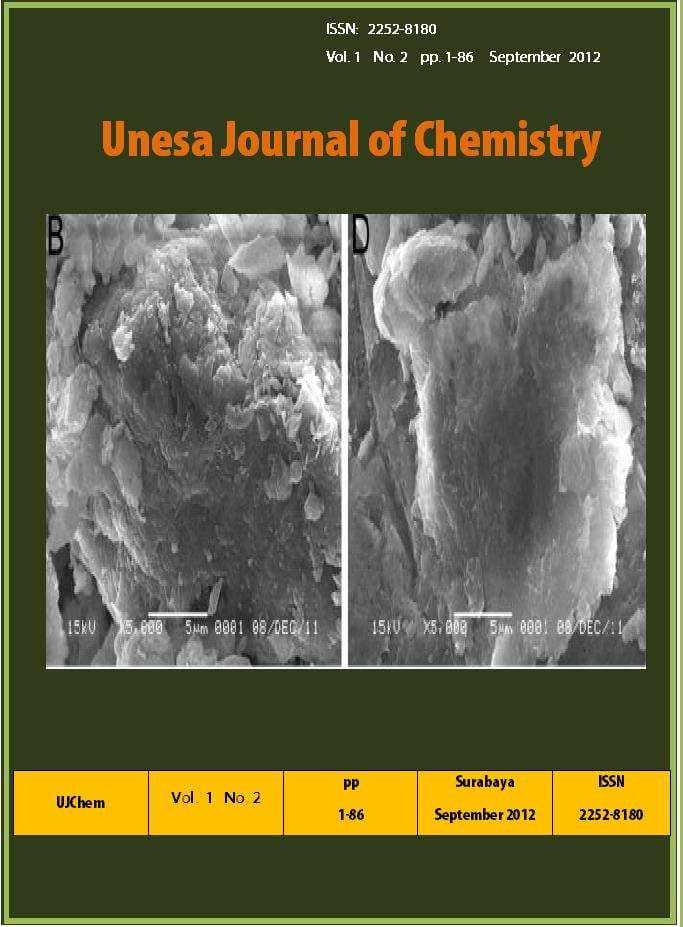 Abstract View: 9

PDF Hal 69-74 Download: 11