PEMANFAAATAN PIROPILIT TERAKTIVASI ASAM SULFAT (H2SO4) SEBAGAI ADSORBEN PADA PROSES PENJERNIHAN PELUMAS BEKAS (UTILIZATION of ACTIVATED PIROPILIT BY SULFURIC ACIDS AS ADSORBEN at CLEARED USED LUBRICANT PROCESS)
NUNUNG ISTIYORINI

Jurusan Kimia FMIPA-Universitas Negeri Surabaya
Abstract
Abstrak. Penelitian ini bertujuan untuk mengetahui : Penuruan kadar logam Al, Ca, Fe, Pb dan Zn dan air dalam pelumas bekas. Penelitian ini termasuk jenis penelitian the solomon four -group design. Adsorpsi menggunakan adsorben piropilit teraktivasi H2SO4 dengan variasi massa 2,004 g; 3,006 g; 4,006; 5,005 g; 6,006 g; 7,006 g. Masing-masing ditambahkan pada 100 ml pelumas bekas. Kadar logam  maksimal dalam pelumas bekas yang teradsorpsi oleh piropilt teraktivasi di uji dengan menggunakan Spektrofotometer X-ray Fluororesensi sedangkan untuk uji penurunan kadar air menggunakan Mettle Toledo Karlficher di Laboratorium Pertamina Perak. Berdasarkan hasil analisis data dapat diketahui bahwa penurunan   kadar logam paling banyak dalam pelumas bekas pada penambahan massa sebesar 7,006 gr yaitu untuk logam Al 24,92%, Ca 46,06%, Fe 84,31%, Pb 62,42%, Zn 72,05% dan untuk kadar air pada penambahan massa 7,004 gr  sebanyak 5,62%.
Kata kunci : Adsorben, piropilit, pelumas bekas.
Abstract. This study aims was determine: decreased levels of metals Al, Ca, Fe, Pb and Zn. And the water content in used oil. This research included in the type of research the Solomon four-group design. Adsorption by piropilit activated by H2SO4 by mass 2,004 . 3,006. 4, 006.  5,005.6 ,006. 7006 gr.Each of the add in 100 ml of used oil . Maximum levels of metals in used lubricating piropilit adsorbed on the activation test using spectroscopy XR-Fluororesensi. while to test the moisture content using a Mettle Toledo Karlfificher laboratory at Pertamina Perak. Based on the results of data analysis can be seen that the decrease of The greatest metal content in used oil by the addition of a mass of 7.006 g was for Al 24,92%.  Ca 46,01%. Fe 84,31%.  Pb 62,41%.  Zn 72,05% and water content in addition to the mass of 7.004 g of as much as 5.62%.
Keywords : adsorption, piropilit, used lubricating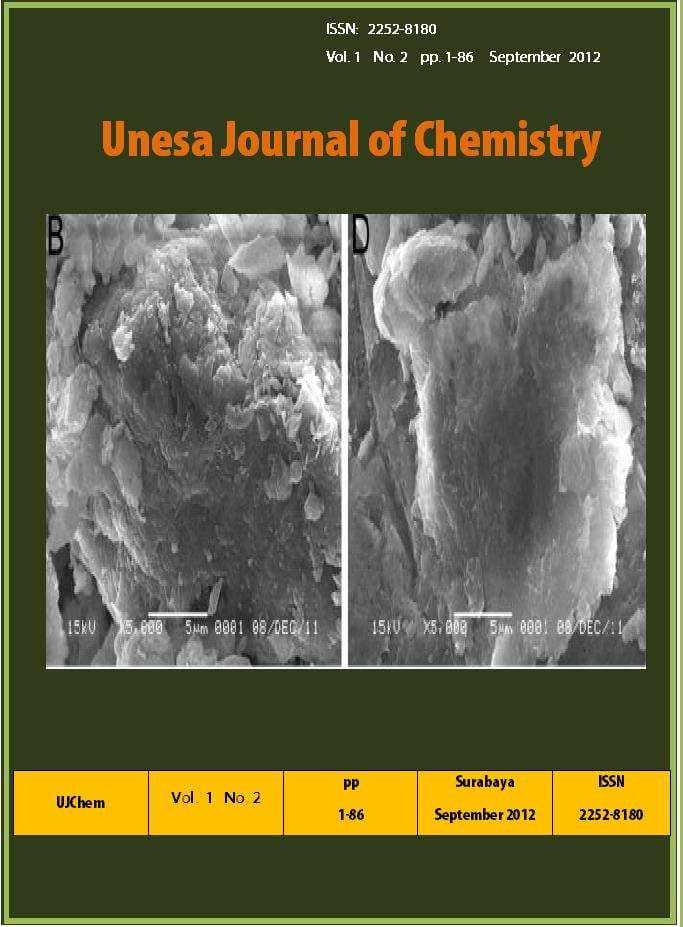 Abstract View: 2

PDF Hal 54-57 Download: 27