FITOKIMIA DAN UJI BIOINSEKTISIDA ISOLAT DARI EKSTRAK KULIT BATANG TUMBUHAN NYIRI BATU TERHADAP ULAT GRAYAK PHYTOCHEMICAL and BIO-INSECTICIDES TEST ISOLATES FROM STEM BARK OF NYIRI BATU PLANTS EXTRACT AGAINST ARMYWORM (Spodoptera litura)
Abstract
Abstrak. Telah dilakukan penelitian tentang uji fitokimia dan uji bioinsektisida isolat dari ekstrak kulit batang tumbuhan nyiri batu (Xylocarpus moluccencis) terhadap ulat grayak. Penelitian ini bertujuan untuk mengetahui kandungan kimia kulit batang tumbuhan nyiri batu serta untuk mengetahui  potensi isolat kloroform  sebagai insektisida nabati yang dapat membunuh ulat grayak Spodoptera litura. Kandungan kimia yang diuji pada penelitian ini meliputi alkaloid, steroid/triterpenoid, flavonoid, tanin, saponin, fenolik, dan aromatik. Sementara untuk uji bioinsektisida jenis ulat grayak yang digunakan yaitu Spodoptera litura instar ketiga. Pada uji bioinsektisida ini menggunakan 7 variasi konsentrasi (0, 2, 4, 8, 16, 32 dan 64 mg/L) yang diamati selama 3 hari. Nilai LC50 ditentukan dengan analisis probit menggunakan program Minitab versi 14. Hasil penelitian untuk uji fitokimia  menunjukkan bahwa kulit batang tumbuhan nyiri batu mengandung komponen kimia yakni steroid, fenolik, flavonoid, saponin, dan tanin. Kemudian hasil penelitian untuk uji bioinsektisida isolat  kloroform nyiri batu dapat mematikan ulat grayak Spodoptera litura instar ketiga dengan nilai LC50 sebesar 98,6339 mg/L.
Kata kunci: fitokimia, bioinsektisida, nyiri batu, ulat grayak.
Abstract. Research on   phytochemicals  and bioinsecticide test isolates  from the stem bark extract of the plant nyiri batu has been done. Research aimed  to determine the chemical constituents of the plant bark and nyiri batu chloroform isolate potential as natural  insecticide that can kill armyworms. Chemical content was tested in this research including alkaloids, steroidal, triterpenoid, flavonoids, tannins, saponins, phenolic and aromatic. While of bioinsecticide test for assay of Armyworm used is Spodoptera litura third instar. On this bioinsecticide test used 7 variations of concentration (0, 2, 4, 8, 16, 32 and 64 mg/L) observed for 3 days. LC50 values determined by the probit analysis using Minitab program version 14. Results of the reserarch to phytochemicals  test showed that plants contain chemical components such as steroids, saponins, flavonoids, phenolic and tannin. Then the results of the research  to bioinsecticide test  isolates of chloroform nyiri batu can cause deadly Armyworm Spodoptera litura third instar with LC50 values of 98,6339 mg/L.
Keyword: bioinsecticides,  nyiri batu, phytochemicals,  Spodoptera litura.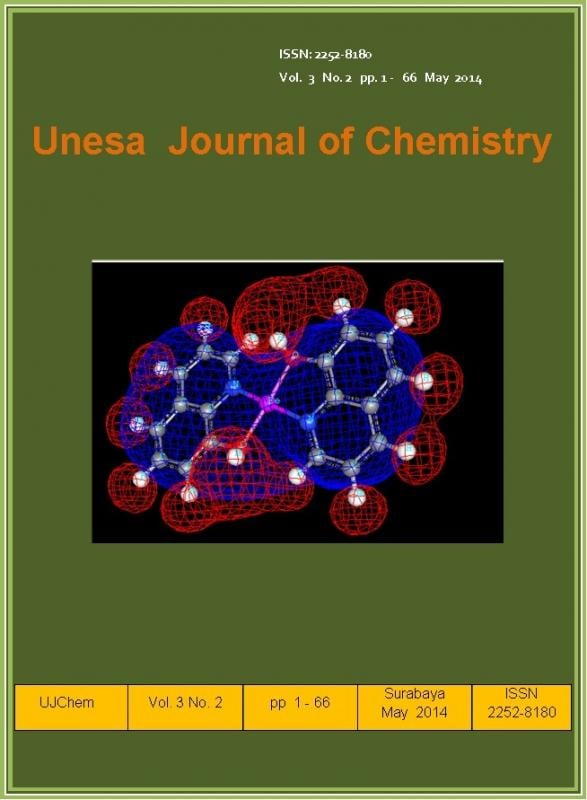 Abstract View: 18

PDF Download: 21