ANALISIS LITERASI LINGKUNGAN SISWA SMP PADA SEKOLAH BERKURIKULUM WAWASAN LINGKUNGAN
Zulaikha Rokhmah

Jurusan IPA, Fakultas Matematika dan Ilmu Pengetahuan Alam, Universitas Negeri Surabaya

An Nuril Maulida Fauziah

Jurusan IPA, Fakultas Matematika dan Ilmu Pengetahuan Alam, Universitas Negeri Surabaya
Abstract
This study aims to describe the environmental literacy skills of students in schools that apply an environment curriculum. The type of research used is descriptive with a quantitative approach. The subjects in this study were 75 students of eight class and science teachers in schools with an environmental curriculum, namely State Junior High School 16 of Surabaya. The research instrument used test question sheets, questionnaires, and interviews. The research data were analyzed descriptively based on the achievement score criteria of each indicator of environmental literacy. The results showed that student's environmental literacy skills on the indicators of knowledge had a percentage of 46.3% with a fairly good category, cognitive skills had a percentage of 36.7% in a bad category, students' attitudes towards the environment had a percentage of 79.5% in a good category, and student behavior towards the environment has a percentage of 79.0% in a good category.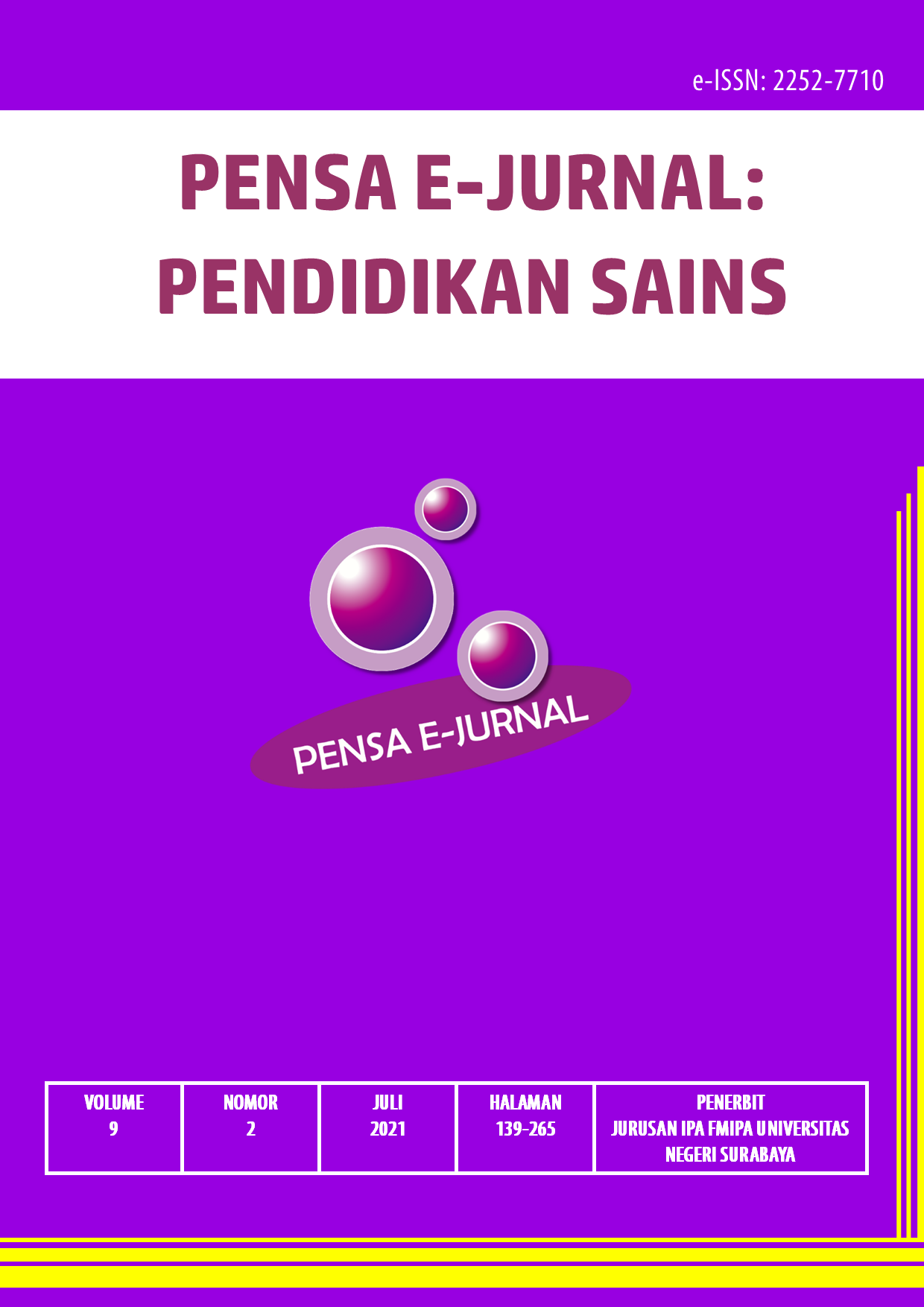 How to Cite
Rokhmah, Z., & Fauziah, A. (2021). ANALISIS LITERASI LINGKUNGAN SISWA SMP PADA SEKOLAH BERKURIKULUM WAWASAN LINGKUNGAN. PENSA: E-JURNAL PENDIDIKAN SAINS, 9(2), 176-181. Retrieved from https://ejournal.unesa.ac.id/index.php/pensa/article/view/37765
Copyright (c) 2021 PENSA: E-JURNAL PENDIDIKAN SAINS
This work is licensed under a Creative Commons Attribution 4.0 International License.