ANALISIS UNSUR MEDIA PRESENTASI DENGAN POWERPOINT YANG DIGUNAKAN OLEH GURU IPA DI SMPN 1 MEGALUH
Ira Amelia Mufida

Jurusan IPA, Fakultas Matematika dan Ilmu Pengetahuan Alam, Universitas Negeri Surabaya

An Nuril Maulida Fauziah

Jurusan IPA, Fakultas Matematika dan Ilmu Pengetahuan Alam, Universitas Negeri Surabaya
Abstract
This research was conducted with the aim of analyzing the presentation media used by teachers at SMPN 1 Megaluh in order to achieve maximum learning objectives. The research design used is descriptive quantitative. The subjects of this research are teachers and presentation media used during the teaching process. The selected respondents were 3 science teachers teaching in grades 7, 8 and 9 with a total of 9 powerpoint media collected from the 3 science teachers. This research method uses descriptive quantitative using learning media assessment instruments. The data analysis technique used was data reduction, data presentation, and conclusion urawing. The results in this study indicate that the powerpoints made by teachers at SMPN 1 Megaluh have their respective advantages in accordance with the material displayed in terms of content, language and media appearance aspects. The conclusion of this study is the percentage acquisition in the powerpoint media analysis, namely the 7th grade teacher with the material "Measurement" gets a percentage of 83.3%, the 8th grade teacher with the "Force" material gets a percentage of 85%, and the 9th grade teacher with the material "Dynamic Electricity" obtained a percentage of 83.3%. The results above show that the powerpoint learning media used by the teacher at SMPN 1 Megaluh is categorized as good, and can be used with revisions.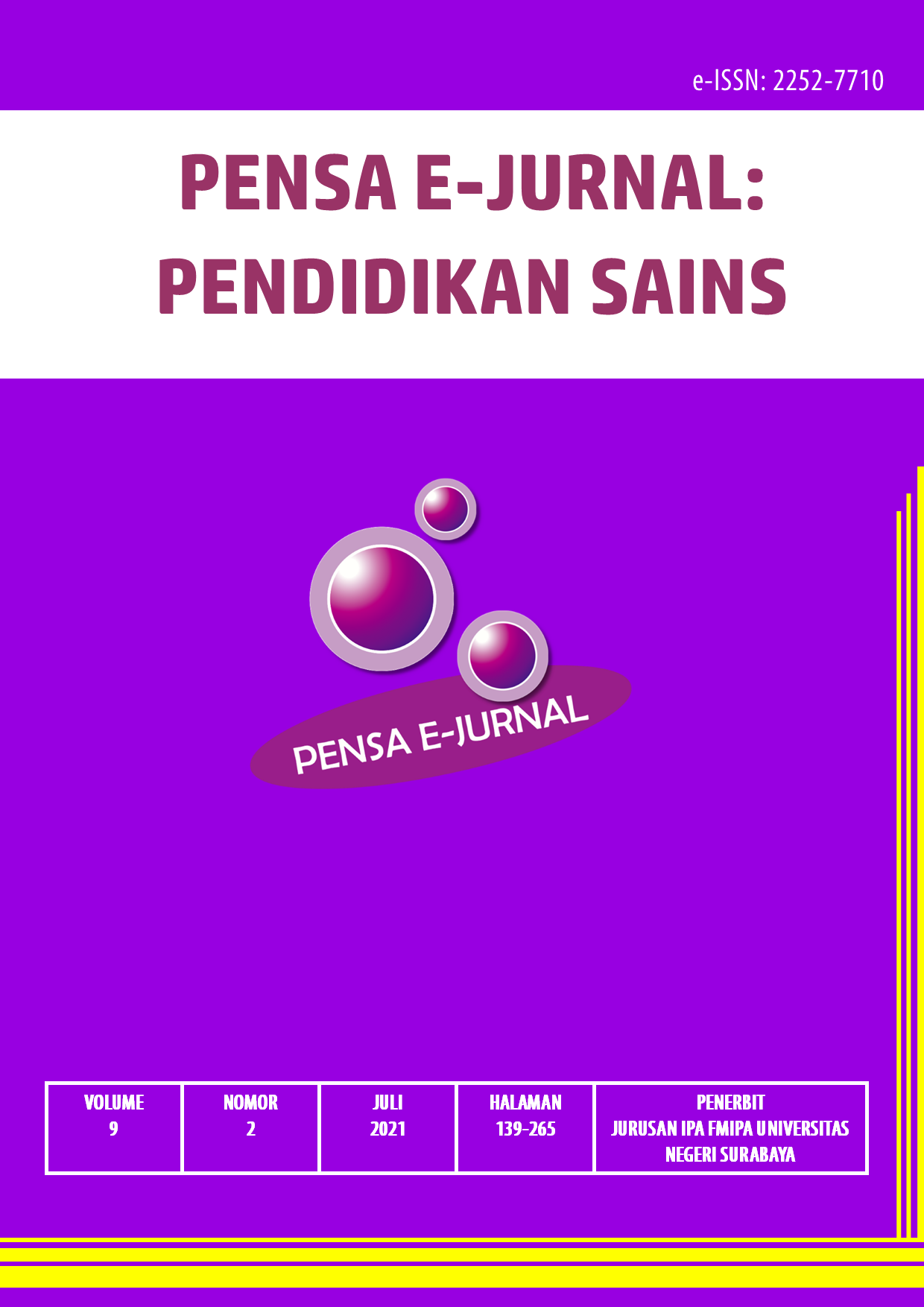 How to Cite
Mufida, I., & Fauziah, A. (2021). ANALISIS UNSUR MEDIA PRESENTASI DENGAN POWERPOINT YANG DIGUNAKAN OLEH GURU IPA DI SMPN 1 MEGALUH. PENSA: E-JURNAL PENDIDIKAN SAINS, 9(2), 205-212. Retrieved from https://ejournal.unesa.ac.id/index.php/pensa/article/view/38266
Copyright (c) 2021 PENSA: E-JURNAL PENDIDIKAN SAINS
This work is licensed under a Creative Commons Attribution 4.0 International License.