PEMANFAATAN NANOSILVER SEBAGAI ANTIBAKTERI DALAM FORMULASI WHITENING CREAM TERHADAP Staphylococcus aureus
NURMA ERLITA DAMAYANTI

TITIK TAUFIKUROHMAH
Abstract
Abstrak. Telah dilakukan sintesis nanosilver dengan metode reduksi kimia. Larutan induk ion perak direduksi dengan natrium sitrat dan penstabil PVP 3%. Karakterisasi menggunakan Spektrofotometer UV-Vis pada λmaks 414 – 418,3 nm dihasilkan koloid perak berukuran nanometer yang relatif stabil selama masa penyimpanan 60 hari. Hasil uji TEM diperoleh bentuk klaster dominan adalah spherical dengan ukuran nanopartikel berkisar antara 18,60 – 42,97 nm. Nanosilver hasil sintesis diaplikasikan ke dalam variasi formulasi whitening cream F1 (10%), F2 (15%), dan F3 (20%) b/v dan uji aktivitas antibakteri terhadap Staphylococcus aureus menghasilkan rata-rata diameter daerah hambat masing-masing sebesar 7,36 ± 1,72 mm; 12,43 ± 2,43 mm; dan 19,26 ± 2,23 mm. Konsentrasi Hambat Minimum (KHM) adalah 10% yakni formulasi whitening cream dengan kandungan nanosilver terendah yang mampu menghambat pertumbuhan bakteri dengan kategori respon hambat sedang. Uji statistic (p ≤ 0,05) menunjukkan variasi penambahan nanosilver dalam whitening cream berpengaruh terhadap daya hambat pertumbuhan Staphylococcus aureus.
Kata kunci: nanosilver, PVP, aktivitas antibakteri, whitening cream.
Abstract. The synthesis of nanosilver has been carried out by chemical reduction method. The solution of silver ions is reduced with sodium citrate and 3% PVP as stabilizer. Characterization using UV-Vis spectrophotometer at λmax 414 – 418,3 nm produced silver colloid in nanometer size which was relatively stable during the storage period of 60 days. TEM images show that the nanoparticles are dominant spherical in shape with ~ 18,60 – 42,97 nm dimensions. Synthesized nanosilver is applied to a variety of whitening cream formulations as an antibacterial. Antibacterial activity test on Staphylococcus aureus on formula F1 (10%), F2 (15%), and F3 (20%) w / v resulted in a mean local diameter of antibacterial inhibition of 7.36 ± 1.72 mm ; 12.43 ± 2.43 mm; and 19.26 ± 2.23 mm. The Minimum Inhibition Concentration (MIC) is 10%, namely the whitening cream formulation with the lowest nanosilver level that can help the growth of bacteria with a medium inhibitory response category. The statistical test (p ≤ 0,05) show that the addition of variations in the formulation of nanosilver in whitening cream had an effect on the inhibition of the bacterial growth.
Keywords: nanosilver, PVP, antibacterial activity, whitening cream.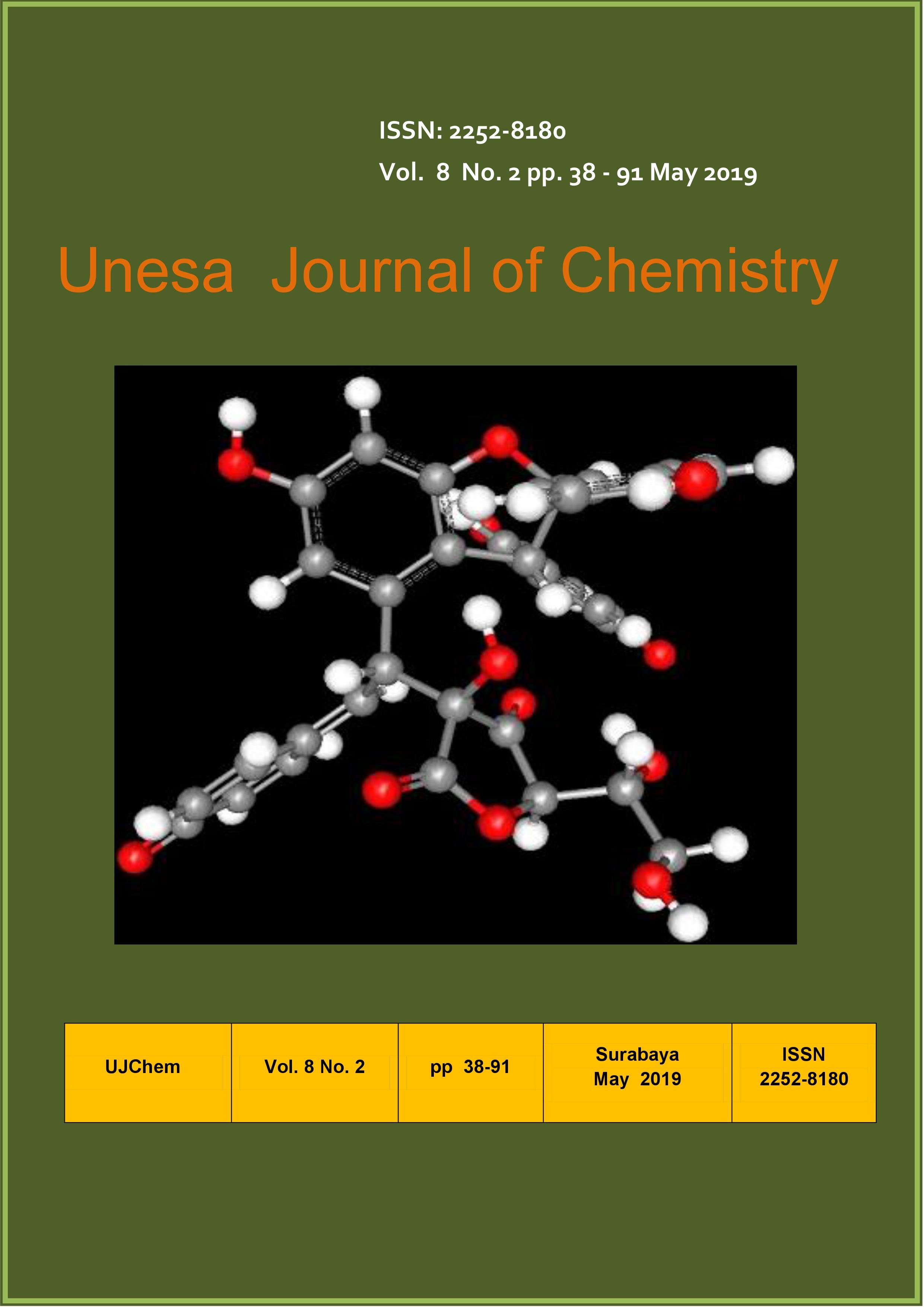 Abstract View: 14

PDF Download: 168