PEMBUATAN ELEKTRODA KERJA GRAPHENE OXIDE-PARAFFIN UNTUK ANALISIS LOGAM Cd MENGGUNAKAN CYCLIC VOLTAMMETRY MAKING OF GRAPHENE OXIDE-PARAFFIN WORKING ELECTRODE FOR ANALYSIS OF Cd USING CYCLIC VOLTAMMETRY
TAUFIK HIDAYATULLOH

PIRIM SETIARSO
Abstract
Abstrak. Graphene Oxide (GO) merupakan turunan alotrop karbon yang dapat dimanfaatkan sebagai elektroda secara maksimal. Penelitian ini bertujuan untuk mengetahui hasil karakterisasi dan hasil analisis Cd(II) dari Graphene Oxide-Paraffin yang akan digunakan sebagai elektroda kerja pada Cyclic Voltammetry (CV) dengan kondisi optimum. GO disintesis dari grafit dengan metode Improved Hummer kemudian dilakukan karakterisasi untuk memastikan bahwa sudah terbentuk GO. GO yang dihasilkan dilakukan dua jenis karakterisasi meliputi karakterisasi fisika dan kimia. Karakterisasi fisika menggunakan PSA untuk mengetahui ukuran partikelnya, menggunakan XRD untuk mengetahui puncak difraksi dua tetha kemudian dibandingkan dengan spektrum XRD referensi dan karakterisasi kimia menggunakan FTIR untuk mengetahui gugus fungsinya. Hasil analisis spektrum FTIR pada GO menunjukkan gugus -OH pada bilangan gelombang 3314 cm-1, ikatan C=C pada panjang gelombang 1632 cm-1 dan ikatan C-O pada panjang gelombang 1383 dan 1092 cm-1. Hasil analisis XRD pada GO menunjukkan puncak difraksi 2θ pada 11,53o. Hasil analisis voltametri menunjukkan komposisi elektroda GO-paraffin yang menghasilkan voltamogram terbaik adalah komposisi dengan perbandingan 8:2. Kondisi pH optimum untuk analisis Cd(II) menggunakan elektroda GO-paraffin adalah pada pH 6,5. Elektroda GO-paraffin menghasilkan kurva linier pada larutan Cd(II) dengan linieritas 0,98992. Analisis CV dengan menggunakan elektroda GO-paraffin pada kondisi optimum menghasilkan rata-rata % recovery 97,64 % lebih baik dibandingkan dengan analisis instrumen AAS sebesar 86,32 %.
Kata Kunci : Graphene Oxide, Cyclic Voltammetry, Kadmium
Abstract. Graphene Oxide (GO) is a carbon allotropic derivative that can be used as an electrode. This study aims to determine the results of the characterization and results of the analysis of Cd (II) from Graphene Oxide-Paraffin which will be used as a working electrode on Cyclic Voltammetry (CV) with optimum conditions. The GO was synthesized from graphite using the Improved Hummer method and characterization was carried out to ensure that the GO was formed. The resulting GO is carried out by two types of characterization including physical and chemical characterization. Physical characterization using PSA to determine the particle size, using XRD to determine the diffraction peaks of two tetha then compared with the reference XRD spectrum and chemical characterization using FTIR to determine its function group. The results of FTIR spectrum analysis on GO showed the -OH group at wave number 3314 cm-1, C=C bond at a wavelength of 1632 cm-1 and the C-O bond at a wavelength of 1383 and 1092 cm-1. The results of XRD analysis on GO showed a diffraction peak of 2θ at 11.53o. The results of voltammetric analysis showed that the composition of GO-paraffin electrodes which produced the best voltammogram was a composition with a ratio of 8: 2. The optimum pH condition for Cd (II) analysis using GO-paraffin electrode is at pH 6.5. GO-paraffin electrodes produce linear curves in Cd (II) solution with linearity of 0.98992. CV analysis using GO-paraffin electrodes at optimum conditions resulted in an average recovery of 97.64% better than the analysis of AAS instruments of 86.32%.
Keywords : Graphene Oxide, Cyclic Voltammetry, Cadmium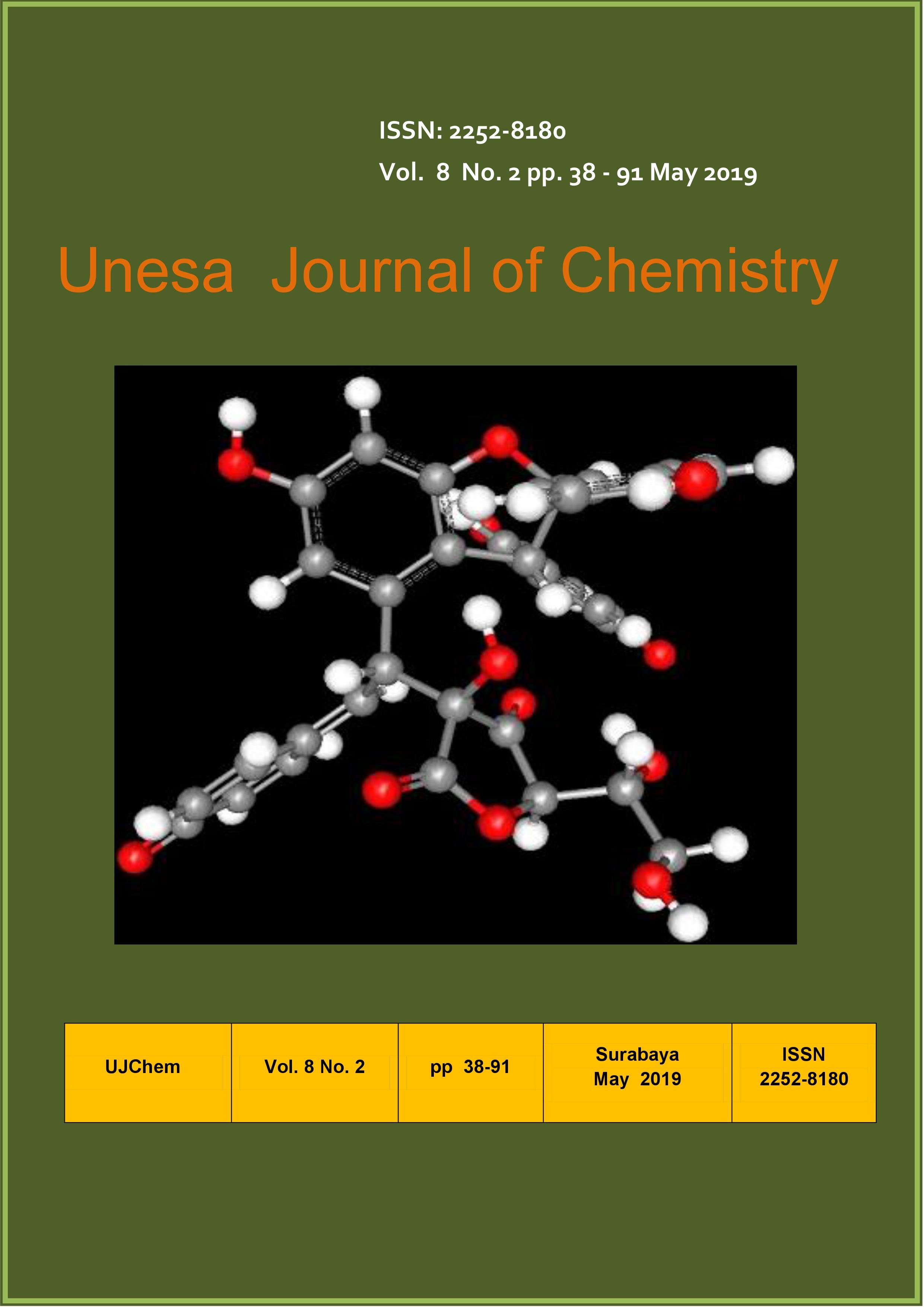 Abstract View: 19

PDF Download: 130