EFEKTIVITAS MODEL DISCOVERY LEARNING BERBASIS DIGITAL TERHADAP PEMAHAMAN KONSEP MATERI SISTEM PENCERNAAN
Ihda Salma Dafira

Jurusan IPA, Fakultas Matematika dan Ilmu Pengetahuan Alam, Universitas Negeri Surabaya

Wahono Widodo

Jurusan IPA, Fakultas Matematika dan Ilmu Pengetahuan Alam, Universitas Negeri Surabaya
Abstract
The research objective was to determine the effectiveness of the digital-based discovery learning model (powerpoint and video animation learning) on students' concept undestanding of digestive system material. This type of research is Pre-Experimental Design. The research design used is the One Group Pretest - Posttest. This research was conducted at SMP Negeri 60 Surabaya. The sample in the study consisted of two groups, namely the experimental group (VII-H) using a digital-based discovery learning model and the control group (VIII-F) using the commonly applied model. Each group consists of 25 students. The data collection method is the test method given before and after the implementation of the digital-based discovery learning model on digestive system material. The data from pretest dan posttest were then analyzed using N-gain to describe the categories of increasing students' conceptual undestanding. In this study, there were differences in the n-gain results in the two groups that had been applied treatment. Digital-based discovery learning models result in greater improvement than a typical classroom teaching. The results showed an increase of 68% including in the medium category in the experimental group. Annother case in the control group there was an increase of 18%, including the low category. Thus it can be concluded that this digital-based discovery learning model is effectively used in students' concept undestanding to improve the digestive system material in SMP Negeri 60 Surabaya.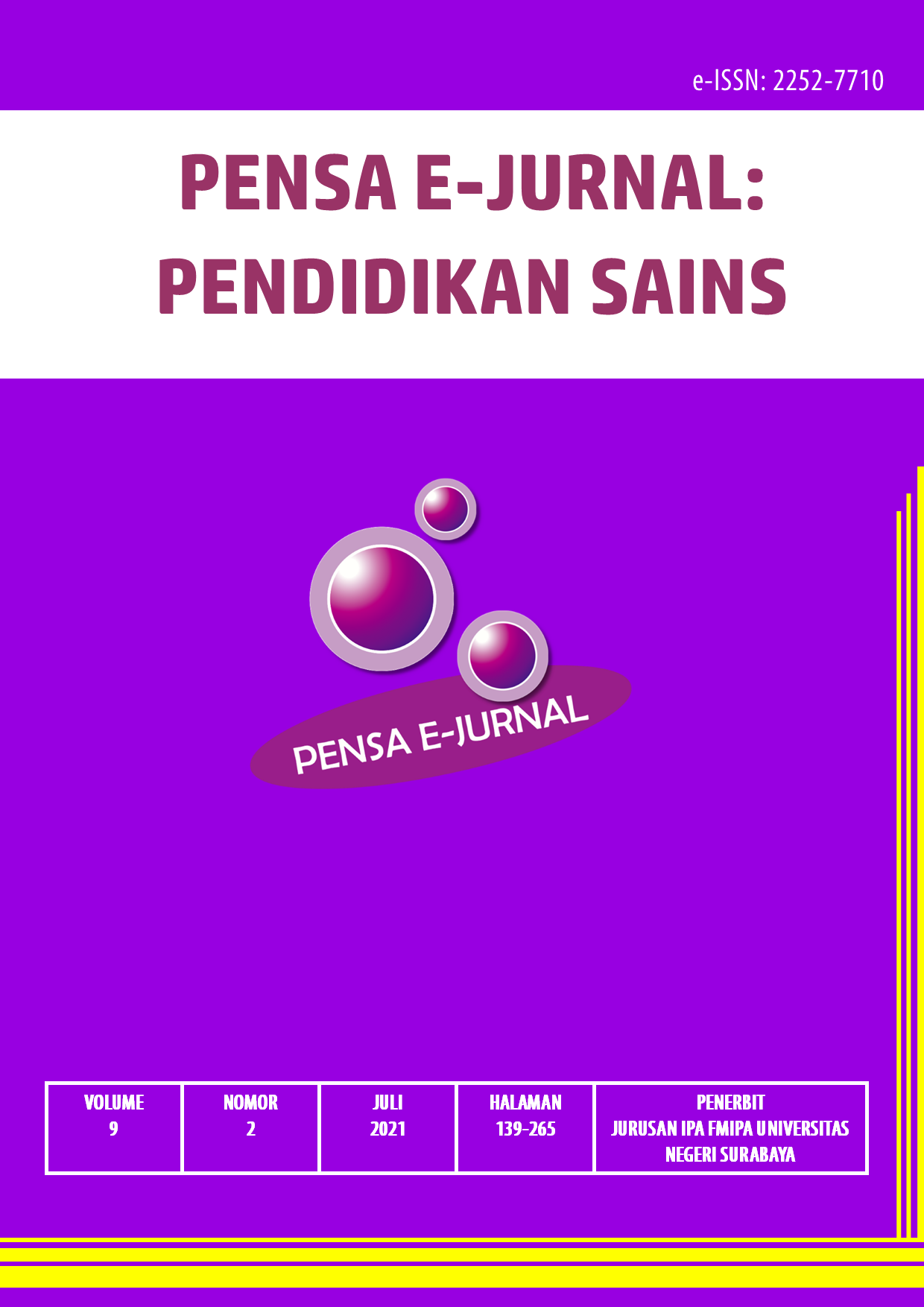 How to Cite
Dafira, I., & Widodo, W. (2021). EFEKTIVITAS MODEL DISCOVERY LEARNING BERBASIS DIGITAL TERHADAP PEMAHAMAN KONSEP MATERI SISTEM PENCERNAAN. PENSA: E-JURNAL PENDIDIKAN SAINS, 9(2), 182-187. Retrieved from https://ejournal.unesa.ac.id/index.php/pensa/article/view/38027
Copyright (c) 2021 PENSA: E-JURNAL PENDIDIKAN SAINS
This work is licensed under a Creative Commons Attribution 4.0 International License.