PENERAPAN ASESMEN PEMBELAJARAN JARAK JAUH MATERI KALOR DAN PERPINDAHANNYA SECARA DARING DAN LURING DI KELAS VII SMP NEGERI 1 SUMBERREJO
Arifa Umma Nur Fadlilah

Jurusan IPA, Fakultas Matematika dan Ilmu Pengetahuan Alam, Universitas Negeri Surabaya

Wahyu Budi Sabtiawan

Jurusan IPA, Fakultas Matematika dan Ilmu Pengetahuan Alam, Universitas Negeri Surabaya

Wahono Widodo

Jurusan IPA, Fakultas Matematika dan Ilmu Pengetahuan Alam, Universitas Negeri Surabaya
Abstract
This study aims to determine how the implementation, the results of student learning evaluation, and the constraints of distance learning assessment of heat material and its online and offline transfer in class VII SMP Negeri 1 Sumberrejo. This research uses descriptive analytical method to describe and analyze a research result. The subjects in this study were each class using a sample of 12 students, class VII H through online distance learning and VII I through offline learning. This research was conducted by analyzing the reliability of the items assisted by the SPSS Cronbach Alfa which consisted of 10 multiple choice questions and 5 essay questions. Based on the results of interviews that have been conducted, at SMP Negeri 1 Sumberrejo learning is done online and offline. From the results of student learning evaluations, the reliability test of online learning assessment instrument questions with offline learning did not provide permanent results because there were obstacles in online learning including not all students had facilities for online learning, teachers had difficulty monitoring student learning progress, limited teacher competence in the use of learning applications, and when the teacher gives assignments not all students collect assignments according to the deadlines that have been given. Meanwhile, the problem with offline learning is that students cannot focus on learning because sometimes the situation and conditions at home are not possible. To overcome obstacles in learning, teachers should be able to manage learning in any circumstances, there is monitoring, guidance and support of parents in the student learning process in the midst of this changing learning implementation.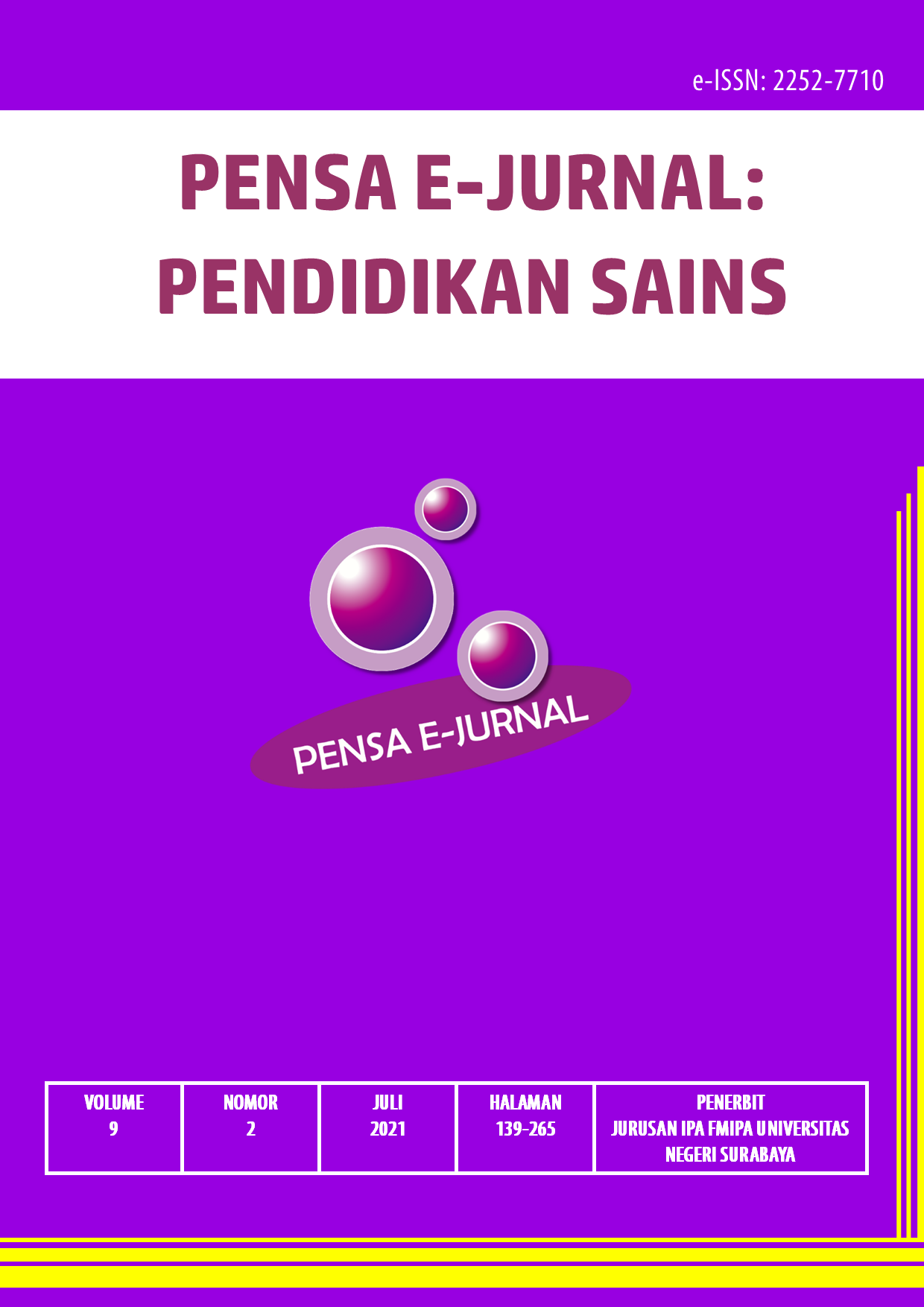 How to Cite
Fadlilah, A. U., Sabtiawan, W., & Widodo, W. (2021). PENERAPAN ASESMEN PEMBELAJARAN JARAK JAUH MATERI KALOR DAN PERPINDAHANNYA SECARA DARING DAN LURING DI KELAS VII SMP NEGERI 1 SUMBERREJO. PENSA: E-JURNAL PENDIDIKAN SAINS, 9(2), 199-204. Retrieved from https://ejournal.unesa.ac.id/index.php/pensa/article/view/38315
Copyright (c) 2021 PENSA: E-JURNAL PENDIDIKAN SAINS
This work is licensed under a Creative Commons Attribution 4.0 International License.