ANALISIS UNSUR-UNSUR KETERAMPILAN PROSES SAINS DALAM BUKU IPA SMP
Asrofiatin Aliyah

Jurusan IPA, Fakultas Matematika dan Ilmu Pengetahuan Alam, Universitas Negeri Surabaya

Erman Erman

Jurusan IPA, Fakultas Matematika dan Ilmu Pengetahuan Alam, Universitas Negeri Surabaya
Abstract
The research aims to identify the presentation of elements of basic science process skills and integrated science process skills in science textbooks for Class VII SMP on temperature and its changes. This study uses a qualitative description analysis. The object of research in this study was the Eksplorasi Ilmu Alam 1 book, IPA Terpadu Kelas VII book and Ilmu Pengetahuan Alam Kurikulum 2013 book selected by judgment sampling. The instrument used to collect data in this study was to use an instrument of the elements of science process skills on the topic of temperature and its changes. The data collection technique used is literature study. Data analysis techniques in research using content analysis. The results showed that the elements of science process skills have been presented well even though there are elements that have not been fulfilled elements of defining operational variables. The element of SPS that appears the most is the element of observing which is the most basic skill in conducting an experiment. With this research, it is hoped that teachers will have many references in improving student KPS and not just referring to one book.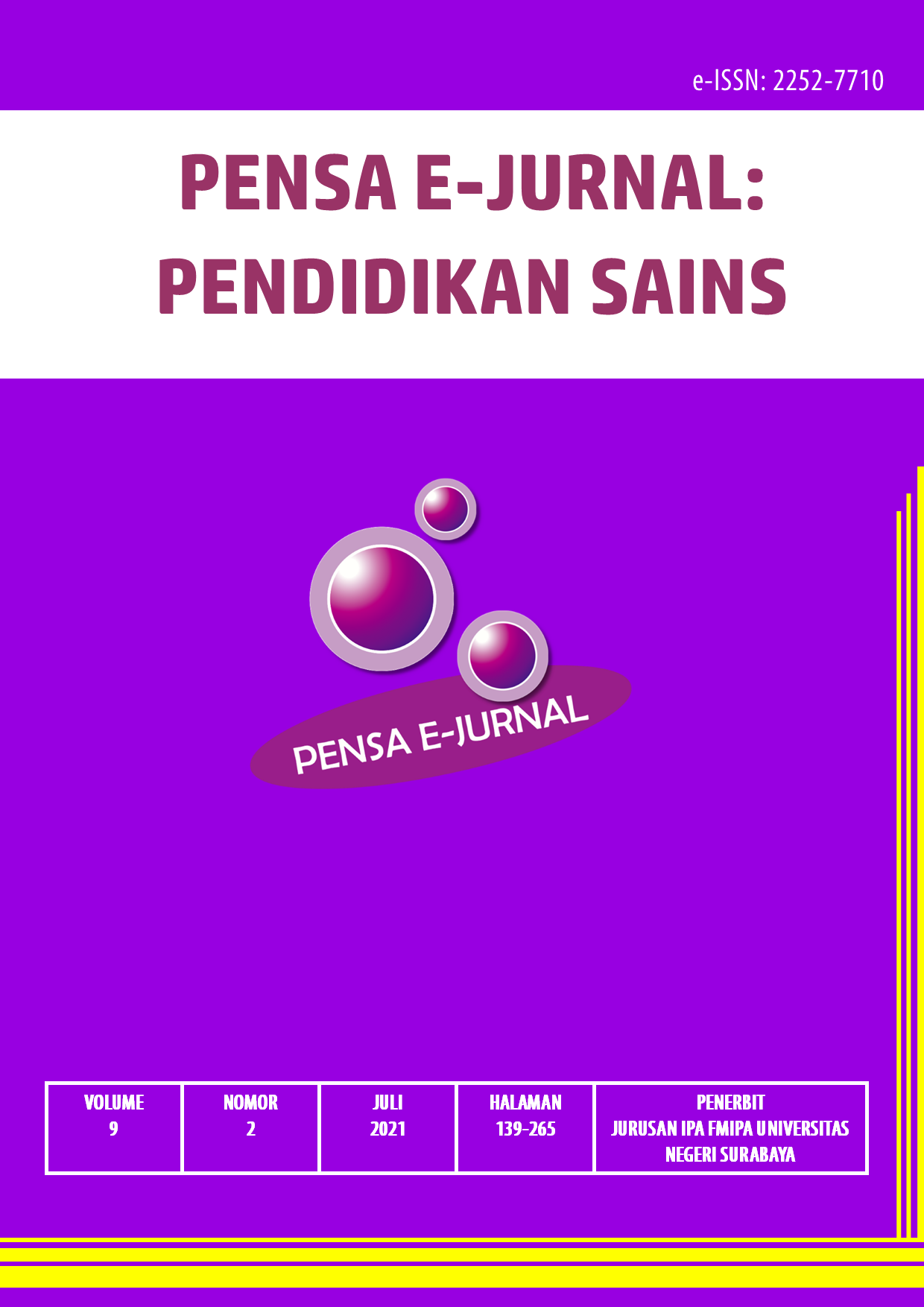 How to Cite
Aliyah, A., & Erman, E. (2021). ANALISIS UNSUR-UNSUR KETERAMPILAN PROSES SAINS DALAM BUKU IPA SMP. PENSA: E-JURNAL PENDIDIKAN SAINS, 9(2), 147-153. Retrieved from https://ejournal.unesa.ac.id/index.php/pensa/article/view/37035

Abstract View: 826

PDF Download: 1144
Copyright (c) 2021 PENSA: E-JURNAL PENDIDIKAN SAINS
This work is licensed under a Creative Commons Attribution 4.0 International License.