KAJIAN UNSUR–UNSUR KOMIK DAN SAINS DALAM BUKU KOMIK EDUKASI DI INDONESIA SEBAGAI ALTERNATIF BAHAN AJAR
Annisa Aura Lelyani

Jurusan IPA, Fakultas Matematika dan Ilmu Pengetahuan Alam, Universitas Negeri Surabaya

Erman Erman

Jurusan IPA, Fakultas Matematika dan Ilmu Pengetahuan Alam, Universitas Negeri Surabaya
Abstract
This study aims to describe the differences in comic and science elements in educational comic books as an alternative to teaching materials in Gramedia Surabaya, Indonesia. This type of research is qualitative research. This study uses a comic content study approach (content analysis). The data sources studied in this study were four comic books with educational comic book types and had the same material, namely the material of the solar system. The four comic books are the Educomics Book: Space Britannica Education Series, Science Adventure Book: Earth and Space Vol 3. Sun, Earth, Moon and Stars, Planets in the Solar System, the Universe Science Adventure Comic Educomics Book, and the Science Book Comic: Why? Universe (Universe). The concept of the solar system that is studied is only on the sub-material components of the solar system. Based on the results obtained from this study, it is known that the Educomics Book of the Britannica Antariksa Education Series has elements of comics and science as alternative teaching materials, the Science Comic: Why? The Universe (Universe) also has elements of comics and science but has a slight flaw in the concept of Earth, while the other two comics lack some elements.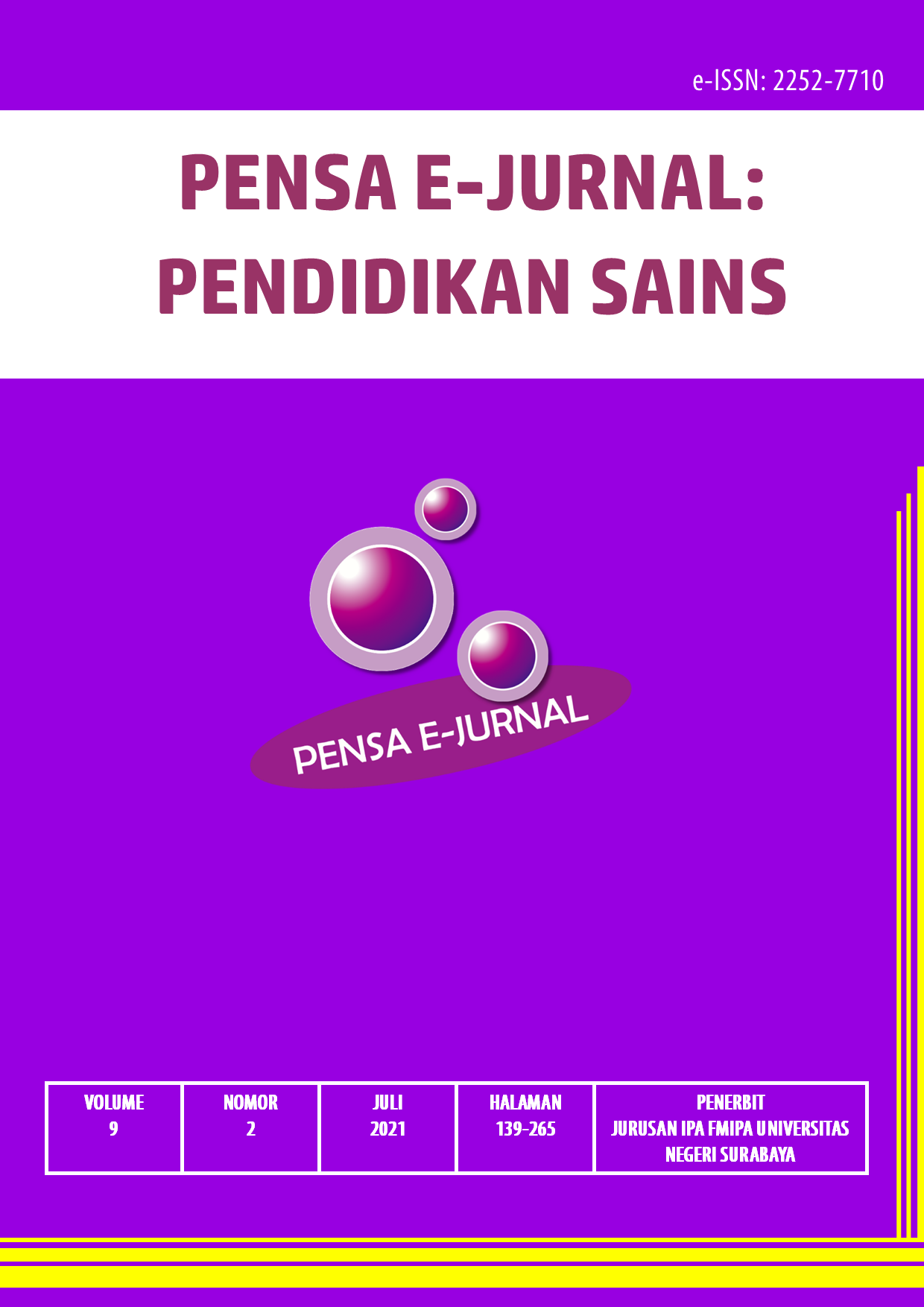 How to Cite
Lelyani, A., & Erman, E. (2021). KAJIAN UNSUR–UNSUR KOMIK DAN SAINS DALAM BUKU KOMIK EDUKASI DI INDONESIA SEBAGAI ALTERNATIF BAHAN AJAR. PENSA: E-JURNAL PENDIDIKAN SAINS, 9(2), 139-146. Retrieved from https://ejournal.unesa.ac.id/index.php/pensa/article/view/37036
Copyright (c) 2021 PENSA: E-JURNAL PENDIDIKAN SAINS
This work is licensed under a Creative Commons Attribution 4.0 International License.