EFEKTIVITAS E-MODUL BERBASIS PENDEKATAN DEDUKTIF PADA MATERI SISTEM EKSKRESI MANUSIA TERHADAP PENINGKATAN HASIL BELAJAR SISWA
Nur Maulani Setyoningtyas

Jurusan IPA, Fakultas Matematika dan Ilmu Pengetahuan Alam, Universitas Negeri Surabaya

Dyah Astriani

Jurusan IPA, Fakultas Matematika dan Ilmu Pengetahuan Alam, Universitas Negeri Surabaya

Ahmad Qosyim

Jurusan IPA, Fakultas Matematika dan Ilmu Pengetahuan Alam, Universitas Negeri Surabaya
Keywords:
effectiveness, e-module, deductive
Abstract
This study aims to describe the effectiveness of digital modules based on deductive approaches to improve student learning outcomes. There are 15 students from the 2nd grade of SMPN 1 Purwosari academic year of 2020/2021 at even semester that they had been being the subject of the research. This research classified as pre-experimental research; one group pretest-posttest design. The learning was using digital modules through Whatsapp Messenger media for coordination, coordination that occurs six times, including the pretest and posttest giving, as well as student response questionnaires. The response' questionnaire contains the assessment of learners on the use of e-module based on deductive approaches. The results of various research data processing show that the effectiveness of digital modules is fairly good. The N-gain score obtained a moderate category result. Paired Sample T-test obtained a significance level result (effective). While on the response questionnaire score the response was in the very good category. This shows that there is a difference in the test results of students due to the use of digital modules. Based on the results of several tests, it is concluded that digital modules based on deductive approaches are effective for improving the learning outcomes of the subject research.
References
Akbar, S. D. (2017). Instrumen Perangkat Pembelajaran (Cetakan Kelima). Bandung: PT Remaja Rosdakarya. https://scholar.google.com/citations?view_op=view_citation&hl=id&user=jSQXuMAAAAAJ&citation_for_view=jSQXuMAAAAAJ:L8Ckcad2t8MC
Arikunto, S. (2009). Dasar-dasar Evaluasi Pendidikan (Edisi 10). Jakarta: Bumi Aksara. https://books.google.co.id/books?hl=id&lr=&id=j5EmEAAAQBAJ&oi=fnd&pg=PA1&dq=Arikunto+s+dasar+dasar+evaluasi+&ots=6uwOGfoL0L&sig=fm-REJfjKbt0esIPA-a9UWV6T_Q&redir_esc=y#v=onepage&q=Arikunto%20s%20dasar%20dasar%20evaluasi&f=false
Astutik, S. (2018). The Practicality and Effectiveness of Collaborative Creativity Learning (CCL) Model by Using PhET Simulation to Increase Students' Scientific Creativity. Internasional Journal of Instruction. 11(4), 409–424. https://eric.ed.gov/?id=EJ1191705
Azzahra, N. F. (2020). Indonesia di Masa Krisis Pandemi Covid-19. Center for Indonesia Policy Studies (CIPS) : Ringkasan Kebijakan, 19(2), 1–9. https://repository.cips-indonesia.org/ms/publications/309163/mengkaji-hambatan-pembelajaran-jarak-jauh-di-indonesia-di-masa-pandemi-covid-19
Badriah, L. (2019). Perbedaan Hasil Belajar dan Kemampuan Berpikir Kritis Mahasiswa Pendidikan Biologi Menggunakan Pendekatan Pembelajaran Deduktif dan Induktif pada Konsep Ekosistem. Bioedusiana, 4(2). https://doi.org/10.34289/277885
Basar, A. M. (2021). Problematika Pembelajaran Jarak Jauh Pada Masa Pandemi Covid-19. Edunesia : Jurnal Ilmiah Pendidikan, 2(1), 208–218. https://doi.org/10.51276/edu.v2i1.112
Fallis, A. (2013). Ilmu Pengetahuan Alam. In Journal of Chemical Information and Modeling (Vol. 53, Issue 9). https://annibuku.com/bse/ipa-buku-siswa-semester-2-kelas-8-1907
Fatimah, N., & Abdullah, A. (2013). Pengaruh Strategi Motivasi Attention, Relevance, Confidance, Satisfaction (Arcs) Dalam Model Pembelajaran Langsung Terhadap Hasil Belajar Siswa Pada Pokok Bahasan Listrik Dinamis Di Kelas X Sma Negeri 18 Surabaya. Inovasi Pendidikan Fisika, 2(2), 75–77. https://jurnalmahasiswa.unesa.ac.id/index.php/inovasi-pendidikan-fisika/article/view/3010
Fatmawati, E. & Hidayati, S. N. (2018). Penerapan Modul Pengayaan Berstrategi Pq4R Untuk Meningkatkan Hasil Belajar Siswa. Jurnal UNESA. 103. https://jurnalmahasiswa.unesa.ac.id/index.php/pensa
Fausih, M., & Danang, T. (2015). Pengembangan Media E-Modul Mata Pelajaran Produktif Pokok Bahasan "Instalasi Jaringan Lan (Local Area Network)": untuk Siswa Kelas Xi Jurusan Teknik Komputer Jaringan di SMK Nengeri 1 Labang Bangkalan Madura. Jurnal UNESA, 01(01). 1–9. https://jurnalmahasiswa.unesa.ac.id/index.php/jmtp/article/view/10375
Hake, R. R. (1998). Analizhing Change/Gain Scores (Terjemahan). United States: Indiana University. https://aapt.scitation.org/doi/abs/10.1119/1.18809
Hartina, L., Rosidin, U., & Suyatna, A. (2019). Pengaruh Penerapan Instrumen Performance Assessment pada Pembelajaran IPA Berbasis Laboratorium Real terhadap Hasil Belajar Siswa. Jurnal Penelitian Pendidikan IPA, 6(1), 25. https://doi.org/10.29303/jppipa.v6i1.299
Majdi, M. K., & Subali, B. (2018). Peningkatan Komunikasi Ilmiah Siswa SMA melalui Model Quantum learning One Day One Question Berbasis Daily Life Science Question. UPEJ Unnes Physics Education Journal, 7(1), 81–90. https://doi.org/10.15294/upej.v7i1.22479
Negara, H. R. P., Syaharuddin, S., Kurniawati, K. R. A., Mandailina, V., & Santosa, F. H. (2019). Meningkatkan Minat Belajar Siswa Melalui Pemanfaatan Media Belajar Berbasis Android Menggunakan Mit App Inventor. SELAPARANG Jurnal Pengabdian Masyarakat Berkemajuan, 2(2), 42. https://doi.org/10.31764/jpmb.v2i2.887
Prastowo, A. (2011). Panduan Kreatif Membuat Bahan Ajar Inovatif. Jogjakart : DIVA Press. https://scholar.google.co.id/citations?view_op=view_citation&hl=id&user=5-wUEJIAAAAJ&citation_for_view=5-wUEJIAAAAJ:J_g5lzvAfSwC
Priyambodo, E., Wiyarsi, A., & Sari, R, P. (2012). Pengaruh Media Pembelajaran Interaktif Berbasis Web Terhadap Motivasi Belajar Mahasiswa. Jurnal Kependidikan: Penelitian Inovasi Pembelajaran, 42(2), 179919. https://doi.org/10.21831/jk.v42i2.2236
Rachmawati, A. D., Baiduri, & Effendi, M. M. (2020). Efektivitas Media Pembelajaran Interaktif Berbantuan Web Dalam Mengembangkan Kemampuan Berpikir Kreatif Pendidikan Matematika , Universitas Muhammadiyah Malang , Malang , Indonesia Journal Program Studi Pendidikan Matematika, 9(3), 540–550. https://ojs.fkip.ummetro.ac.id/index.php/matematika/article/view/3014
Riduwan. (2013). Skala Pengukuran Variable-Variable Penelitian. Bandung: Alfabeta. https://katalogdisperpusiplombokutara.perpusnas.go.id/detail-opac?id=355
Trisna, I, K., Subagia, I, W., & Herawati, P, O. (2017). Pemberian Kuis Di Awal Pembelajaran Untuk Meningkatkan Kesiapan Dan Hasil Belajar Siswa. Jurnal Pendidikan Kimia Indonesia. 1(2). https://ejournal.undiksha.ac.id/index.php/JPK/article/view/12813
Wardani, S., Kusuma, I. W., Liu, S. T., & Harjito. (2020). Comparison of learning in inductive and deductive approach to increase student's conceptual understanding based on international standard curriculum. Jurnal Pendidikan IPA Indonesia, 9(1), 70–78. https://doi.org/10.15294/jpii.v9i1.21155
Winkel, W, S. (1997). Psikologi Pendidikan. Jakarta: Gramedia. http://slims.unib.ac.id/index.php?p=show_detail&id=20109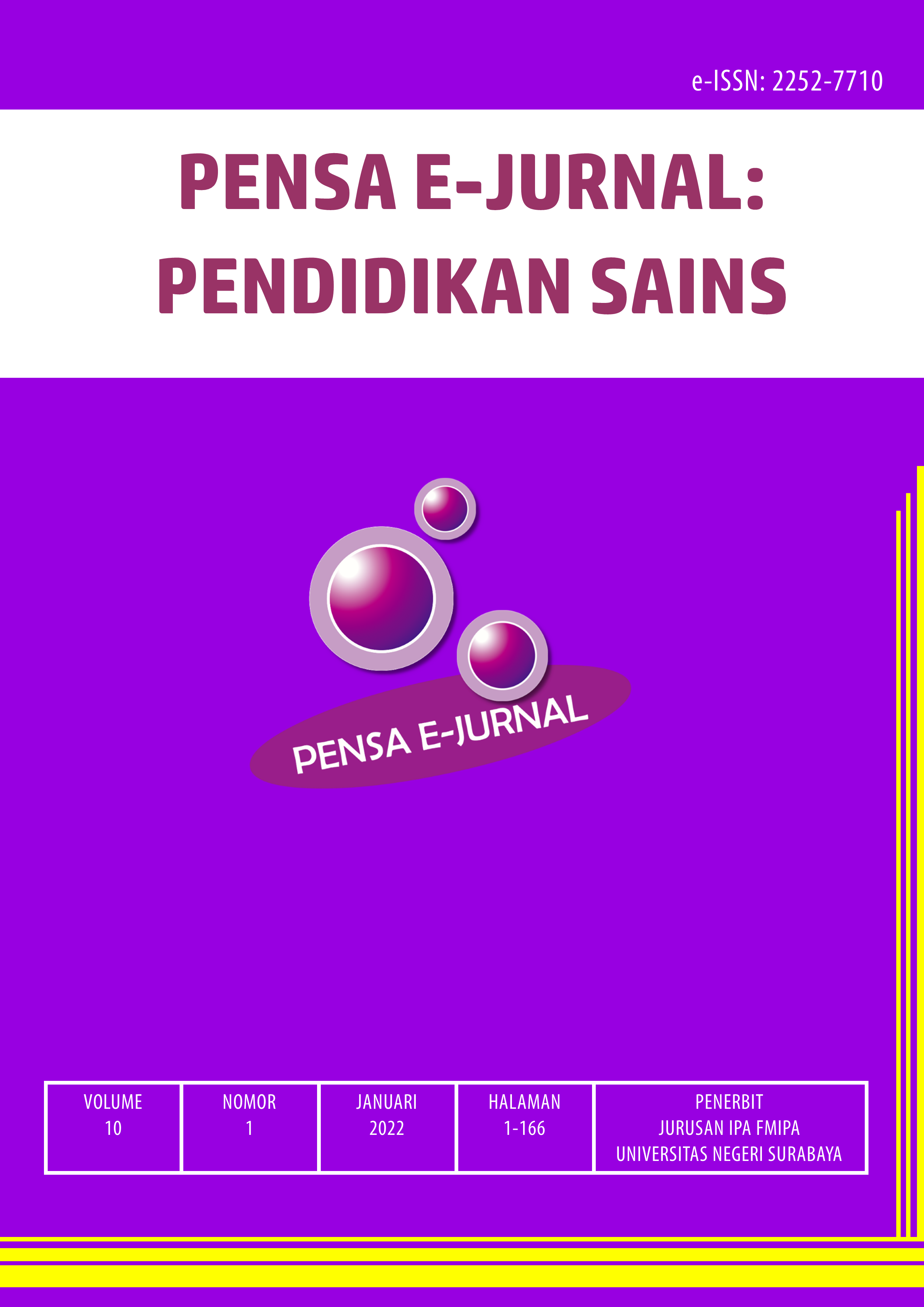 How to Cite
Setyoningtyas, N., Astriani, D., & Qosyim, A. (2022). EFEKTIVITAS E-MODUL BERBASIS PENDEKATAN DEDUKTIF PADA MATERI SISTEM EKSKRESI MANUSIA TERHADAP PENINGKATAN HASIL BELAJAR SISWA. PENSA: E-JURNAL PENDIDIKAN SAINS, 10(1), 135-141. Retrieved from https://ejournal.unesa.ac.id/index.php/pensa/article/view/42303

Abstract View: 111

PDF Download: 92
Copyright (c) 2022 PENSA: E-JURNAL PENDIDIKAN SAINS
This work is licensed under a Creative Commons Attribution 4.0 International License.