ANALISIS KOMUNIKASI SAINS PESERTA DIDIK KELAS IX SMP YAYASAN PADA MASA PANDEMI COVID-19
Yolanda Dwi Pratiwi

Jurusan IPA, Fakultas Matematika dan Ilmu Pengetahuan Alam, Universitas Negeri Surabaya

Wahono Widodo

Jurusan IPA, Fakultas Matematika dan Ilmu Pengetahuan Alam, Universitas Negeri Surabaya

Wahyu Budi Sabtiawan

Jurusan IPA, Fakultas Matematika dan Ilmu Pengetahuan Alam, Universitas Negeri Surabaya
Keywords:
science communication skill, COVID-19 pandemic, online learning
Abstract
This study was conducted with the aim of analyzing the science communication skills of students in class IX Natural Science learning at Yayasan SMP during the COVID-19 pandemic. The research design used is descriptive qualitative. The subjects of this study were students of class IX SMP Yayasan Pandaan which consisted of twenty-five students. This research method uses a case study research method using research instruments in the form of questionnaires on Google Forms media. The data analysis technique used for this research is descriptive statistics. The results of this study indicate the average score in the less category. The conclusion of this research is that the science communication skills of class IX students during the COVID-19 pandemic are still lacking due to several factors, namely the teacher uses the WhatsApp application to explain the essence of the material, the teacher does not use Zoom, and the students are only given assignments which make students lazy, so that students' science communication has not been fully achieved.
References
Arikunto, S. (2013). Dasar-Dasar Evaluasi Pendidikan. Yogyakarta: Bumi Aksara.
Dhawan, S. (2020). Online Learning: A Panacea in the Time of COVID-19 Crisis. Journal of Educational Technology Systems, 49(1), 5–22. https://doi.org/10.1177/0047239520934018
Fadly, W. (2017). Efektivitas Model Pembelajaran Fisika "PRODUKSI" terhadap Peningkatan Aspek-aspek Keterampilan Berkomunikasi Sains. Ibriez : Jurnal Kependidikan Dasar Islam Berbasis Sains, 2(1), 83–94. https://doi.org/10.21154/ibriez.v2i1.27
Irawan, A. W., Dwisona, D., & Lestari, M. (2020). Psychological Impacts of Students on Online Learning During the Pandemic COVID-19. KONSELI : Jurnal Bimbingan Dan Konseling (E-Journal), 7(1), 53–60. https://doi.org/10.24042/kons.v7i1.6389
Kartika, D., Sriyono, S., & Ngazizah, N. (2016). Pengembangan Instrumen Untuk Mengukur Kemampuan Komunikasi Sains Siswa SMA. Radiasi : Jurnal Berkala Pendidikan Fisika, 8(1), 28-32. http://jurnal.umpwr.ac.id/index.php/radiasi/article/view/227
Mishra, L., Gupta, T., & Shree, A. (2020). Online teaching-learning in higher education during lockdown period of COVID-19 pandemic. International Journal of Educational Research Open, 1(February 2021), 100012. https://doi.org/10.1016/j.ijedro.2020.100012
Park, S. E. (2020). Epidemiology, virology, and clinical features of severe acute respiratory syndrome - coronavirus-2 (SARS-CoV-2; Coronavirus Disease-19). Clinical and Experimental Pediatrics, 63(4), 119–124
Pratiwi, T. P., Munasir, M., & Suprapto, N. (2020). Enhancing Students' Science Communication Skills Through More Learning Model. JPPS (Jurnal Penelitian Pendidikan Sains), 10(1), 1844. https://doi.org/10.26740/jpps.v10n1.p1844-1856
Peraturan Menteri Pendidikan dan Kebudayaan Nomor 22 Tahun 2016. Standar Proses Sekolah Dasar dan Menengah. Jakarta: Kementerian Pendidikan dan Kebudayaan.
Pusbang Tendik. (2013). Pedoman Kegiatan Pendampingan Implementasi Kurikulum 2013 Bagi Pengawas Sekolah, Kepala Sekolah dan Guru Inti. Jakarta: Kementerian Pendidikan dan Kebudayaan.
Susanti, M., Hidayati, I., Anggreiny, N., & Maputra, Y. (2021). School from Home during COVID-19 Pandemic, a Descriptive Study: Effectivity of Learning towards High School Students in West Sumatra. KnE Social Sciences, 2020(December 2019), 430–445. https://doi.org/10.18502/kss.v4i15.8231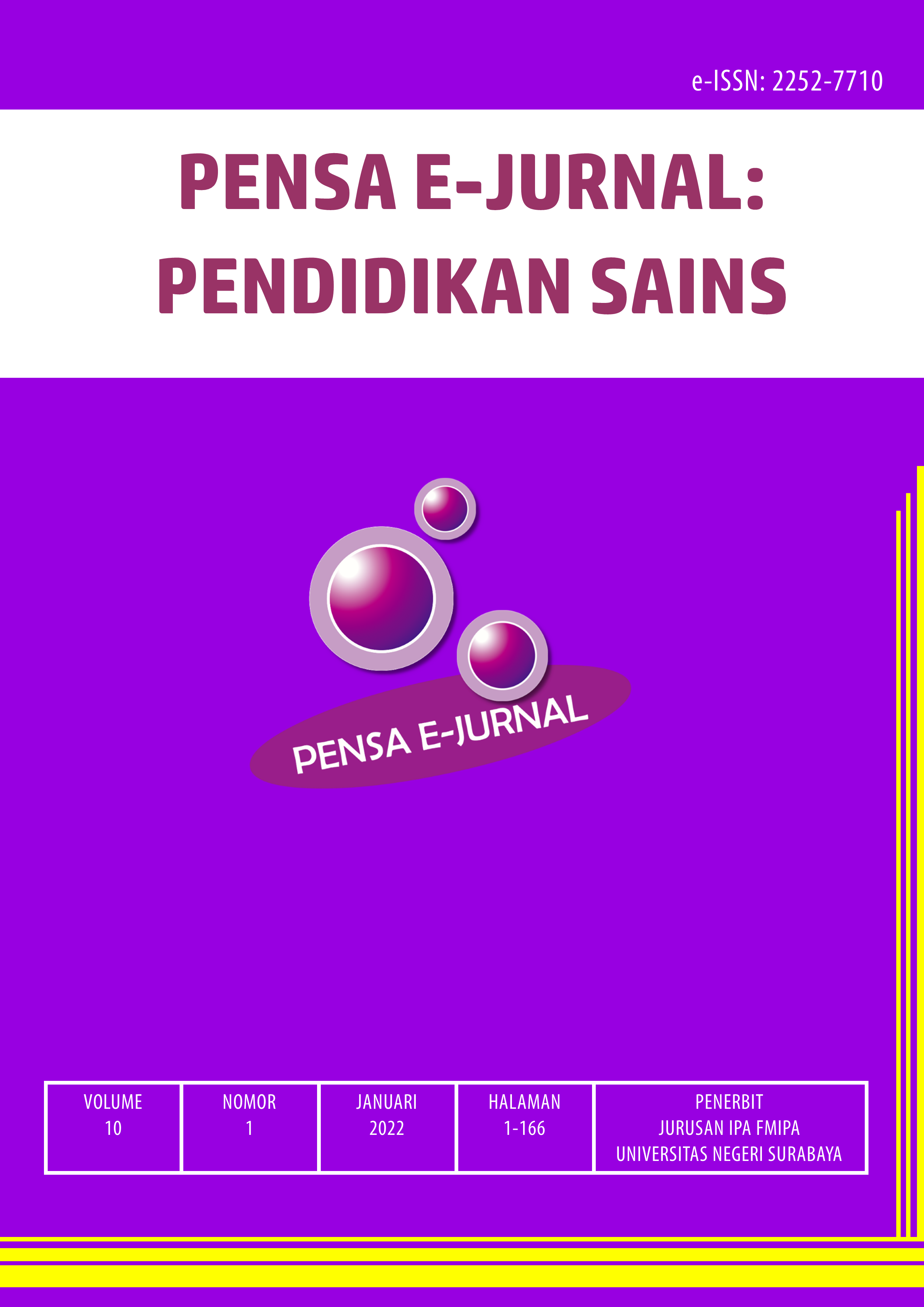 How to Cite
Pratiwi, Y., Widodo, W., & Sabtiawan, W. (2022). ANALISIS KOMUNIKASI SAINS PESERTA DIDIK KELAS IX SMP YAYASAN PADA MASA PANDEMI COVID-19. PENSA: E-JURNAL PENDIDIKAN SAINS, 10(1), 33-36. Retrieved from https://ejournal.unesa.ac.id/index.php/pensa/article/view/42306

Abstract View: 77

PDF Download: 61
Copyright (c) 2022 PENSA: E-JURNAL PENDIDIKAN SAINS
This work is licensed under a Creative Commons Attribution 4.0 International License.