STUDI DAMPAK PEMBELAJARAN IPA VIA DARING TERHADAP PELAKSANAAN PRAKTIKUM DI SEKOLAH MENENGAH PERTAMA
Youshinta Ariani

Jurusan IPA, Fakultas Matematika dan Ilmu Pengetahuan Alam, Universitas Negeri Surabaya

Wahono Widodo

Jurusan IPA, Fakultas Matematika dan Ilmu Pengetahuan Alam, Universitas Negeri Surabaya
Keywords:
online learning, online practicum
Abstract
Online learning during a pandemic will certainly affect the practicum implementation process, one of which is due to inadequate facilities and infrastructure. The purpose of this study was to determine the impact of online science learning on the implementation of practicum in several East Java junior high schools. This research used surveyo research with descriptive method (interviews and questionnaires). The results of this study indicate that the impact of online learning in science practicum activities is the implementation of practicum activities carried out individually in their respective homes through supporting applications. The explanation of the practicum activities is carried out directly by the teacher through Google Meet/Zoom and the teacher also provides a practicum module or student worksheets during the practicum. Applications used during online practicum activities include Zoom, Google Meet, Micorsoft 365, Microsoft Forms, Microsoft Sway, PhET Simulations, and WhatsApp. Another consequence of online learning is the online reporting of practicum activities in the form of videos and portfolio sheets. After collecting the practicum report, the teacher gives an evaluation at the next meeting. The positive impact of online practicum activities is increasing independent learning skills, creativity, and digital literacy. Obstacles in the implementation of online practicum are limited tools and materials, teachers cannot guide directly, and practicum methods are not varied. This causes some materials to be unable to conduct the practicum and students are less able to understand the practicum well.
References
Arifin, J. (2018). SPSS 24 untuk Penelitian dan Skripsi. Gramedia.
Arikunto, S. (2010). Prosedur Penelitian Suatu Pendekatan Praktik. Rineka Cipta.
Brotosiswoyo, B. S. (2001). Hakikat Pembelajaran Fisika di Perguruan Tinggi. Depdiknas
Hendriyani, M. E. & Randi, N. (2020). Pengembangan video presentasi untuk melatih kreativitas dan komunikasi di masa pandemi covid-19. Prosiding Seminar Nasional Pendidikan FKIP, 3(1), 328–339. https://jurnal.untirta.ac.id/index.php/psnp/article/view/9948
Ichsan, I. Z., Rusdi, & Sartono, N. (2019). Hasil belajar sistem saraf menggunakan film pendek. Biosfer: Jurnal Pendidikan Biologi, 10(2), 57–65. https://doi.org/10.21009/biosferjpb.10-2.7
Kastawaningtyas, A., & Martini. (2017). Peningkatan keterampilan proses sains siswa melalui model experiential learning pada materi pencemaran lingkungan. Jurnal Penelitian Pendidikan IPA, 2(2), 45–52. http:journal.unesa.ac.id /index.php/jppipa
Khusnah, L. (2020). Persepsi Guru IPA SMP/MTs terhadap Praktikum IPA Selama Pandemi COVID-19. Science Education and Application Journal, 2(2), 112. https://doi.org/10.30736/seaj.v2i2.291
Kurniawan, R., Mochammad, R., & Fajar, D. M. (2020). Analisis kemenarikan media pembelajaran phet berbasis virtual lab pada materi listrik statis selama perkuliahan daring ditinjau dari perspektif mahasiswa. VEKTOR: Jurnal Pendidikan IPA, 1(1), 19–28. https://vektor.iain-jember.ac.id/index.php/vtr/article/view/6
Maradona. (2013). Analisis ketrampilan proses sains siswa kelas XI IPA SMA Islam Samarinda pada pokok bahasan hidrolisis melalui metode eksperimen. Prosidium Semniar Nasional Kimia 2013, 62–70. http://jurnal.kimia.fmipa.unmul.ac.id/index.php/prosiding/article/view/88
Noor, Y. A., Putra, N. M. D., Nugroho, S. E., Marwoto, P., Mindyarto, B. N., Linuwih, S., … Minhat, M. (2020). Studi kasus pembelajaran di SMA / MA Jawa. Unnes Physics Education Journal, 9(3), 276–283. https://doi.org/10.15294/upej.v9i3.45868
Sholikah, T., Mardhotillah, A. F., Indriyani, L. A., Wulandari, V. A., Kuraesin, P. S., Al-Khotim, N. L. S. A., …
Rachmawati, Y. (2020). Studi eksplorasi kegiatan praktikum sains saat pandemi covid-19. Indonesian Journal of Science Learning, 1(2), 67–75. http://jurnalftk.uinsby.ac.id/index.php/IJSL
Sofyana, L., & Abdul, R. (2019). Pembelajaran daring kombinasi berbasis whatsapp pada kelas karyawan. Prodi Teknik Informatika Universitas Pgri Madiun, 8, 81–86. http://dx.doi.org/10.23887/janapati.v8i1.17204
Subanji, I. (2010). Meningkatkan profesionalisme guru sekolah dasar melalui teachers quality improvement program (TEQIP) berbasis lesson study. J-TEQIP 1(1), 1–11. http://u.lipi.go.id/1289280195
Sugiyono. (2005). Metode penelitian kuantitatif kualitatif dan r&d. Alfabeta.
Sugiyono. (2018). Metode Penelitian Kombinasi (Mixed Methods). Alfabeta.
Suryaningsih, Y. (2017). Pembelajaran berbasis praktikum sebagai sarana siswa untuk berlatih menerapkan keterampilan proses sains dalam materi biologi. Bio Educatio, 2(2), 279492. http://dx.doi.org/10.31949/be.v2i2.759
Yumarlin, M. (2013). Pengembangan permainan ular tangga. Jurnak Teknik, 3(1), 75–84. http://jurnalteknik.janabadra.ac.id/wp-content/uploads/2014/03/10-Revisi-YUMARLIN-22-8-13.pdf
Zacharia, Z. C. (2015). Examining whether touch sensory feedback is necessary for science learning through experimentation: A literature review of two different lines of research across K-16. Educational Research Review, 16, 116–137. https://doi.org/10.1016/j.edurev.2015.10.001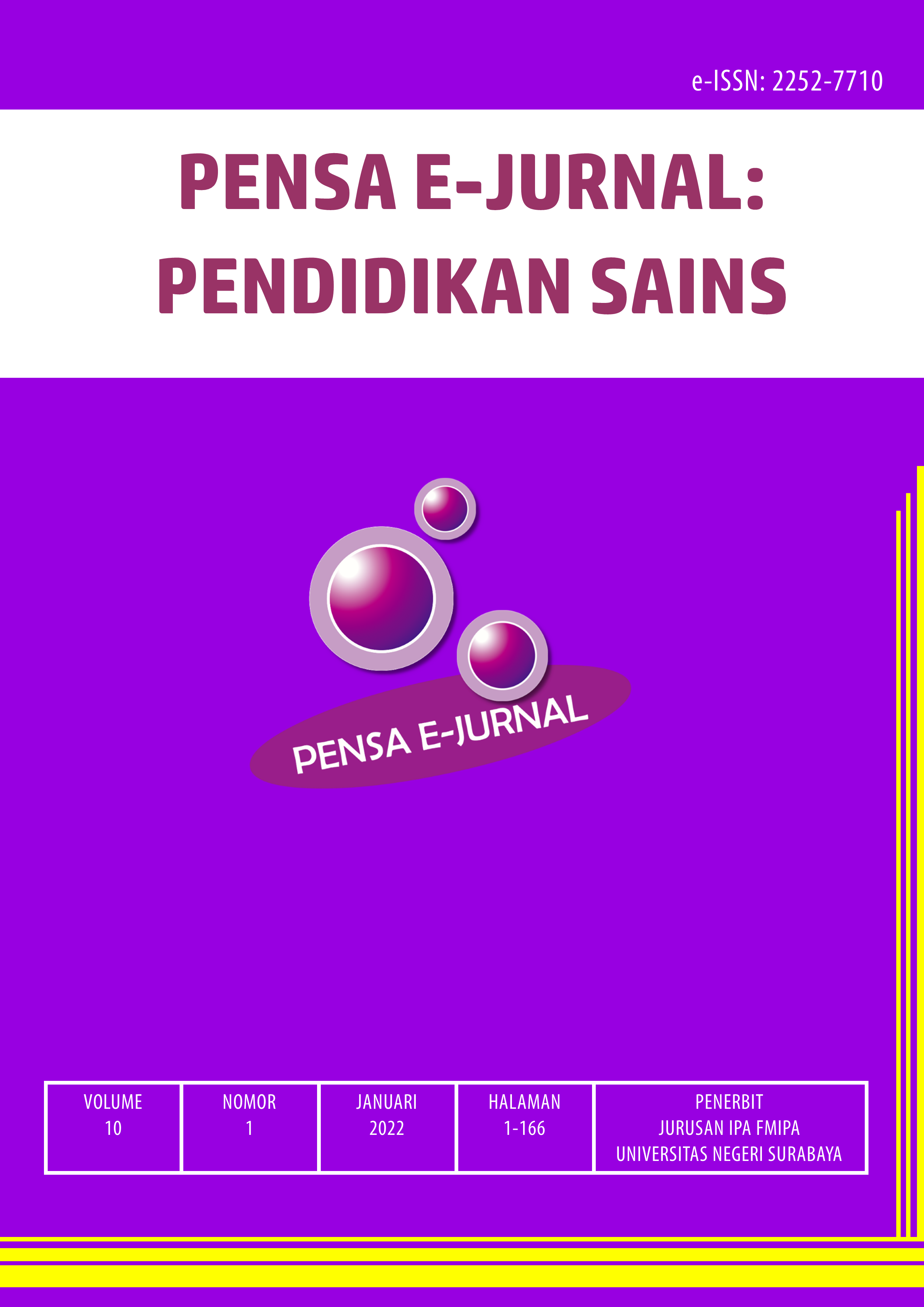 How to Cite
Ariani, Y., & Widodo, W. (2022). STUDI DAMPAK PEMBELAJARAN IPA VIA DARING TERHADAP PELAKSANAAN PRAKTIKUM DI SEKOLAH MENENGAH PERTAMA. PENSA: E-JURNAL PENDIDIKAN SAINS, 10(1), 129-134. Retrieved from https://ejournal.unesa.ac.id/index.php/pensa/article/view/42330

Abstract View: 76

PDF Download: 116
Copyright (c) 2022 PENSA: E-JURNAL PENDIDIKAN SAINS
This work is licensed under a Creative Commons Attribution 4.0 International License.