ANALISIS KEMAMPUAN BERPIKIR KREATIF
STUDI EKSPLORASI SISWA DI SMPN 62 SURABAYA
Dwi Nur Qomariyah

Jurusan IPA, Fakultas Matematika dan Ilmu Pengetahuan Alam, Universitas Negeri Surabaya

Hasan Subekti

Jurusan IPA, Fakultas Matematika dan Ilmu Pengetahuan Alam, Universitas Negeri Surabaya
Abstract
This study aims to describe the creative thinking skills of junior high school students in science learning during online learning (Microsoft Teams). Exploration study participants were students of class VIII SMPN 62 Surabaya. The data collection stage used a test instrument containing description questions that had been designed in line with the indicators of creative thinking. The results of the instrument validation test showed that all questions were accepted and feasible. Semi-qualitative research data analysis. The results of the analysis showed that as many as 12% of the students were very creative, 48% were creative, and 40% were quite creative. Based on the results of the study, the percentage of achievement of each indicator of creative thinking, among others, is the fluency indicator of 75%, the flexibility indicator of 60%, the originality indicator of 73%, and the elaboration indicator of 46%. The conclusion of this research shows that the tendency of students' creative thinking competencies is in the creative category. The implication of this research is that teachers can determine the creative thinking competencies of their students, so that they can determine a science learning model that can improve students' creative thinking competencies.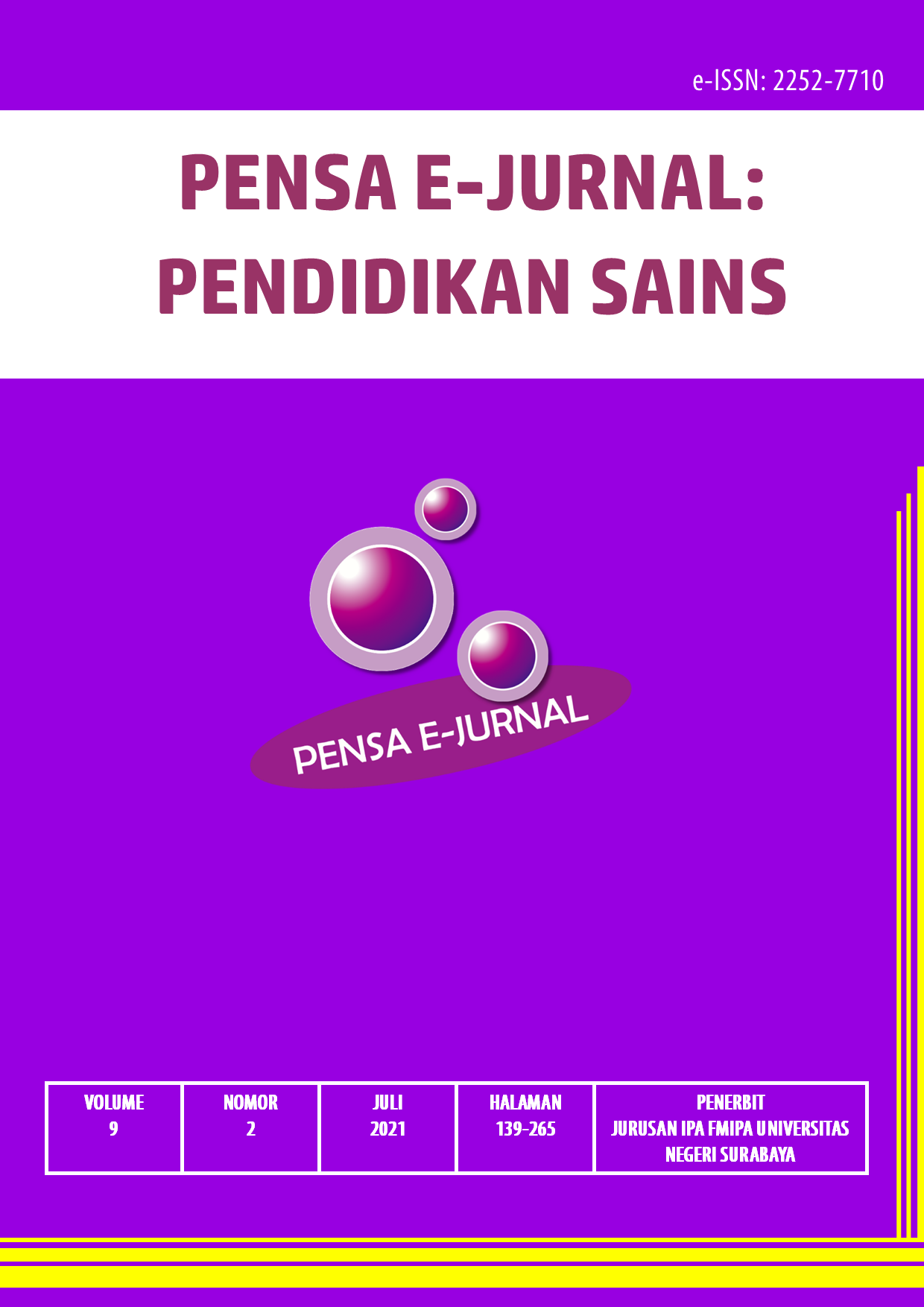 How to Cite
Qomariyah, D., & Subekti, H. (2021). ANALISIS KEMAMPUAN BERPIKIR KREATIF. PENSA: E-JURNAL PENDIDIKAN SAINS, 9(2), 242-246. Retrieved from https://ejournal.unesa.ac.id/index.php/pensa/article/view/38250
Copyright (c) 2021 PENSA: E-JURNAL PENDIDIKAN SAINS
This work is licensed under a Creative Commons Attribution 4.0 International License.