ANALISIS MISKONSEPSI MENGGUNAKAN METODE FOUR- TIER CERTAINTY OF RESPONSE INDEX
STUDI EKSPLORASI DI SMP NEGERI 60 SURABAYA
Rachmania Erika Putri

Jurusan IPA, Fakultas Matematika dan Ilmu Pengetahuan Alam, Universitas Negeri Surabaya

Hasan Subekti

Jurusan IPA, Fakultas Matematika dan Ilmu Pengetahuan Alam, Universitas Negeri Surabaya
Abstract
The research aims to analyze the misconceptions that occur in students by applying the four-tier certainty of response index method in learning about pressure material and its application. This research uses descriptive research with a quantitative approach. The participants used in this research were 39 students of class IX-A and 36 students of class IX-C of SMP Negeri 60 Surabaya. The research instrument was a four-tier diagnostic test consisting of four levels, namely questions with one correct answer and three distractors, the level of confidence in the answers, the reasons, and the level of confidence in the reasons. Data collection techniques used were filling out questionnaires and filling in diagnostic tests. The data analysis technique used in this research is descriptive quantitative by looking for the percentage of student misconceptions in each item indicator. From the results of the research, it can be seen that students experience misconceptions in each indicator of the material pressure and its application with an average percentage of misconceptions of 34.1%. This percentage belongs to the moderate category misconception. The highest percentage of misconceptions occurred in question number 14 at 48% with an indicator of the application of Archimedes law and question number 18 at 48% as well, with an indicator of analyzing hydrostatic pressure. Based on the results of filling out the student questionnaire, it can be concluded that the reason the students answered the questions incorrectly was that the initial concepts the students had were wrong. By carrying out this research, the teacher can analyze the misconceptions that occur in students, and use appropriate learning methods not to happen again competencies.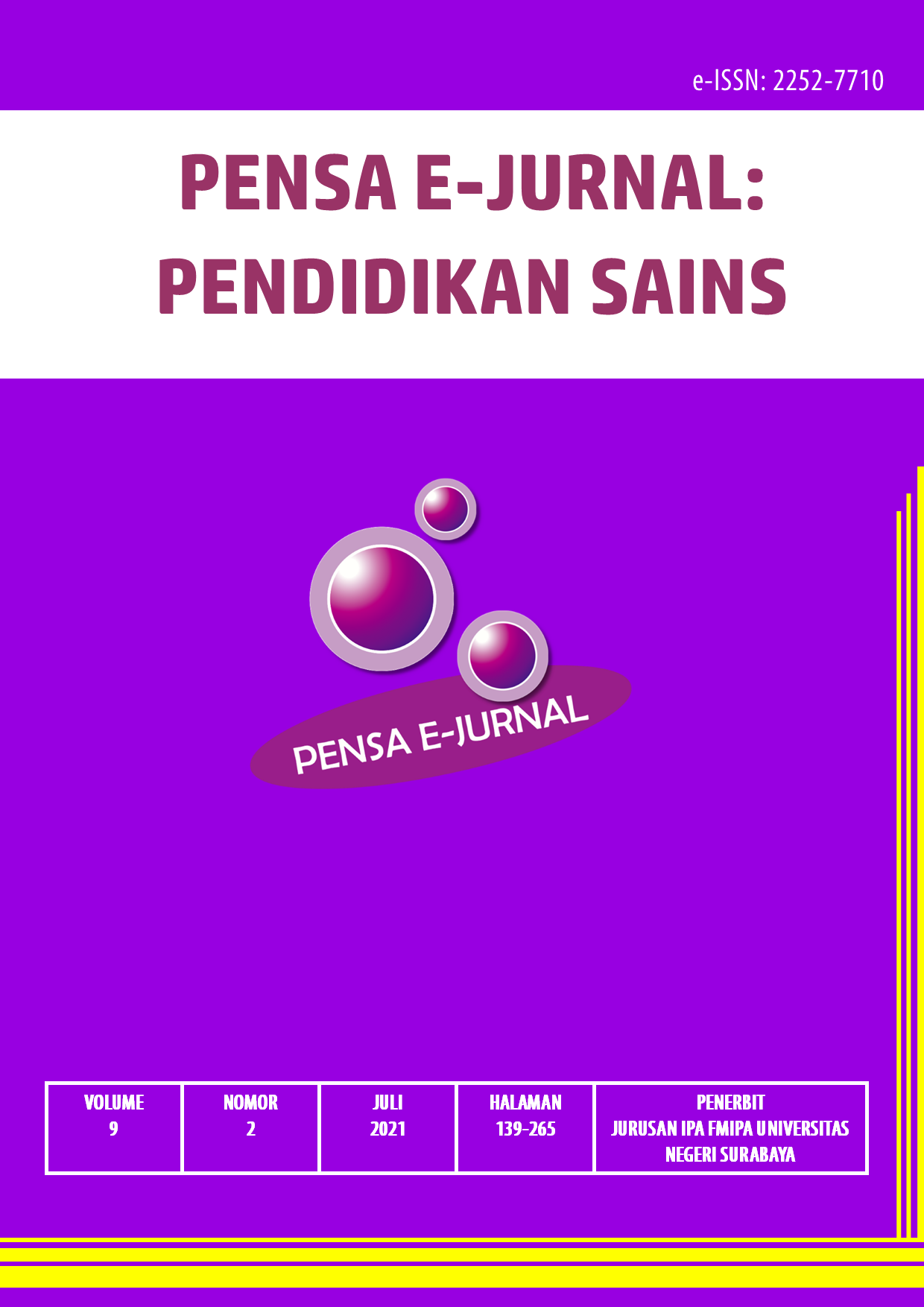 How to Cite
Putri, R., & Subekti, H. (2021). ANALISIS MISKONSEPSI MENGGUNAKAN METODE FOUR- TIER CERTAINTY OF RESPONSE INDEX. PENSA: E-JURNAL PENDIDIKAN SAINS, 9(2), 220-226. Retrieved from https://ejournal.unesa.ac.id/index.php/pensa/article/view/38279
Copyright (c) 2021 PENSA: E-JURNAL PENDIDIKAN SAINS
This work is licensed under a Creative Commons Attribution 4.0 International License.