PERSEPSI PELAJAR TERHADAP VIDEO CONFERENCE SAAT PANDEMI COVID-19
STUDI EKSPLORASI
Ajeng Harya Artanti

Jurusan IPA, Fakultas Matematika dan Ilmu Pengetahuan Alam, Universitas Negeri Surabaya

Hasan Subekti

Jurusan IPA, Fakultas Matematika dan Ilmu Pengetahuan Alam, Universitas Negeri Surabaya
Keywords:
interests, pedagogy, perception, video conference
Abstract
This research has the aims of representing science learning with the help of video conferencing during the Covid-19 pandemic era, which includes aspects of the level of productivity or pedagogy of science teachers as facilitators and active involvement interests, as well as the expectations of learners. This research method used an exploratory study research type with quantitative and qualitative approaches. Data collection techniques using survey techniques that use instruments questionnaire where scale 5 Likert and open. The technique of determining participants using purposive sampling. There are two data analyses of Miles and Huberman's data analysis and quantitative descriptive analysis techniques through percentage calculations. The results of the research showed their perception preference for video conference media is very helpful for them in learning online and fostering the interest of learners. Then in the pedagogy aspect, the teacher gives a clear explanation of the material, but the use of video conference has not been fully effective due to connection quality problems which ultimately cut learning time and interaction such as feedback and discussions are only given if there is time left in learning. The expectations of learners include learning by being directly like practice, demonstrating by utilizing props as well as improving the quality of visual video, images and sound in the use of video conferences. The implications of this research include the use of video conference is very helpful for learners' communication in online learning and tends to develop the interest of learners.
References
Adiyanta, F. C. S. (2019). Hukum dan studi penelitian empiris: penggunaan metode survey sebagai instrumen penelitian hukum empiris. Administrative Law and Governance Journal, 2(4), 697–709. https://doi.org/10.14710/alj.v2i4.697-709
Altıner, C. (2015). Perceptions of undergraduate students about synchronous video conference-based english courses. Procedia - Social and Behavioral Sciences, 199(4452), 627–633. https://doi.org/10.1016/j.sbspro.2015.07.589
Bernard, R. M., de Rubalcava, B. R., & St-Pierre, D. (2000). Collaborative online distance learning: Issues for future practice and research. Distance Education, 21(2), 260–277. https://doi.org/10.1080/0158791000210205
Bui, T.-H., Luong, D.-H., Nguyen, X.-A., Nguyen, H.-L., & Ngo, T.-T. (2020). Impact of female students' perceptions on behavioral intention to use video conferencing tools in COVID-19: Data of Vietnam. Data in Brief, 32(106142), 106142. https://doi.org/10.1016/j.dib.2020.106142
Candarli, D., & Yuksel, H. G. (2012). Students' perceptions of video-conferencing in the classrooms in higher education. Procedia - Social and Behavioral Sciences, 47, 357–361. https://doi.org/10.1016/j.sbspro.2012.06.663
Chan, F. (2017). Implementasi guru menggunakan metode permainan pada pelajaran IPA di sekolah dasar. Jurnal Gentala Pendidikan Dasar, 2(1), 106–123. https://doi.org/10.22437/gentala.v2i1.6821
Dewi, W. A. F. (2020). Dampak COVID-19 terhadap implementasi pembelajaran daring di sekolah dasar. EDUKATIF : Jurnal Ilmu Pendidikan, 2(1), 55–61. https://doi.org/10.31004/edukatif.v2i1.89
Disman, D., Ali, M., & Syaom Barliana, M. (2017). The use of quantitative research method and statistical data analysis in dissertation: an evaluation study. International Journal of Education, 10(1), 46. https://doi.org/10.17509/ije.v10i1.5566
Fajrin, R., & Ana, R. (2020). Persepsi siswa terhadap keterampilan mengajar guru menggunakan media visual. Autentik : Jurnal Pengembangan Pendidikan Dasar, 4(2), 50–65. https://doi.org/10.36379/autentik.v4i2.65
Gillies, D. (2008). Student perspectives on videoconferencing in teacher education at a distance. Distance Education, 29(1), 107–118. https://doi.org/10.1080/01587910802004878
Gladović, P., Deretić, N., & Drašković, D. (2020). Video conferencing and its application in education. Journal of Traffic and Transport Theory and Practice, 5(1), 45–48. https://doi.org/10.7251/jtttp2001045g
Ismawati, D., & Prasetyo, I. (2020). Efektivitas pembelajaran menggunakan video zoom cloud meeting pada anak usia dini era pandemi covid-19. Jurnal Obsesi : Jurnal Pendidikan Anak Usia Dini, 5(1), 665. https://doi.org/10.31004/obsesi.v5i1.671
Jamaludin, J. (2019). Uji validitas, struktur internal, dan measurement invariance pada alat ukur achievement goal orientation. Jurnal Pengukuran Psikologi Dan Pendidikan Indonesia (JP3I), 8(2), 140–155. https://doi.org/10.15408/jp3i.v8i2.13331
Jamieson, S. (2016). Analyse qualitative data. Education for Primary Care, 27(5), 398–402. https://doi.org/10.1080/14739879.2016.1217430
Karal, H., Çebi, A., & Turgut, Y. E. (2011). Perceptions of students who take synchronous courses through video conferencing about distance education. Turkish Online Journal of Educational Technology, 10(4), 276–293.
Kemendikbud. (2020). Pedoman penyelenggaraan belajar dari rumah dalam masa darurat penyebaran corona virus disease (Covid-19). In Kementerian Pendidikan kebudayaan.
KemenKes RI. (2020). Situasi Terkini Perkembangan (COVID-19). Kemenkes, September, 17–19. https://covid19.kemkes.go.id/download/Situasi_Terkini_050520.pdf
Kemkominfo, R. (2019). Survei penggunaan teknologi informasi dan komunikasi DKI Jakarta. 17.
Mays, W. (1977). Genetic analysis and experience: Husserl and piaget. Journal of the British Society for Phenomenology, 8(1), 51–55. https://doi.org/10.1080/00071773.1977.11006481
Miftahuddin, & AR, F. (2008). Korelasi antara validitas pada evaluasi yang digunakan dalam menilai hasil belajar siswa dengan hasil kegiatan MGMP matematika di kabupaten pidie. Matematika, Statistika Dan Komputasi, 4(2), 76–89.
Mudjiyanto, B. (2018). Tipe penelitian eksploratif komunikasi. Jurnal Studi Komunikasi Dan Media, 22(1), 65. https://doi.org/10.31445/jskm.2018.220105
Mulyadi, M. (2011). Penelitian kuantitatif dan kualitatif serta pemikiran dasar menggabungkannya [quantitative and qualitative research and basic rationale to combine them]. Jurnal Studi Komunikasi Dan Media, 15(1), 128.
Patel, S., Mukherjee, R. raj, & Snigdh, S. (2020). Video conferencing an emergency concept in courtrooms. International Review of Law and Technology, 1(1), 205–226.
Permatasari, Y. B. (2018). Male and female students' perceptions toward the implementation of video conference as a distance learning media that enhances teachers' productivities. JALL (Journal of Applied Linguistics and Literacy), 2(2), 101. https://doi.org/10.25157/jall.v2i2.2194
Phongsatha, S., & Cleesuntorn, A. (2017). Elearning teachers' and students' perception toward live-video conference in an elearning environment. Assumption University-EJournal of Interdisciplinary Research, 2(2), 90–97.
Roberts, R. (2009). Video conferencing in distance learning: a new zealand schools' perspective. Journal of Open, Flexible and Distance Learning, 13(1), 91–107.
Sadikin, A., & Hamidah, A. (2020). Pembelajaran daring di tengah wabah covid-19. Tarbawy: Indonesian Journal of Islamic Education, 6(2), 187–192. https://doi.org/10.17509/t.v6i2.20887
Shofiya, S., & Sartika, S. B. (2020). Peran guru IPA smp sebagai fasilitator dalam kegiatan belajar dari rumah. Jurnal Pendidikan Dan Pembelajaran Sains Indonesia (JPPSI), 3(2), 112–117.
Subekti, H. A., Nubaiti, N., Masilawati, M., & Fitria, H. (2020). Pemanfaatan video conference sebagai media pembelajaran interaktif pada mata pelajaran produktif di sekolah menengah kejuruan. Prosiding Seminar Nasional Program Pascasarjana Universitas PGRI Palembang, 427–437. https://jurnal.univpgri-palembang.ac.id/index.php/Prosidingpps/article/view/3855
Subekti, H., Herawati Susilo, I., Suwono, H., Martadi, & Purnomo, A. R. (2019). Challenges and expectations towards information literacy skills: voices from teachers' training of scientific writing. International Journal of Learning, Teaching and Educational Research, 18(7), 99–114. https://doi.org/10.26803/ijlter.18.7.7
Sudrajat, J. (2020). Kompetensi guru di masa pandemi covid-19. Jurnal Riset Ekonomi Dan Bisnis, 13(2), 100–110. https://doi.org/10.26623/jreb.v13i2.2434
Sugiharto, B., Corebima, A. D., Susilo, H., & Ibrohim. (2019). The pre-service biology teacher readiness in blended collaborative problem based learning (BCPBL). International Journal of Instruction, 12(4), 113–130. https://doi.org/10.29333/iji.2019.1248a
Suliani, M. (2020). Persepsi siswa terhadap penggunaan alat peraga dalam pembelajaran matematika. SJME (Supremum Journal of Mathematics Education), 4(1), 92–100. https://doi.org/10.35706/sjme.v4i1.3143
Wahyono, P., Husamah, H., & Budi, A. S. (2020). Guru profesional di masa pandemi COVID-19: Review implementasi, tantangan, dan solusi pembelajaran daring. Jurnal Pendidikan Profesi Guru, 1(1), 51–65. http://ejournal.umm.ac.id/index.php/jppg/article/view/12462
Wardhani, T. Z. Y., & Krisnani, H. (2020). Optimalisasi peran pengawasan orang tua dalam pelaksanaan sekolah online di masa pandemi covid-19. Prosiding Penelitian Dan Pengabdian Kepada Masyarakat, 7(1), 48–59. https://doi.org/10.24198/jppm.v7i1.28256
Wirawan, A. L., & Waty, M. (2020). Kesehatan kerja terhadap tingkat kecelakaan pada proyek. JMTS: Jurnal Mitra Teknik Sipil, 3(4), 1363–1372.
Wulandari, S. S., ZA, P., & Supardi, I. (2020). Profil pembelajaran terpadu pada mata pelajaran IPA di sekolah menengah pertama. Jurnal Pembelajaran Fisika, 9(1), 35–43. https://doi.org/10.19184/jpf.v9i1.17949
Yunita, D., & Wijayanti, A. (2017). Pengaruh media video pembelajaran terhadap hasil belajar ipa ditinjau dari keaktifan siswa. Sosiohumaniora: Jurnal Ilmiah Ilmu Sosial Dan Humaniora, 3(2), 153–160. https://doi.org/10.30738/sosio.v3i2.1614
Zulfikar, Z., & Wasisto, J. (2018). Efektivitas metode ceramah pada layanan pendidikan pemustaka di perpustakaan daerah provinsi jawa tengah. Jurnal Ilmu Perpustakaan, 7(3), 41–50. https://ejournal3.undip.ac.id/index.php/jip/article/view/22917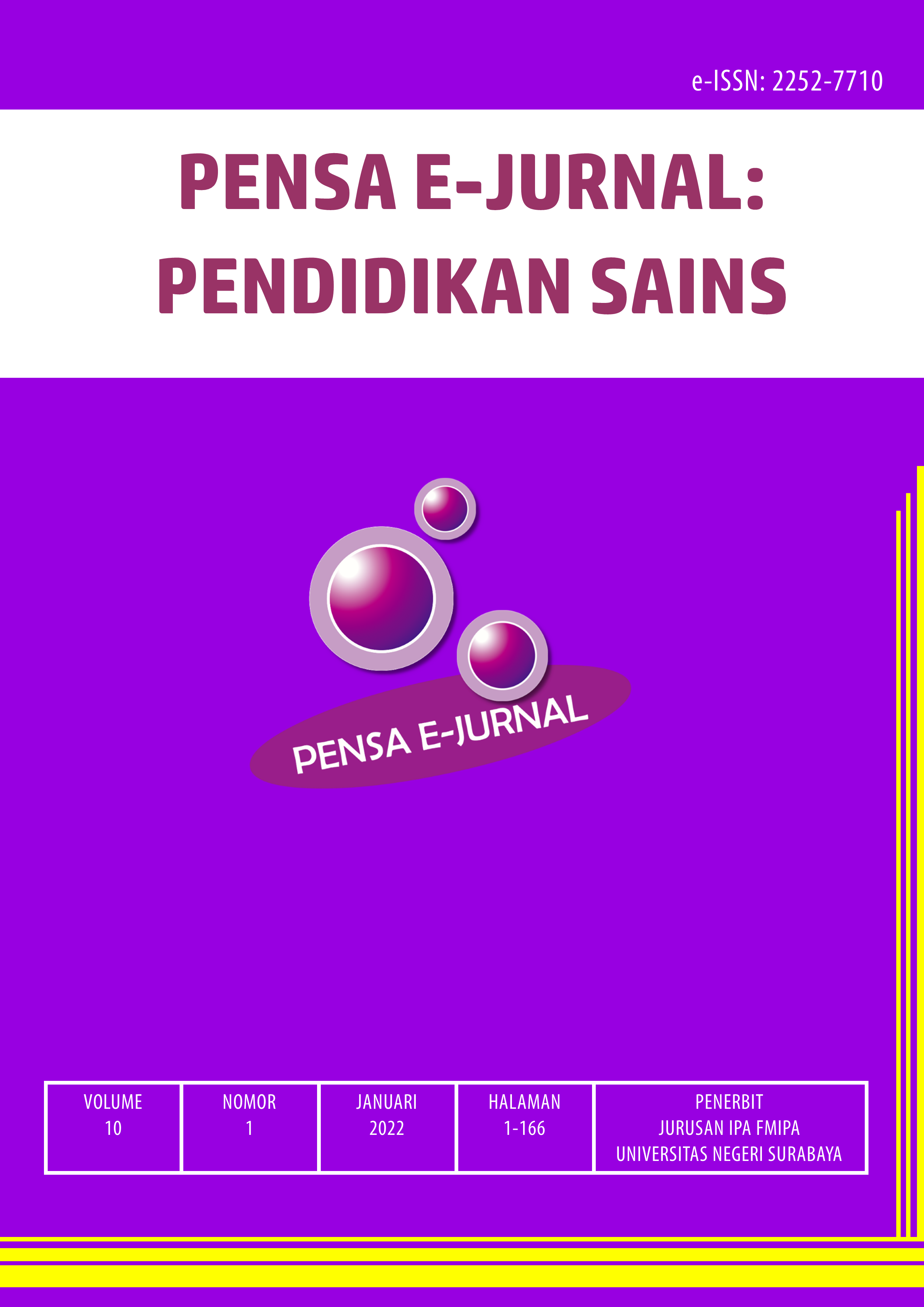 How to Cite
Artanti, A., & Subekti, H. (2022). PERSEPSI PELAJAR TERHADAP VIDEO CONFERENCE SAAT PANDEMI COVID-19. PENSA: E-JURNAL PENDIDIKAN SAINS, 10(1), 44-52. Retrieved from https://ejournal.unesa.ac.id/index.php/pensa/article/view/41860

Abstract View: 106

PDF Download: 58
Copyright (c) 2022 PENSA: E-JURNAL PENDIDIKAN SAINS
This work is licensed under a Creative Commons Attribution 4.0 International License.