PENINGKATAN KETERAMPILAN BERPIKIR KRITIS PESERTA DIDIK MENGGUNAKAN MODEL PEMBELAJARAN GUIDED INQUIRY LEARNING PADA MATERI ENERGI DALAM SISTEM KEHIDUPAN
Salsabila Septiara

Jurusan IPA, Fakultas Matematika dan Ilmu Pengetahuan Alam, Universitas Negeri Surabaya

Tutut Nurita

Jurusan IPA, Fakultas Matematika dan Ilmu Pengetahuan Alam, Universitas Negeri Surabaya
Keywords:
critical thinking skills, guided inquiry, energy in living system
Abstract
This study aims to describe the improvement of students' critical thinking skills by applying guided inquiry learning model. This research used pre-experimental design with One-Group Pre-test-Post-test design type. This study was conducted at JHS 1 Sidoarjo because of the students' critical thinking skills were low and guided inquiry learning model has never been applied. The method of this research is descriptive quantitative. Observation of guided inquiry implementation, critical thinking skills test and student response questionnaires were data collection methods that used in this study. The research results obtained data: (1) The implementation of guided inquiry in 7F and 7G obtained score percentage above 81% with excellent category. (2) There was an increase in the percentage of achievement from each indicator of critical thinking skills. An increase of critical thinking skills in 7F and 7G were 0.75 and 0.82 with high category based on n-gain score. (3) The results of the response of students showed a positive response as evidenced by the results of questionnaire percentage 93% and 96% with excellent category. Based on these results, it can be concluded that the guided inquiry learning model can improve students' critical thinking skills on energy in life system topic.
References
Aini, Z., Ramdani, A., & Raksun, A. (2018). Perbedaan Penguasaan Konsep Biologi dan Kemampuan Berpikir Kritis Siswa Kelas X Pada Penerapan Model Pembelajaran Kooperatif Tipe Group Investigation dan Guided Inquiry di Man 1 Praya. J. Pijar MIPA, 13(1), 19-23. doi:http://dx.doi.org/10.29303/jpm.v13i1.466
Akdon., & Riduwan. (2013). Rumus dan Data dalam Aplikasi Statistika. Alfabeta.
Alsaleh. (2020). Teaching Critical Thinking Skills: Literature Review. TOJET: The Turkish Online Journal of Educational Technology, 19(1), 21-39.
Annisa, N., & Sudarmin. (2016). Pengaruh Pembelajaran Guided Inquiry Berbantuan Diagram Vee Terhadap Keterampilan Generik Sains Siswa. Jurnal Inovasi Pendidikan Kimia, 10(1), 1692-1701.
Arifin, Zaenal. (2008).Metodologi Penelitian Pendidikan Filosofi, Teori & Aplikasinya. Lentera Cendikia.
Asnidar, Khabibah, S., & Sulaiman, S. (2018). The Effectiveness of Guided Inquiry Learning for Comparison Topics. Journal of Physics: Conf. Series 947, 1-6.
doi:http://dx.doi.org/10.1088/1742-6596/947/1/012033
A'yun, Q., Hassasiyah, S. H., Subali, B., & Marwoto, P. (2020). Profil Keterampilan Berpikir Kritis Peserta didik SMP dalam Pembelajaran Ipa Pada Materi Tekanan Zat. Jurnal Penelitian Pendidikan Sains, 9(2), 1804-1811.
Azizah, M., Sulianto, J., & Cintang, N. (2018). Analisis Keterampilan Berpikir Kritis Siswa Sekolah Dasar Pada Pembelajaran Matematika Kurikulum 2013. Jurnal Penelitian Pendidikan, 35(1), 61-70.
Changwong, K., Sukkamart, A., & Sisan, B. (2018). Critical Thinking Skill Development: Analysis of A New Learning Management Model for Thai High Schools. Journal of International Studies, 11(2), 37-48.
doi: http://dx.doi.org/10.14254/2071
Dianty, A. P., Supeno, & Astutik, S. (2020). Kemampuan Decision Making Siswa SMA dalam Pembelajaran Fisika Berbasis Inkuiri Terbimbing. Jurnal Pembelajaran Fisika, 9(1), 1-10.
Faruqi. (2018). Upaya Meningkatkan Kemampuan Belajar Siswa Melalui Pengelolaan Kelas. Jurnal Evaluasi, 2(1), 294-310. doi:http://dx.doi.org/10.32478/evaluasi.v2i1.80
Felani, I., Ramadhani, T. N., & Hendriana, H. (2018). Kemampuan Mengidentifikasi dan Merumuskan Masalah Bangun Datar Serta Minat Belajar Siswa SMP. Jurnal Pembelajaran Matematika Inovatif, 1(3), 229-238.
doi: http://dx.doi.org/10.22460/jpmi.v1i3.229-238
Fitriyati, I., & Hidayat, A. (2017). Pengembangan Perangkat Pembelajaran IPA Untuk Meningkatkan Kemampuan Berpikir Tingkat Tinggi dan Penalaran Ilmiah Peserta didik Sekolah Menengah Pertama. Jurnal Pembelajaran Sains, 1(1), 27-34.
Giyarsi. (2020). Strategi Alternatif dalam Pembelajaran Daring. GHAITSA : Islamic Education Journal, 1(3), 224-244.
Hake, R. R. (1998). Interactive-Engagement Versus Traditional Methods: A Six-Thousand-Student Survey of Mechanics Test Data for Introductory Physics Courses. Journal of Physiscs Education Research. , 66(1), 64-74.
doi: https://doi.org/10.1119/1.18809
Halpern, D. (2014). Thought and Knowledge An Introduction to Critical Thinking. Psichology Press.
Hidayati, N. (2016). Hasil Belajar dan Keterampilan Berpikir Kritis Peserta didik Madrasah Tsanawiyah dalam Pembelajaran IPA Melalui Kerja Ilmiah. Proceeding Biology Education Conference, 13(1), 118-127
Irwan, Maridi, & Dwiastuti, S. (2019). Developing Guided Inquiry-Based Ecosystem Module to Improve Students' Critical Thinking Skills. Jurnal Pendidikan Biologi Indonesia, 5(1), 51-60. doi:http://dx.doi.org/10.22219/jpbi.v5i1.7287
Khasanah, M., dkk. (2018). Profil Keterampilan Kerjasama Siswa Kelas VII di Salah Satu SMP. Jurnal Pendidikan Biologi, 7(2), 132-140.
doi: https://doi.org/10.24114/jpb.v7i2.10050
Khoirunnisa, F., & Sabekti, A. W. (2020). Profil Keterampilan Berpikir Kritis Siswa Pada Materi Ikatan Kimia. Jurnal Pendidikan Kimia Indonesia, 4(1), 26-31.
Kim, S., raza, M., & Seidman, E. (2019). Improving 21st-Century Teaching Skills: The Key To Effective 21st-Century Learners. Research in Comparative and International Education, 14(1), 99-117.
doi:http://dx.doi.org/10.1177/1745499919829214
Lestari, F. (2016). Model Inkuiri Terbimbing dalam Meningkatkan Keterampilan Berpikir Kritis IPS Siswa SD. Jurnal Educatio FKIP UNMA, 2(2), 1-7. doi:http://dx.doi.org/10.31949/je.v2i2.1641
Lestari, I., & Zakiyah, L. (2019). Berpikir Kritis dalam Konteks Pembelajaran. Erzatama Karya Abadi.
Murnaka, N. P., Almaisurie, Q., & Arifin, S. (2019). Method on Guided Inquiry Learning to Improve Students' Critical Thinking Abilities in Facing The Industrial Revolution 4.0. International Journal of Scientific & Technology Researc, 8(9), 439-441.
Octavia, E. N., & Purwantoyo, E. (2016). Efektivitas Pembelajaran Guided Inquiry Pada Materi Struktur dan Fungsi Jaringan Tumbuhan di Kelas 7I SMP Negeri 3 Ajibarang. Unnes Journal of Biology Education, 5(1), 38-43.
Pranatawijaya, dkk. (2019). Pengembangan Aplikasi Kuesioner Survey Berbasis Web Menggunakan Skala Likert dan Guttman. Jurnal Sains dan Informatika, 5(2), 128-137. doi:10.34128/jsi.v5i2.185
Purwadhi. (2019). Curriculum Management in the 21st Century Learning. Jurnal Pendidikan Sains Sosial dan Kemanusiaan, 12(2), 143-156.
Puspitasri, R. D., Mustaji, & Rusmawati, R. D. (2019). Model Pembelajaran Inkuiri Terbimbing Berpengaruh Terhadap Pemahaman dan Penemuan Konsep dalam Pembelajaran PPKN. JIPP, 96(107), 96-107.
Putri, O. D., Nevrita, & Hindrasti, N. E. (2019). Analisis Kemampuan Berpikir Kritis Siswa pada Aspek Advanced Clarification dan Inference Konsep Sistem Pencernaan di Kelas XI MIPA SMA Negeri 2 Tanjungpinang. J. Pedagogi Hayati, 3(2), 32-35.
Qary, I. F., Widodo, W., & Indah, N. K. (2016). Pengembangan Lembar Kegiatan Peserta didik dan KIT IPA pada Materi Energi dalam Sistem Kehidupan untuk Melatihkan Keterampilan Berpikir Kritis Peserta didik SMP. Jurnal Pendidikan Sains, 4(3), 1-6.
Rasmitadila, Samsudin, A., & Prasetyo, T. (2019). Teacher-Students' Instructional Interactions Analysis (TSIIA): A Case Study in Inclusive English Classrooms in Indonesia. The International Journal of Interdisciplinary Educational Studies, 14(1), 1-22. doi:http://doi.org/10.18848/2327-011X/CGP
Ratnasari, N., Sarwanto, & Prayitno, B. A. (2020). The Role of Students' Critical Thinking Skills in Junior High Schools on Chapter Organism and It's Environment. Journal of Physics: Conference Series 1511, 1-6. doi:http://dx.doi.org/10.1088/1742-6596/1511/1/012064
Seranica, C., Purwoko, A. A., & Hakim, A. (2018). Influence of Guided Inquiry Learning Model to Critical Thinking Skills. IOSR Journal of Research & Method in Education, 8(1), 28-31. doi:http://dx.doi.org/10.9790/7388-0801022831
Shaheen, N. (2016). International Students' Critical Thinking–Related Problem Areas: UK University Teachers' Perspectives. Journal of Research in International Education, 15(1), 18-31. doi:http://dx.doi.org/10.1177/1475240916635895
Siahaan, M. (2019). Dampak Pandemi Covid-19 Terhadap Dunia. Jurnal Kajian Ilmiah (JKI), 1(1), 1-3. doi:https://doi.org/10.31599/jki.v1i1.265
Slavin, R. E. (2008). Educational Psychology Theory and Practice 8th (ed.) jilid 1. Pearson.
Supriyatno, T., Ayu, L. D., & Utami, U. (2020). Performances and Critical SkillsThe Effectiveness of Guided Inquiry Learning Models for Students' Scientific. Jurnal Pendidikan dan Pembelajaran Dasar, 13(1), 1-14.
Syeriduni, E. (2020). Upaya Meningkatkan Kemampuan Berfikir Kritis Siswa Melalui Penerapan Metode Diskusi dengan Pendekatan Contekstual Teaching and Learning Pada Tema Indahnya Negeriku di Kelas IV SD Negeri 200217 Padang sidimpuan. Jurnal ESTUPRO, 5(1), 12-24.
Usmeldi, Amini, R., & Suyatna, A. (2019). The Effectiveness of Guided Inquiry Learning of Integrated. Unnes Science Education Journal, 8(1), 7-14.
Vong, S. A., & Kaewurai, W. (2017). Instructional Model Development to Enhance Critical Thinking And Critical Thinking Teacing Ability of Trainee Student At Regional Teacing Training Center In Takeo Province, Cambodia. Kasetsart Journal of Social Sciences 38, 89-95. doi:http://dx.doi.org/10.1016/j.kjss.2016.05.002
Widodo, W. (2016). Wujud Kenyamanan Belajar Siswa, Pembelajaran. Jurnal Ar-Risalah, 13(2), 22-37.
Yuliati, E., Budiningarti, H., & Astriani, D. (2016). Penerapan Model Pembelajaran Guided Inquiry Untuk Meningkatkan Hasil Belajar Siswa SMP Kelas VII. Jurnal e-Pensa, 4(2), 1-5.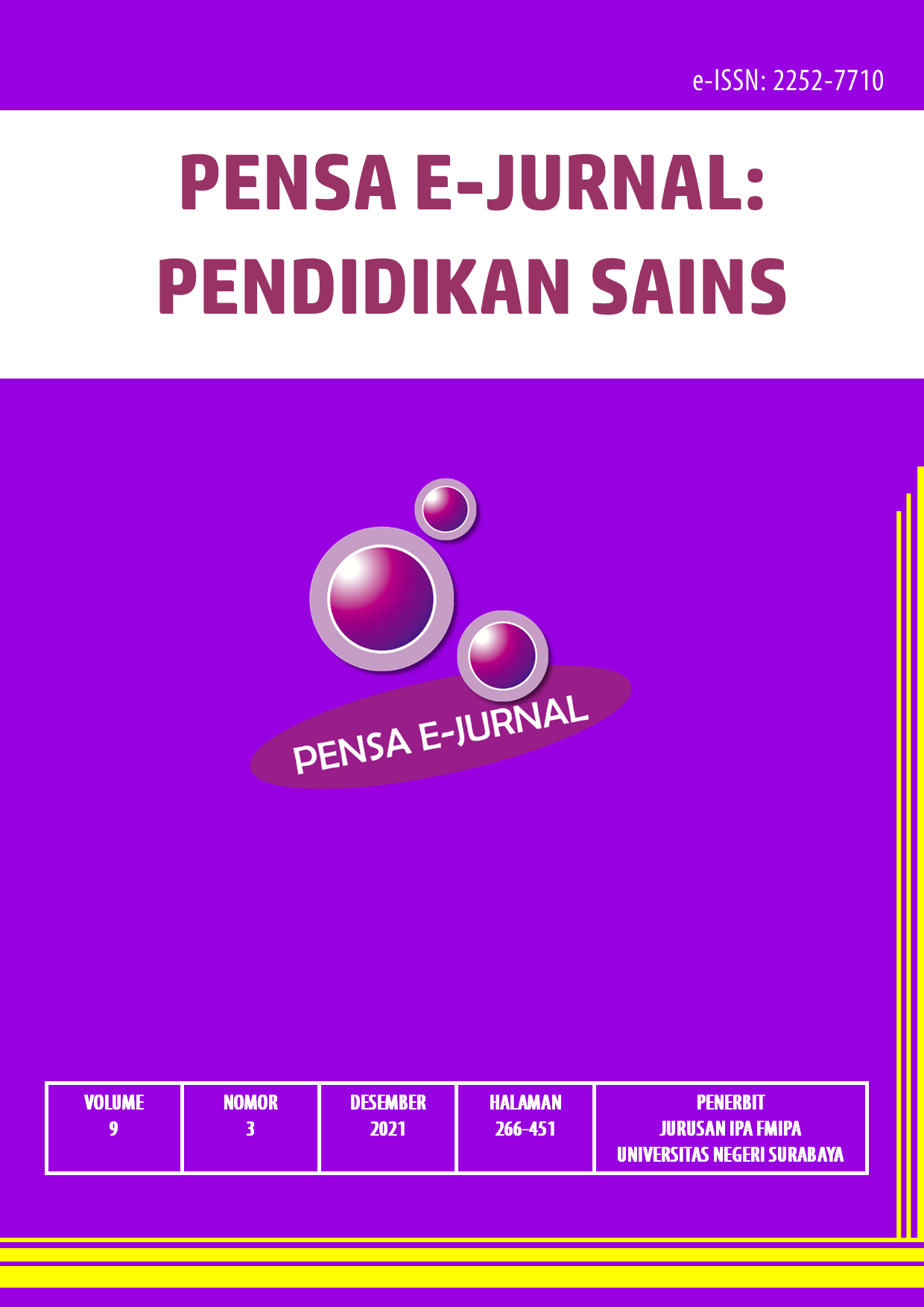 How to Cite
Septiara, S., & Nurita, T. (2021). PENINGKATAN KETERAMPILAN BERPIKIR KRITIS PESERTA DIDIK MENGGUNAKAN MODEL PEMBELAJARAN GUIDED INQUIRY LEARNING PADA MATERI ENERGI DALAM SISTEM KEHIDUPAN. PENSA: E-JURNAL PENDIDIKAN SAINS, 9(3), 272-281. Retrieved from https://ejournal.unesa.ac.id/index.php/pensa/article/view/38649
Copyright (c) 2021 PENSA: E-JURNAL PENDIDIKAN SAINS
This work is licensed under a Creative Commons Attribution 4.0 International License.

Abstract Views: 392


PDF Downloads: 407