ONLINE LEARNING STRATEGY DURING COVID-19 PANDEMIC TO GROW SCIENCE'S LEARNING INTEREST
Ilmi Firdaus

Jurusan IPA, Fakultas Matematika dan Ilmu Pengetahuan Alam, Universitas Negeri Surabaya

Erman Erman

Jurusan IPA, Fakultas Matematika dan Ilmu Pengetahuan Alam, Universitas Negeri Surabaya
Keywords:
strategy, online learning, learning interest
Abstract
This research aims to find out and explore information related to the application of online learning strategies used by science teachers during the learning process in Covid-19 pandemic to foster student's interest in learning science. This research method uses the case study method. The subjects in this study were 8 science teachers and 26 students from SMP Negeri 2 Mojokerto City and SMP Negeri 4 Mojokerto City. The selection of this school is based on the ranking of the best public junior high schools in Mojokerto City which refers to the results of the 2019 National Examination, namely SMPN 2 Mojokerto has an average of 70.40 with 284 participants and SMPN 4 Mojokerto has an average of 65.01 with 239 participants. Instruments in this research is a teacher and student questionnaire which is presented in the form of Google Forms and hard files. Data collection techniques in this study were unstructured interviews, observation, and documentation. The data analysis technique in this study is descriptive analysis by determining the percentage of respondents' answers. The results in this study are 63% of science teachers have implemented online learning strategies during the Covid-19 pandemic. The synchronous discussion method is a learning method that is often applied by science teachers when learning online. The conclusion of this research is that the students' interest and attention to the learning strategies and methods applied by the teacher are able to foster students' interest in learning science.
References
Ally, M. (2019). Competency profile of the digital and online teacher in future education. International Review of Research in Open and Distance Learning, 20(2), 302–318. https://doi.org/10.19173/irrodl.v20i2.4206
Anggraeni, E. (2017). Faktor-Faktor Yang Memengaruhi Minat Belajar Siswa Pada Pembelajaran Seni Di SMP Negeri Dukuhwaru 4 Kecamatan Dukuhwaru Kabupaten Tegal. Jurusan Pendidikan Guru Menengah Pertama, Fakultas Ilmu Pendidikan, Universitas Negeri Semarang.
Anitah, W. sri. (2013). Strategi Pembelajaran Tarannum. Gadis. 15-75.
Arizona, K., Abidin, Z., & Rumansyah, R. (2020). Pembelajaran Online Berbasis Proyek Salah Satu Solusi Belajar Mengajar Di Saat Pandemi Covid-19. Jurnal Ilmiah Profesi Pendidikan, 5(1), 64–70. https://doi.org/10.29303/jipp.v5i1.111
Ayu, I., Erlina, H., & Rafid, R. (2021). Teacher Strategies in the Implementation of Distance Learning During the Covid-19 Pandemic( Nindiati , 2020 ). Pembelajaran Jarak Jauh adalah sistem komunikasi . Keterbatasan ruang dan waktu yang dimiliki oleh peserta didik . 2(1),178–188.
Basar, A. M. (2021). Problematika Pembelajaran Jarak Jauh Pada Masa Pandemi Covid-19. Edunesia : Jurnal Ilmiah Pendidikan, 2(1), 208–218. https://doi.org/10.51276/edu.v2i1.112.
Borich, G. D., Godbout, R. C., Peck, R. F., Kash, M. M., & Poynor, L. H. (1994). Borich, Gary D.; And Others An Evaluation of the Personalized Model of Teacher. Research and Development Center for Teacher Education The University of Texas at Austin.
Cheung, D. (2018). The key factors affecting students' individual interest in school science lessons. International Journal of Science Education, 40(1),1–23. https://doi.org/10.1080/09500693.2017.1362711
Cleveland, L. M., Olimpo, J. T., & DeChenne-Peters, S. E. (2017). Investigating the relationship between instructors' use of active-learning strategies and students' conceptual understanding and affective changes in introductory biology: A comparison of two active-learning environments. CBE Life Sciences Education, 16(2), 1–10. https://doi.org/10.1187/cbe.16-06-0181
Erman, E., Martini, Rosdiana, L., & Wakhidah, N. (2021). Deep Learning Ability of Students from Superior and Non-Superior Classes at Microscopic Level of Protein. Journal of Physics: Conference Series, 1747(1). https://doi.org/10.1088/1742-6596/1747/1/012009
Fauzy, A., & Nurfauziah, P. (2021). Kesulitan Pembelajaran Daring Matematika Pada Masa Pandemi di SMP Muslimin Cililin. Jurnal Cendekia : Jurnal Pendidikan Matematika, 5(1), 551–561. https://doi.org/10.31004/cendekia.v5i1.514
Firman, F., & Rahayu, S. (2020). Pembelajaran Online di Tengah Pandemi Covid-19. Indonesian Journal of Educational Science (IJES), 2(2), 81–89. https://doi.org/10.31605/ijes.v2i2.659
Flora Siagian, R. E. (2015). Pengaruh Minat dan Kebiasaan Belajar Siswa terhadap Prestasi Belajar Matematika. Formatif: Jurnal Ilmiah Pendidikan MIPA, 2(2), 122–131. https://doi.org/10.30998/formatif.v2i2.93
Handayani, L. (2020). Keuntungan , Kendala dan Solusi Pembelajaran Online Selama Pandemi Covid-19 : Studi Ekploratif di SMPN 3 Bae Kudus Lina Handayani. Journal Industrial Engineering & Management Research, 1(2), 16.
Jamilah, & Isnani, G. (2017). The Influence of Classroom Climate, Learning Interest, Learning Discipline and Learning Motivation to Learning Outcomes on Productive Subjects. Jurnal Pendidikan Bisnis Dan Manajemen, 3(2), 85–96. https://doi.org/10.17977/um003v3i22017p085
Kayalar, F. (2017). Study Into the Views of Classroom Teachers Upon Interest-Based Learning in Prima. International Journal Of Turkish Literature Culture Education, 6(6/4), 2776–2787. https://doi.org/10.7884/teke.4053
Laine, E., Veermans, M., Lahti, A., & Veermans, K. (2017). Generation of student interest in an inquiry-based mobile learning environment. Frontline Learning Research, 5(4), 42–60. https://doi.org/10.14786/flr.v5i4.306
Lestari, W. (2021). Pemanfaatan Whatsapp Sebagai Media Pembelajaran Dalam Jaringan Masa Pandemi Covid-19 Di Kelas VI Sekolah Dasar. Journal of Chemical Information and Modeling, 53(9), 1689–1699.
Mustakim, M. (2020). Efektivitas Pembelajaran Daring Menggunakan Media Online Selama Pandemi Covid-19 Pada Mata Pelajaran Matematika. Al Asma : Journal of Islamic Education, 2(1), 1. https://doi.org/10.24252/asma.v2i1.13646
Nugroho, S. E., & Waslam. (2020). Physics experiment activities to stimulate interest in learning physics and reasoning in high school students. Journal of Physics: Conference Series, 1567(2). https://doi.org/10.1088/1742-6596/1567/2/022069
Pratiwi, R. A. (2020). Penerapan metode ceramah dan diskusi selama pembelajaran online. Universitas Riau, 1–8.
Ragin, G., Refando, A., & Utami, D. (2020). Implementasi Strategi Pembelajaran Ekspositori untuk Meningkatkan Hasil Belajar Matematika di Sekolah Dasar. Jurnal Pendidikan Dan Dakwah, 2(1), 54–60. https://ejournal.stitpn.ac.id/index.php/pandawa.
Resmawati, F. S., Prabowo, P., & Munasir, M. (2018). The Discovery Learning Model with A Scientific Approach to Increase Science Learning Achievement of Students. 157(Miseic), 198–200. https://doi.org/10.2991/miseic-18.2018.48.
Riamin. (2016). Menumbuhkan Minat Belajar Siswa dalam Pembelajaran. 14 April. https://www.kompasiana.com/riamin/570ec6 323697738d1a3e38b6/menumbuhkan-minat- belajar-siswa-dalam-pembelajara.
Riduwan. (2012). Metode & Teknik Menyusun Proposal Penelitian. Bandung: Alfabeta.
Setiawan, T. H., & Aden. (2020). Efektifitas Penerapan Blended Learning Dalam Upaya Meningkatkan Kemampuan Akademik Mahasiswa Melalui Jejaring Schoology Di Masa Pandemi Covid-19. Jurnal Pembelajaran Matematika Inovatif (JPMI), 3(5), 493–506. https://doi.org/10.22460/jpmi.v3i5.493-506
Sutarto, S., Sari, D. P., & Fathurrochman, I. (2020). Teacher strategies in online learning to increase students' interest in learning during COVID-19 pandemic. Jurnal Konseling Dan Pendidikan, 8(3), 129. https://doi.org/10.29210/147800
Trismayanti, S. (2020). Strategi Guru dalam Meningkatkan Minat Belajar Peserta Didik di Sekolah Dasar. AL-ISHLAH: Jurnal Pendidikan Islam, 17(2), 141–158. https://doi.org/10.35905/alishlah.v17i2.1045
Wajdi, M. B. N., Iwan Kuswandi, Umar Al Faruq, Zulhijra, Z., Khairudin, K., & Khoiriyah, K. (2020). Education Policy Overcome Coronavirus, A Study of Indonesians. EDUTEC : Journal of Education And Technology, 3(2), 96–106. https://doi.org/10.29062/edu.v3i2.42
Winarno Surakhmad (1986). Pengantar Interaksi Belajar Mengajar Dasar dan Teknik Metodologi Pengajaran. Bandung: Tarsito.
Zhang, X. (2020). Thoughts on Large-Scale Long-Distance Web-Based Teaching in Colleges and Universities Under Novel Coronavirus Pneumonia Epidemic: A Case of Chengdu University. 416(Iccese), 1222–1225. https://doi.org/10.2991/assehr.k.200316.266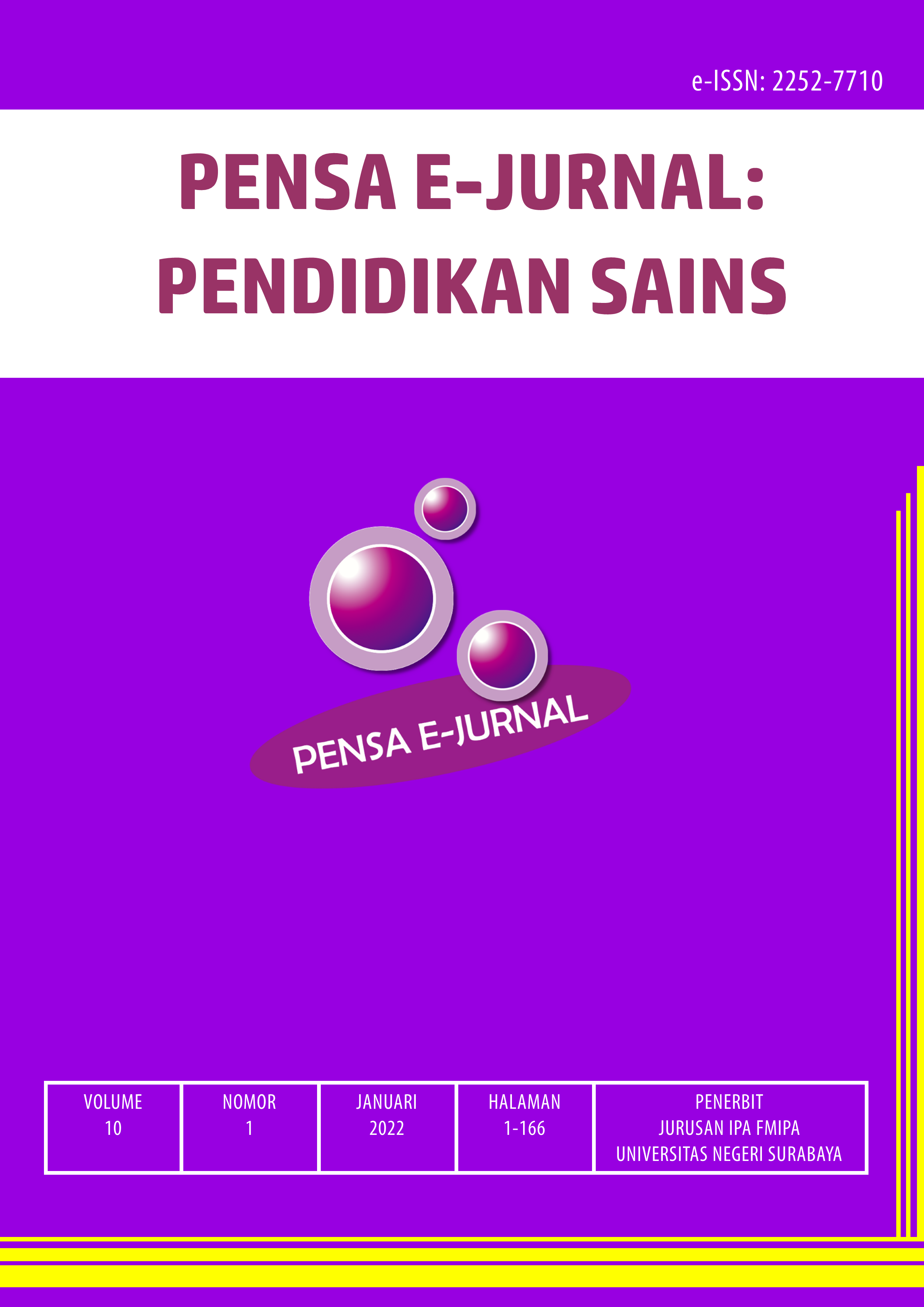 How to Cite
Firdaus, I., & Erman, E. (2022). ONLINE LEARNING STRATEGY DURING COVID-19 PANDEMIC TO GROW SCIENCE'S LEARNING INTEREST. PENSA: E-JURNAL PENDIDIKAN SAINS, 10(1), 53-59. Retrieved from https://ejournal.unesa.ac.id/index.php/pensa/article/view/41337

Abstract View: 90

PDF Download: 54
Copyright (c) 2022 PENSA: E-JURNAL PENDIDIKAN SAINS
This work is licensed under a Creative Commons Attribution 4.0 International License.