PENENTUAN KAPASITAS ADSORPSI KARBON AKTIF SEBAGAI ADSORBEN LOGAM TEMBAGA DALAM LIMBAH LABORATORIUM
ANGGI PUTRA DHARMAWAN

NUNIEK HERDYASTUTI
Abstract
Abstrak. Kadar logam tembaga yang terbuang dari hasil kegiatan di laboratorium dengan kadar yang tinggi dapat mencemari lingkungan, oleh sebab itu perlu dilakukan upaya untuk menurunkan kadar logam tembaga, salah satunya melalui adsorpsi menggunakan karbon aktif. Penelitian ini bertujuan untuk mengetahui kapasitas adsorpsi dan identifikasi gugus fungsi karbon aktif sebelum dan sesudah diinteraksikan dengan limbah. Hasil yang diperoleh menunjukkan efisiensi adsorpsi (%) logam tembaga dalam limbah dengan konsentrasi limbah 100 ppm sebesar 99,75%. Kapasitas adsorpsi logam tembaga dalam limbah laboratorium menggunakan karbon aktif mengikuti pola isoterm Langmuir dengan kapasitas adsorpsi (b) sebesar 0,0000426 mol/g dan nilai regresi (R2) sebesar 0,986. Hasil identifikasi gugus fungsi menunjukkan adanya gugus fungsi C-O, C=C aromatik, dan PO42-. Perbedaan gugus fungsional antara karbon aktif sebelum dan sesudah interaksi dimana terjadi pergeseran bilangan gelombang dan perubahan intensitas pada gugus fungsi C-O dan PO42-.
Kata kunci: Adsorpsi, Karbon Aktif, Tembaga, Limbah Laboratorium
Abstract. High copper metal content wasted from laboratory can pollute the environment, therefore it is necessary to make efforts to reduce copper metal, one of which is through adsorption using activated carbon. This research intend to determine adsorption capacity and identification of activated carbon functional groups before and after interaction with waste. The results of this research showed the adsorption (%) efficiency of copper metal in optimum laboratory wastes on 100 ppm concentration with adsorption efficiency of 99,75%. Copper metal adsorption capacity in laboratory wastes using activated carbon follows the Langmuir ishoterm with adsorption capacity (b) of 0,0000426 mol/g and the regression value (R2) is 0,986. Characterization of functional group identification shows the presence of functional grup C-O, C=C aromatic, and PO42-. There are differences in functional groups between activated carbon before and after interactions where there is a shift in wave number and change in intensity in the functional groups C-O and PO42-.
Keywords: Adsorption, Activated Carbon, Copper Metal, Laboratory Waste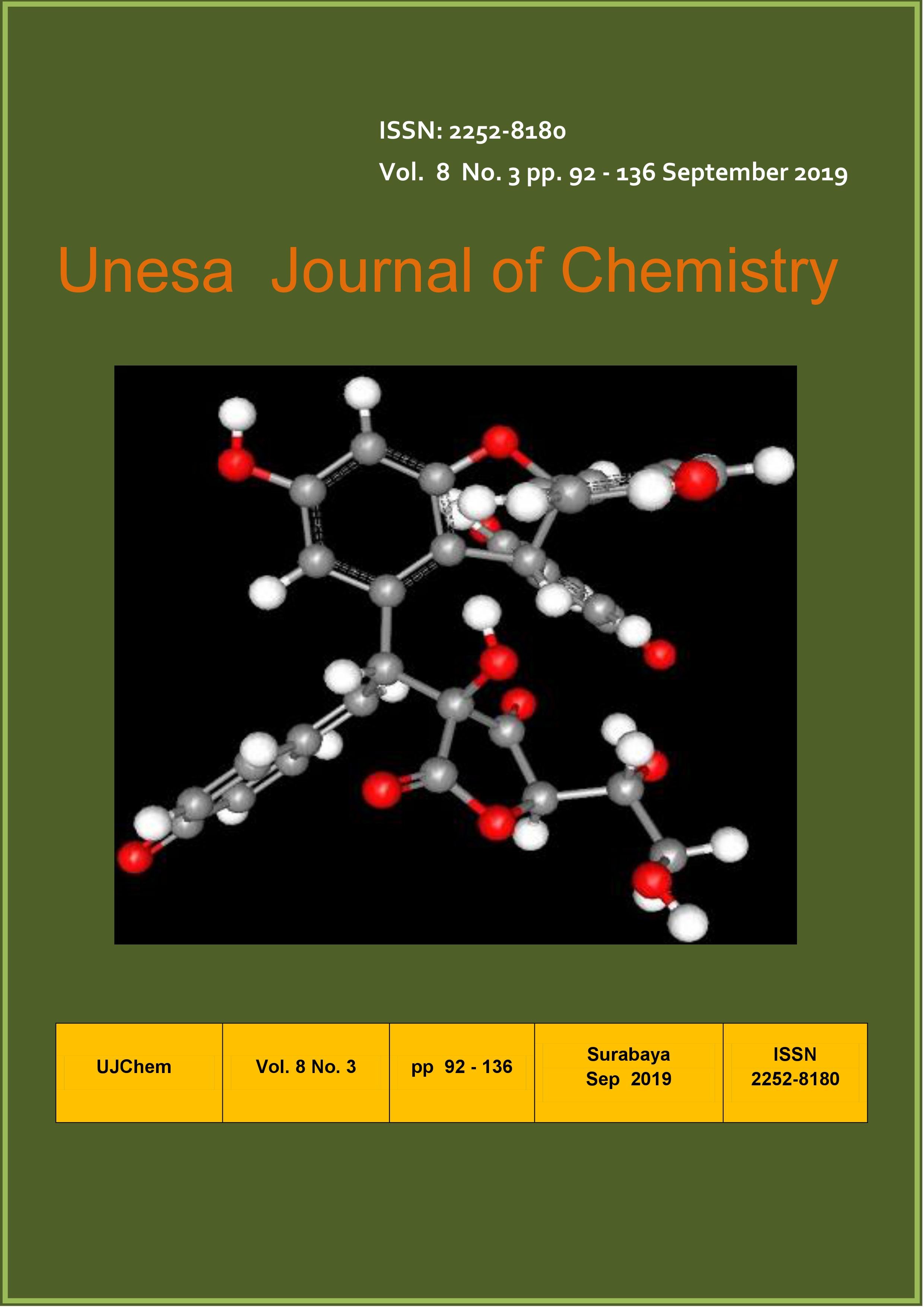 Abstract View: 23

PDF Download: 22